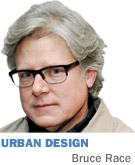 You can come to Indianapolis from the airport, attend a conference, and never touch the ground. You can spend your days ambling around the second-level walkway system between the convention center, hotels and Circle Centre. And you might as well, because almost all of downtown lacks ground-floor uses that would make walking interesting.
OK. Maybe I'm being a bit dramatic. But for me, the coolest cities have downtown streets that are economically vibrant, social, safe and comfortable. By any measure, we fall short.
Make a list of the three most interesting street-level storefront businesses you like to go to downtown or in downtown neighborhoods. Now in your head, walk between them—or better yet, actually walk between them. Unless they are next to one another, you are walking past parking lots and garages, blocked-up and vacant storefronts, mechanical vents and bank machines, office space at the street level with the blinds closed and/or dark or mirrored glass. This experience is a result of decades of deliberate parking, land use, economic development and design decisions.
It's time to make better decisions. We can start with the Regional Center Plan, which is scheduled to be updated in 2014. The Regional Center Plan provides the overall direction for investing in the hub of a region of 2 million people. Since the 1970s and 1980s, Regional Center "improvements" have resulted in construction of the second-level walkway system, development that disrupts the city's historic street grid, and conversion of major civic streets to one-way thoroughfares that serve as extensions of freeway on-off ramps.
Here are four things that need to be fixed in the Regional Center Plan update:
IBJ.COM EXTRA
Click here
to see maps that illustrate the problems.
The parking doughnut: We need a parking strategy that supports revitalization of streets. There are more than 70,000 parking spaces in the Regional Center.
I told my urban design graduate students there is a parking doughnut that has eroded the connections between downtown and the traditional regional center neighborhoods. They corrected me. They pointed out that it actually is a "jelly doughnut," with parking structures in the middle designed in a way that also interrupt walking continuity. They mapped it and proved it.
Infill projects that connect: New buildings should connect, not divide, important downtown places. After World War II, our downtown began to hollow out. We worked overtime to compete with the suburbs by removing entire blocks of buildings and replacing them with parking. Our zoning ordinance actually required it.
Presto. Now, parking lots represent nearly all the land that can be developed downtown. Future projects and those in the pipeline are the last opportunity for generations to repair walking connections, protect views of civic and formal axial corridors from bridges and buildings, and make downtown a 24-hour neighborhood.
One-way streets: The plan update has to study the street system in the context of future transit and downtown neighborhood development. One-way streets that make getting out of town a priority, ruin it for storefront businesses that need pedestrian environments.
Shopping streets have to provide crossover shopping, meaning you should be able to see merchandise across the street and walk over. They need to be comfortable places to walk with physical separation from traffic, frequent pedestrian crossings, shade trees and other streetscape features. Can you think of any places downtown this happens besides two partial blocks on Mass Ave? Me either.
Design urbanely: A good downtown building should work at the street level first. With the exception of the CityWay project I reviewed last month and the Cosmopolitan on the Canal Walk, I really cannot think of another mixed-use building constructed since the 1930s that meets the street like it's in a city center. Our contemporary projects do a poor job of providing transparent edges and building elevation designs that support walking and shopping environments. They have dark glass and poorly scaled residential or high-rise office storefront window systems and materials used along the sidewalk. Their awnings are used for signage instead of climate comfort, and they lack the design variety that can break down the scale of long stretches of wall.
There has been way too much focus on the tops of buildings and not enough on where we touch and use them. A good downtown building should work at the street level first. This includes residential, office and parking structure projects. We should expect this in every project.
There is a good buzz about our downtown in the national press. We continue to build impressive sports facilities, our convention center is growing, and we have some nice cultural venues. We know how to host a party. Now we need to fill the gaps with buildings that make walking a pleasure and seek parking and transit solutions where walking is the highest priority, not the lowest.
If you are someone who is scared by city streets and you just want to drive, park and take an escalator, things are golden. However, the rest of us who work or live in the Regional Center and adjacent neighborhoods want our streets back.•
__________
Bruce Race, FAIA, FAICP, is an award-winning architect and urban planner, owner of RaceStudio, and recipient of the Indiana Sagamore Planning Award. He lives in a historic Indianapolis neighborhood and teaches urban design at Ball State University's Downtown Indianapolis Center. His column appears monthly. He can be reached at br@racestudio.com.
 
Please enable JavaScript to view this content.