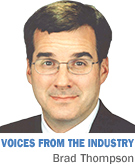 After decades of slow adoption, health information technology now threatens to completely disrupt health care, in a good way, dramatically improving quality of care. The question is, will federal regulators stand in the way?
The FDA has long regulated software used with medical devices. Today, some new software is not clearly associated with any medical advice, but nonetheless raises questions of federal regulation.
One category is smartphone apps. Many help you manage daily activities like diet and exercise. But a growing number are used for riskier purposes, such as viewing radiological images on a tablet computer, calculating drug dosages, and helping a person with diabetes track blood glucose readings.
These uses all fall within FDA jurisdiction. So, where does the FDA draw the line?
A second category of software is clinical decision support software. Medical informatics is exploding, and computer scientists teamed with clinicians are using software algorithms to search large data sets for answers to tricky diagnostic questions.
Frankly, the more our health information ends up in digital form, the more powerful and useful these algorithms can be. These software packages are also migrating to websites to allow consumers to input their data in order to obtain diagnosis and treatment recommendations.
The FDA has initiated a public process to better define software subject to federal oversight.
A third category is the electronic health record itself, an organized database that can be analyzed by software. Thus, in the next phase of meaningful-use adoption, clinical-decision support software will factor more heavily into the design of the software packages. That potentially blurs the line, leading some at the FDA to conclude that even electronic health records need to be regulated.
Most medical apps, clinical-decision support software and electronic health records do not directly control a medical device. Then the main issue for the FDA is which software is likely to cause harm, thus should be regulated.
There are those who apply the old adage, guns don't kill people, people kill people. By the same logic, software doesn't hurt anyone, only people who use the software might hurt a patient. On one level, this is true, and needs to be appreciated by federal regulators. Much of the software is used by highly trained professionals.
At the same time, as a society, and within the medical community, people are more dependent on software. There are instances where an analysis is too complex for any human to reasonably second-guess the software, or where time does not allow second-guessing. In those cases, a software error could contribute to patient injury.
Those risks need to be balanced against the potentially huge benefit the software brings to health care. Mobile apps bring the health care system to patients. Clinicians are now trying to help patients manage, for example, chronic diseases such as diabetes and asthma. Imagine an app that can guide a person with asthma to treating the asthma before it requires a trip to the ER.
Imagine computers that can read an electronic health record to spot anomalies. Regulation will have to balance progress and patient safety.
Three agencies are interested: the FDA, the Office of the National Coordinator and the Federal Communications Commission. Congress in July passed the Food and Drug Administration Safety and Innovation Act to require the agencies to develop a report on regulating health information technology.
With collaboration, we can ensure that health technology is safe for patients and helps doctors reach patients where they live and work, and offers incredibly sophisticated tools for spotting health conditions in need of treatment.•
__________
Thompson is a partner in the Indianapolis office of Washington, D.C.-based law firm Epstein Becker & Green. Views expressed here are the writer's.
Please enable JavaScript to view this content.