In its recently opened show "Graphite" (through April 7), the Indianapolis Museum of Art embraces the crystallized carbon best known as the lead in pencils. The IMA's Forefront Gallery has been turned over to a wide range of artists exploring the material not just as a tool for drawing, but also for its use in sculpture, as an electrical conductor, and more.

Judging by two of the most striking works in the show, graphite also serves as a conduit to obsessive behavior in artists.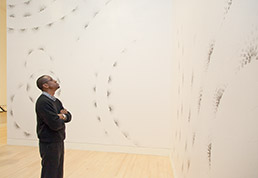 Judith Braun's graphite-covered fingerprints make up "Without Pleasure All We'd Have Is a Bunch of Stuff Vibrating." (Photo courtesy of Indianapolis Museum of Art)
Specifically, I'm talking about Kim Jones' "Untitled (War Drawing)," a two-wall expansion of an earlier piece. The original work, indelicately attached to the wall, shows a child-like, self-created game that wouldn't be out of place on a bored student's elementary school notebook. In the midst of a maze-like series of rooms (seen from above), a battle game has broken out that follows rules that only the artist seems to fully understand.

More mature but equally eyebrow-raising is Molly Springfield's "Translation" series. Painstaking isn't quite the word for Springfield's work, in which she acquired every English translation of Marcel Proust's "Remembrance of Things Past," photocopied pairs of pages from different editions, then created individual drawings of each of those spreads, letter by letter, capturing not just the text but also the curve of each page.

Thoughts on what it all means (a commentary on translation, perhaps) may have to wait until a subsequent

visit. For now, I'm still stunned by the single-mindedness needed to create it.

And there's more, from the finger-painting patterns of Judith Braun to Robert Longo's tributes to the artists who influenced him. There's "Wave Form: Induction Drawing," in which gallery goers are invited to make contact with Joyce Hinterding's graphite patterns, causing sounds to generate through an attached sound system.

And, playful in a different way, there's Adam McEwen's explorations of the disconnect between material and purpose in "Switch," an array of hanging lights with graphite tubes substituted for fluorescents, and "Fountain," which could easily fool a visitor looking for a refreshing drink.
__________

Meanwhile, the Indianapolis Art Center offers a collection of individual exhibitions (all through Feb. 3), each well worth exploring.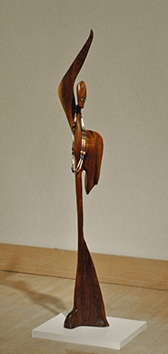 George Kim's sculptures, on display at the Indianapolis Art Center, are each crafted from black walnut logs. (Photo courtesy of Indianapolis Art Center)
First, there's Aak Lengkeek's "The Tracks of Time," in which the Dutch-born artist explores in oil and acrylic the geography of concrete, curbstones, bricks and other seemingly permanent man-made constructions.

Each of his pieces captures the damage done by destructive forces—and the resilience of the materials. Optimists may find survivor's hope in their cracks and chips. Pessimists may see the ultimate futility of creation. Either way, the detail is remarkable and the range of sizes and geometric choices, even within this small show, keeps it from feeling one-note.
Playful, charming and a bit on the eerie side, George Kim's "Sculptures" aggregates the Indianapolis-based artist's black walnut log sculptures. These smooth, ambiguously mythic creations border on art fair material, but together they suggest a kind of conference of creatures, making the whole of the exhibition greater than some of its skillfully created parts.

Also at the IAC, the 2011-2012 Skip McKinney Faculty of the Year Exhibition celebrates artist Sofiya Inger with "Story Dome Project." The immersive environmental assemblage may make you feel like you've walked into a celebration of a holiday you didn't know existed.

With a combination of joy and fear, it layers found and created objects with paint, cloth and sound elements, transforming the Allen W. Clowes Gallery into a snapshot of a very busy artistic mind.•

__________

This column appears weekly. Send information on upcoming arts and entertainment events to lharry@ibj.com.