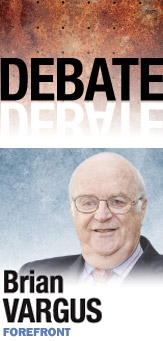 QUESTION: Several Republicans have begun signaling their intentions to run for president in 2016, with Gov. Mike Pence included among them in published reports. If Pence were to run, would he be competitive?
ANSWER: The rise of any politician seems to cause speculation about their future. Such has certainly been the case of Gov.-elect Mike Pence, even though his rise has been relatively slow. After long frustration, eventual election to Congress, and now election to governor, the question arises: Where does he go next?
Recent history has shown a gaggle of governors that have run for president—some successfully, such as Reagan, Carter, George W. Bush and Clinton, and many unsuccessfully, including Dukakis, Huckabee, Romney and Perry.
It is often noted that it takes time to run for president, at least four years before you try to get the nomination, and the ability to be a power within one's party. This is a context in which the primary system and conventions choose candidates. It is complicated and fraught with disaster.
Pence lost twice for Congress, became a talk-show host, then won several terms from a rural portion of eastern Indiana. His record in Congress is his strong adherence to conservative principles, in his eyes, and a violent opposition to Planned Parenthood. Otherwise, his record is dim, though he was apparently the first congressman to put a radio studio in his office.
Securing the presidential nomination as a Republican is doubly difficult at this time in history.
A complicated primary system and party stalwarts choose candidates. The system rewards the socially conservative during primaries and forces a reboot as a moderate for the general election. But the party leadership is deeply divided between conservatives and extremists. Pence sides with the latter, though his record in Congress shows mostly noise rather than substance.
Second, the party has a habit of nominating who is next in line—the person who didn't quite make the nomination at the last presidential convention.
Pence is a good campaigner. He is a nice person—polite even to his enemies. In his campaign (achieving less than 50 percent of the vote), he followed Gov. Daniels' admonition to Republicans not to embrace social issues to win, but few people trust him to stay at that position.
Though he has, in my view wisely, appointed a number of people from Daniels' administration to the new administration, there is an open question if he will listen to party stalwarts. For example, he wants a tax cut when his Republican majorities in the Legislature think it "ill-considered."
Pence's record as governor will figure prominently if he has any chance for national office. Can he become the leader of Indiana's Republicans? He cannot ignore the split in the party. Many national leaders are worried, openly, about what the Republican Party should stand for and, for most, the last election represents a clear rejection of Pence's style of radical positions on social issues.
If he cannot lead Indiana Republicans, he will not be a national figure.
There are governors with national records ahead of Pence in recognition and support among national leaders. Pence is not next in line. Rick Santorum of Pennsylvania has already indicated interest in the 2016 race, did well in some primaries, and has an organization still in place. Other governors certainly attract attention—Christie in New Jersey, Jindal in Louisiana—and they fit the "next in line" position.
While Pence's record as governor, which might match Daniels' if he can lead the party, could raise his national stature, it is likely his record will be mixed because party stalwarts do not agree with him.
Governor will be the highest office Mike Pence ever captures.•
• Vargus is a retired political science professor who has consulted to Republican and Democratic candidates. Send comments on this column to ibjedit@ibj.com.
Please enable JavaScript to view this content.