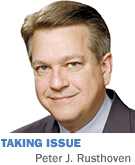 Folks on the left tend to view themselves as intellectually superior to most on the right, especially blue-collar sorts who follow NASCAR and (to quote our president) "cling to their guns and religion" to deal with "their frustrations."
When it comes to gun violence, however, it is the left that clings with religious insistence to its conviction that restricting or banning ownership of firearms is the solution, regardless of evidence that this is ineffective. Reaction to the school shooting tragedy in Newtown, Conn., is the latest example.
I am not an NRA member nor a gun guy. The gun control dispute has never been prominent on my list of vital political issues. But I have always been struck by liberal imperviousness to empirical data when it comes to gun laws.
For as long as I can remember, every nationally covered event involving gun violence generates demands for new laws limiting (if not eliminating) ability to own firearms, often accompanied by moral condemnation of those opposing such measures. This is so notwithstanding that, in many such instances, the shooter was violating existing gun laws.
In 1968, Bobby Kennedy was assassinated in Los Angeles moments after his victory speech on winning the California presidential primary. As a high-schooler captivated by politics, I stayed up till the wee hours to watch the speech—delivered around midnight, Pacific time—awaking later that morning to learn RFK had been shot moments after I had turned off the TV.
The ensuing national media push for gun control led to the federal Gun Control Act of 1968. Buried or ignored in most coverage was mention of existing laws Kennedy's assassin had violated.
On March 30, 1981—my second Monday as a young Hoosier on the White House staff—Ronald Reagan was shot after speaking at the Washington Hilton. Among the three others wounded was press secretary Jim Brady, who was seriously hurt and suffered permanent damage.
Again, gun control proponents seized on the event, some of them remarking on the supposed "irony" of Reagan's opposition to most of their proposals. Again, the fact that John Hinckley had already violated strict D.C. gun measures was barely noted.
The Brady Bill, significantly enhancing federal gun restrictions, would not become law until 1993. A decade later, a careful study by Duke University's Phillip Cook—a nationally recognized expert, and far from an NRA flack—found the bill had "made no discernible difference" and "seems to have been a failure."
The Cook study is scarcely an outlier. There is also a great deal of other evidence that gun control laws are ineffective in reducing gun violence. As one example, it is simple fact, not propaganda, that American cities with the most restrictive gun control laws—such as Detroit, Chicago and Washington, D.C.—have the highest murder rates.
There is also a credible argument that firearms in the hands of responsible citizens reduce violent crime. A thoughtful starting point, well worth reading, is William Bennett's "The case for gun rights is stronger than you think" on CCN.com.
Everyone is appalled by the Newtown shootings and earlier tragedies, such as Columbine. Gun violence is a serious issue. But serious issues deserve serious approaches. Attitudinizing—insisting on a "simple" solution, ignoring contrary evidence, and castigating one's opponents as insensitive or immoral—is not serious. It is self-indulgent.
Folks on the left also tend to pride themselves as empirical sorts, whose views are not blinded by irrational faith. But on gun control, it seems, blind faith rules the liberal outlook.•
__________
Rusthoven, an Indianapolis attorney and graduate of Harvard College and Harvard Law School, was associate counsel to President Reagan. Send comments on this column to ibjedit@ibj.com.
 
Please enable JavaScript to view this content.