In a push to lift Indianapolis' decade-old ban on digital billboards, the outdoor advertising industry has made serious headway with city-county councilors.

Clear Channel Outdoor, which owns most of the billboards within city limits, has lined up two sponsors, Democrat Joe Simpson and Republican Aaron Freeman, for a proposal that's been in the works the past year.
This Fall Creek Parkway digital billboard is an exception to a general ban in Marion County. (IBJ photo/Perry Reichanadter)
Clear Channel lobbyist John Kisiel is pitching an ordinance that would require companies to take down an equivalent amount of billboard advertising space for each sign that's converted to the digital format.

"You'd see a net reduction in the number of billboards in Marion County," said Kisiel, vice president of real estate and public affairs.

Any change in the zoning ordinance would first have to be approved by the Metropolitan Development Commission. Kisiel's proposal has not yet been submitted to the nine-member board. First, he hopes to gain the support of new Department of Metropolitan Development Director Adam Thies, who replaced longtime director Maury Plambeck in October.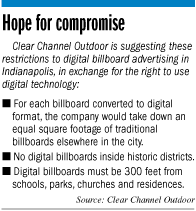 The MDC would not likely support a policy change that hadn't been vetted by city planners. Kisiel and his council supporters are optimistic about their chances with Thies because he recently worked in the private sector as a design and landscape architecture consultant.

"He's more open, way more open," Simpson said.

Thies said he'll meet with industry representatives soon but has not formed an opinion on the issue.

"The only reason I'm looking at it is it's a topic that's been brought up by many people, and I'm doing due diligence to get myself informed," Thies said.

Clear Channel, Lamar Outdoor Advertising and smaller Indiana-based billboard companies have digital-format signs in other central Indiana counties. Clear Channel also has digital billboards at the Indiana State Fairgrounds, which used its status as state-owned property to skirt the city's ban in 2010.

Clear Channel would like to convert 20 to 30 of its 1,260 billboards in the county, said Brett Beshore, president of the Indianapolis region.

Even if Thies blocks the industry-driven proposal, council support bodes well for a more welcoming digital-billboard policy.

"As a hypothetical matter, I don't have a problem with them at all," said Freeman, who represents District 25 in Franklin Township. "I think it would pass the council comfortably," he said.

Simpson's district includes the state fairgrounds.

"If you go down Fall Creek [Parkway], you see that big ol' digital billboard," Simpson said. "The thing I love about it, it's very friendly."

Simpson said he likes that digital billboard messages are timely and easy to read from a distance, and they include information about weather and fairgrounds events.

The first-term councilor said he's willing to lobby the MDC, which shut down Lamar's attempt in 2008 to put two digital billboards on East 46th Street in Lawrence. A Marion Superior Court judge upheld the MDC's jurisdiction as countywide.

The MDC was decisive in its vote against the Lawrence billboards, President Ed Mahern said, but some of the commission's nine members have turned over since then.

"I'd just have a lot of questions," Mahern said. "They haven't been permitted up 'til now for a reason."

The 2003 ban reflects concerns about driver safety and digital clutter. The ordinance prohibits advertising signs with "flashing, intermittent or moving lights," as well as "animated or moving images" and "video or emitting graphics."

The city has a separate set of standards for on-premise business signs, which is why it's common to see electronic signs on drugstores and the like, Planning Division administrator Michael Peoni said. The digital billboard at the entrance to Castleton Square Mall was permitted under a variance, so that Simon Property Group could advertise its many mall tenants.

Digital billboards have proliferated on American highways since 2007. Scenic America, a national anti-billboard group, argues that's because the Federal Highway Administration caved to pressure from the industry.

Scenic America last month sued the highway administration, alleging its 2007 guidance memo to states violates lighting standards set out in the 1965 Highway Beautification Act.

Indiana in 2007 passed a law allowing digital billboards in areas where they aren't banned, and the Indiana Department of Transportation drew up rules the following year. Since then, digital billboards have popped up along interstates in central Indiana's doughnut counties.

Sign vision

The industry's proposal to take down some existing billboards in exchange for digital is a common strategy, and more cities are responding to it, Scenic America Vice Chairwoman Margaret Lloyd said. Others—like Austin, Fort Worth and Houston in Lloyd's home state of Texas—have stuck by their ban, she said.

"It's really a public policy decision of what you want your city to look like," Lloyd said.

Indianapolis should use the billboard industry's push to start a discussion about the city's broad strategy, urban design expert Bruce Race said.

The offer to take down existing signs might be appealing because it's so difficult to remove billboards from urban neighborhoods, said Race, associate professor in Ball State University's College of Architecture and Planning. Landlords often earn more rent from billboards than buildings, he said.

But if the city doesn't limit digital billboards to certain areas, the deal amounts to a "blank slate" for the industry, Race said.

The area around Lucas Oil Stadium might be an appropriate place to let digital billboards proliferate, he said. City planners also need to think about the image they want to project on busy commercial corridors and highways, he said.

"We need a strategy that connects to our other objectives," Race said.

There's a chance that digital billboards will become part of a zoning-code overhaul, called Indy Rezone. A broad-based task force will try to come up with a new set of regulations by March 2014.

"Initially, Indy Rezone was not going to discuss sign ordinances," Thies said. "I've asked them what the rationale for that was."

The industry is prepared to topple any opposition argument that might arise.

Studies that blame digital for distracted driving are based on outdated technology, Kiesel said. Today's billboards aren't glaring, he argued, because they automatically become less bright as ambient light declines.

Billboard companies also dangle some big carrots. Digital technology means billboards can change messages to public-service announcements, such as missing-child alerts, on short notice. Clear Channel even has used a digital billboard in Whiteland to send a "good luck" message to a youth soccer team, Kisiel said.

Then there's the small-business argument.

"We're able to sell the advertising a lot cheaper when we have multiple advertisers using that board," Beshore said.

Kisiel said he doesn't expect to persuade everyone.

"There are people who don't like billboards and are not going to like billboards," he said.

City-County Councilor Jeff Miller is open to allowing digital billboards, but he told Kisiel, who approached several council members last year, that the issue should be fully aired before neighborhood groups first.

Miller polled his e-mail list of about 400 people on the issue last spring.

"Even though I didn't get anyone reply to me that was adamantly against it, no one was jumping up and down with joy," he said.•