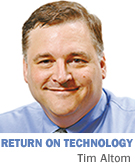 In the aftermath of the Great Recession, the economy continues to grow, but it's becoming obvious that unemployment isn't going to nosedive the way it has after previous recessions. It's a frustrating conundrum that actually seems to possess an upside for business, if certain experts are correct. Their assessment is that business is improving because it's relying on better technology, not more or better people.
Erik Brynjolfsson and Andrew McAfee certainly think so. In their book "Race Against the Machine: How the Digital Revolution Is Accelerating Innovation, Driving Productivity, and Irreversibly Transforming Employment and the Economy," they maintain that the Luddites are right: Technology is pushing productivity and eliminating jobs. (By the way, can anybody tell me why book titles today have to be so long that they barely fit on the cover?)
Just this month, the Associated Press chimed in with a multi-part series that concludes the same thing. Business writers Bernard Condon and Paul Wiseman maintain that the majority of jobs that vanished during the Great Recession weren't low-level, but mid-level. They're middle class jobs like travel agents and IT workers. If anything, lower-pay jobs are proliferating, they say, while middle-class jobs continue to trickle down the drain.
Losing jobs to technology isn't new, of course. We've continually watched jobs vaporize when technology renders them nearly obsolete. Few of us talk to a bank teller anymore, and a growing number of us use the self-check at the supermarket. Unskilled factory jobs are almost gone. But job losses have traditionally struck the least skilled, not the highly skilled.
The term "Luddite" entered the English language in the 19th century when workers began protesting the arrival of machines for making textiles that would throw unskilled textile workers onto the street. The plant managers' jobs were still secure. No longer.
Anyone who works for a large company can probably tell stories about how many corporate functions that used to be handled by human resources staff are now performed by outsourced, online companies.
Benefits, for example, are increasingly being managed through a browser, not by onsite staff. Travel arrangements are now made online, not by a human agent. Major universities are offering a rising number of popular online courses that allow one instructor to potentially teach hundreds or even thousands of students while grading and other mundane tasks are done by course management software.
The AP article maintains that, of all the jobs that vanished in America over the past few years, very few were lost to China. The majority just ceased to exist.
This is very bad news to a good many college graduates who have come to expect jobs simply waiting to be filled. Instead, many graduates are scrambling to compete for a place in the shrinking pool. A college degree, once a passkey to the middle class, is now just another line on a desperate resume.
But automation has a strong upside, too. It's made microbusinesses possible, for example, because now one or two people can do everything that a whole staff once did. A solo operator can now occupy a virtual office where, with only one laptop, she can sit in a coffee shop and book a flight, rent a car, do her taxes, order materials, solicit bids, write checks, read and answer mail, respond to RFPs, analyze financial data, get a loan, hold meetings, call anywhere in the world, read the business news, educate herself on changes in her field, apply for insurance coverage, and network with others. One person's job loss is another's efficiency boost.
Ironically, the services industry is benefiting enormously from the shrinking of the middle class. Some economists fear this will result in lower costs for service providers, but to a progressively smaller group of customers.
Other jobs have opened up for those who can build the enabling technologies, although they don't come close to matching the number of jobs lost. And some jobs just aren't yet capable of being automated, like many in the health industry.
The U.S. Bureau of Labor Statistics publishes a yearly list of occupations that are expected to grow most quickly, and the current list is solidly stocked with degreed jobs that are unlikely to be subsumed by technology anytime soon. Biomedical engineers head the list, with event planners, translators, market research analysts, and health educators rounding out the top five.
For those without a degree, the list is always topped by those with skilled trades: plumbers, electricians, stonemasons, pipefitters, and the like. It's not yet possible for a bulldozer to drive itself. The middle class may be shriveling a bit, but it's a blessing that there are still jobs even the smartest computer can't do.•
__________
Altom is an independent local technology consultant. His column appears every other week. He can be reached at taltom@ibj.com.
Please enable JavaScript to view this content.