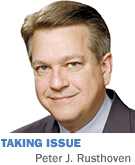 Among American liberals, coverage of Pope Benedict's decision to resign and speculation about his successor take a predictable line. The Washington Post's editorial is typical.
The challenge facing the Roman Catholic Church, we are told, is "how to remain relevant to an increasingly secular world and to its own changing membership." Benedict was a "conservative," at times "reactionary," who believed "only uncompromising adherence to past doctrine could preserve the faith. Catholics who seek a different answer will have to hope that a college of cardinals dominated by the pope's appointees will choose a more progressive successor."
Well, there you have it. The Catholic Church, like the nation itself, will prosper if only "progressive" views prevail over "conservative" ones.
Speaking as a convert to Catholicism, I think this rather misses what Christ and Christianity are about. As Benedict's resignation has put such issues in the news, I hope non-Catholic, non-Christian and non-religious readers will forgive me for pointing out why.
Putting matters of faith aside for the moment, the Post outlook is mistaken simply from the standpoint of attracting and retaining members. When it comes to religion, aiming for secular "relevance" doesn't sell.
Membership in mainline Protestant denominations has declined steadily since the 1970s, coinciding with their embrace of "relevance" as a lodestar. Evangelical churches cling to doctrine on Christ's divinity, resurrection and salvific mission, and are peopled by the folks our president says "cling to their religion." Their numbers grow.
This should be no surprise. Scripture never recounts Christ striving "to remain relevant to an increasingly secular world." It reports instead that "the crowds were astonished at his teaching," because "he taught them as one having authority, and not as their scribes" (Matt. 7:28-29).
The things Christ taught with "authority" bring us to matters of faith. In a secular culture whose sole doctrine is that everything is a matter of opinion, one must restate the obvious: Christianity makes truth claims. The core claims are that Jesus was the Son of God, whose crucifixion and resurrection save us from our sins and promise eternal life.
Christianity does not claim that Christ was merely a "great moral teacher." That, as C.S. Lewis famously observed, "is the one thing we must not say. A man who was merely a man and said the sort of things Jesus said would not be a great moral teacher. He would either be a lunatic—on the level with the man who says he is a poached egg—or else he would be the Devil of Hell."
My objective is not to preach or convert, for which this column is not the forum. It is simply to remind what is actually at issue in electing a new pope.
There are 1.2 billion Roman Catholics in the world, of which some 75 million are Americans. Around a third of a million live in central Indiana (the Indianapolis archdiocese and the Lafayette diocese to the north, which includes Hamilton and Boone counties). The Roman Catholic Church remains by far the largest institution proclaiming the Christian message. With apologies to my Eastern Orthodox friends, for 15 centuries Roman Catholics pretty much had the franchise on keeping it alive.
Keeping the message alive remains the church's mission, and thus the mission of whoever next sits in the chair of St. Peter. The doctrines the church proclaims about Christ are the core of that message. To believers, those truths are and remain what is truly "relevant" to a fallen world.•
__________
Rusthoven, an Indianapolis attorney and graduate of Harvard College and Harvard Law School, was associate counsel to President Reagan. Send comments on this column to ibjedit@ibj.com.
Please enable JavaScript to view this content.