Improvisational comedy is one of the toughest arts to tell your friends about, let alone to perform. You can't quote what you saw in the way you might with a traditional stand-up routine or a comedic play because the laughs don't usually come from carefully structured lines that hold up a day later. As such, this isn't humor with a long shelf life. The same bit that kills when watched live might fall flat if seen on video.

So, without recounting too much, I have to ask you to have faith in the fact that, over the past 17 or so years, I've had—with a few exceptions for bad nights—good times with regularly scheduled ComedySportz performances. And I laughed a lot during the ComedySportz Indianapolis 20th Anniversary Gala, held Feb. 9 at the Athenaeum.

Ref Jeff Clawson vamps in the ComedySports gala match. (Photos courtesy of ComedySportz)
Whether it was watching a player trying to guess (through mime and gibberish) that her teammates were playing basketball with the Spice Girls at Stonehenge or seeing them re-create a previously played scene in the style of Dr. Seuss, the all-star teams of local "actletes" at the gala did themselves proud.

And while the audience at the gala was certainly a friendly one—a packed house of current and former players as well as friends, family and other well wishers—there was certainly pressure on the performers being billed as the best … and having to prove it in front of their peers.

The on-stage evening began with an awards celebration that effectively straddled sincerity and parody. That's not easy when awards shows tend to parody themselves these days. It's even harder when you are trying to entertain an audience while giving awards to yourself.
"Actlete" Claire Wilcher hassles fellow player Terrell Woods. (Photos courtesy of ComedySportz)
But it didn't matter much if you didn't know any of the players up for Best Character Work or Rookie of the Year. Well-crafted acceptance speeches, a timeout for a spoof of "In Memoriam" sequences, jovial hosting, and a few breakthroughs of sincerity didn't just entertain, but may well have inspired some to take a leap and sign up for classes to potentially become a part of this still-growing group (each week's cast for the regular shows is culled from a gang of about 40 performers trained in the ComedySportz games).

After a break, ComedySportz Indianapolis founders Lynn Burger, Mia Lee Roberts, Ed Trout and Woody Rau squared off against "The Young and the Reckless," featuring newer kids on the block. The inspired Jeff Clawson (familiar to some from his work with $3 Bill Comedy) served as ref.

Both teams played well in the expanded venue: Being spontaneous in the small, clubby ComedySportz theater down the street is easier than getting chuckles from the back tables of the Atheneaum.

None of what transpired was unfamiliar to anyone who has caught a ComedySportz show in Indy over the past two decades. The structure—two teams of improvisers competing for audience votes with a referee to keep things moving—has been the same since the group launched at the old Theatre on the Square. A few permutations later, the group has become a fixture on Mass Ave, having grown to a point that it hosted the ComedySportz World Championships here in 2011.

(Yes, the Indianapolis team won, but that's kind of a given with the host team for a competition where the points are relatively arbitrary.)

In Chicago, where improvisation is often treated as a high art, some look down on the anything-for-a-laugh-except-adult-material approach of ComedySportz. The high pun quotient, the Mad Lib-ish absurdities, the keep-it-moving lack of depth, the reliance on surface-only character creation and the format built on recurring elements might turn off purists.

But ComedySportz players don't seem to mind. For them—and for the audience (aka "the Loyal Fanz")— it's about having high-spirited, creative fun. It's about creating a show and then leaving it behind. And it's about the joy of watching talent on the high wire without the aid of a scripted net.

__________

Hitting the road for some 'Big Fish'

Fresh from the IBJ A&E Road Trip to see "War Horse" in Cincinnati, I'll be on the road again on April 27 with a busload of IBJ readers, this time to Chicago, to see the on-its-way-to-Broadway musical "Big Fish"—the story of a man, his son, and some very tall tales.

The world premiere production carries with it an amazing lineup of talent. First, there's Tony-winning star Norbert Leo Butz, one of the most dynamic, charismatic musical theater actors I've ever seen. After seeing him off-Broadway in "The Last Five Years" and on Broadway in "Catch Me If You Can" (alas, I missed "Dirty Rotten Scoundrels"), I decided I'd be willing to see him in anything.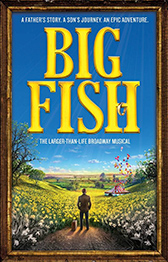 (Image courtesy of The Hartman Group)
He's paired with fellow Broadway stars Kate Baldwin ("Finian's Rainbow" and "Wonderful Town") and Bobby Steggert ("Ragtime," "110 in the Shade").

They'll be working with Director Susan Stroman ("The Producers," "Crazy for You"), writer John August ("Frankenweenie," "Corpse Bride") and composer Andrew Lippa ("The Wild Party"). It's set to open on Broadway this fall. But we'll be seeing it months earlier.

Care to join me for the trip, which includes the show, lively discussion along Interstate 65, and some on-the-road surprises? For more cost information or to make a reservation, contact Interlude Tours at 913-0387, or reservations@interludetours.com.•

__________

This column appears weekly. Send information on upcoming arts and entertainment events to lharry@ibj.com.