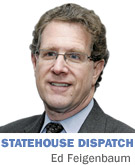 As the General Assembly passes its first major milestone in the 2013 session—the final round of committee hearings in a bill's chamber of origin—we're picking up a few insights into the dynamics that likely will guide the remaining two months.

Republican Gov. Mike Pence entered office with legislative experience in Washington. But he had little experience as a chief executive and never had led a government enterprise.

So far, that legislative background has been the overwhelming factor shaping his interaction. Pence has been largely inclusive as a leader, meeting privately with legislators of both parties to listen to individual priorities and concerns. And he has brought leaders from both parties into his decision-making process on issues with common ground.

While it's tempting to dismiss this as merely picking off low-hanging fruit, Statehouse observers recall that there wasn't much inclusion of any sort in the past eight years, and lawmakers applaud this change in both process and substance.

"It was extremely difficult with our past governor for a legislator—even from his own party—to speak with him about something important to that district," Sen. Jean Leising, R-Oldenburg, recently told a constituent forum.

Rep. Tom Saunders, R-Lewisville, chimed in that Republican Gov. Mitch Daniels "seemed to have the opinion that if you voted against him on an issue, you weren't with him on anything."

Those comments from veteran GOP lawmakers who served under several governors of both parties—captured by the New Castle Courier Times—are not unique. Do not underestimate the evaporation of tension between the second and third floors that began with Pence's inauguration.

While the operational differences in the governor's office are welcomed by lawmakers, there remain substantive disagreements in policy—and not just between parties.

What is interesting is that the Republican legislative leaders have become lightning rods, protecting their members from the governor (and voters) on some issues.

Dating back to the gubernatorial campaign, when Senate President Pro Tem David Long, R-Fort Wayne, and House Speaker Brian Bosma, R-Indianapolis, threw cold water on tax-cut proposals offered by both major-party gubernatorial candidates, the leaders have preferred to hold legislative options open on how to spend the expected operating income increases.

The two leaders have held firm on not supporting Pence's proposed 10-percent cut in individual income tax rates until their members can weigh in.

In recent days, Republican House fiscal leaders advanced a preliminary budget without the Pence-sought income tax cuts. They also trimmed back his proposed private-school voucher program expansion, provided greater funding for education than he sought, and spent more money overall than the governor would like.

Pence issued the kind of retort more appropriate for a governor of one party chastising the opposing party in the Legislature over budget priorities. Despite having "the largest budget surplus in history," he said he was "very disappointed" that lawmakers did not offer "hard-working Hoosiers one cent of new tax relief" when he believes we can afford to fund priorities and still cut taxes.

House Democrats, sensing a political opportunity, earned some good will from the governor when they promised a vote on his proposal.

And speaking of those ultra-minority Democrats (the opposite of super-majority Republicans?), their new leaders, Senate Democratic Leader Tim Lanane, D-Anderson, and House Democratic Leader Scott Pelath, D-Michigan City, have largely avoided fruitless partisan hyperbole and have instead focused on providing strategically appropriate Democratic input.

These tactics have resulted in an effective working relationship with Republicans from the top down, and allowed some Democrats to get credit for legislation that might have been usurped by the majority.

Lawmaking has become much more collegial this year than those elected since 2006 have experienced. And while credit starts at the top of the executive and legislative branches, everyone is behaving well so far, portending a welcome, smoother landing for this session at budget-crunch time.•

__________

Feigenbaum publishes Indiana Legislative Insight. His column appears weekly while the General Assembly is in session. He can be reached at edf@ingrouponline.com.