The 500 Festival Mini Marathon in May will once again focus Hoosier attention on distance running—a sport where shifting demographics and rising interest have combined to generate strong sponsorship revenue.
The 35,000 runners, walkers and joggers competing in one of the nation's largest road races are a small part of an industry that has become so big that a growing number of race promoters and operators worry the market is becoming saturated.

The number of distance-running events locally and nationally has doubled over the last decade. The number of runners in those events has grown just as fast, and the number of women—who were outnumbered three-to-one at such events in the 1990s—outnumbered the men for the first time in 2011.
More women runners and wealthier runners have brought a crush of companies racing to sponsor running events at levels that far outpace sponsorship growth for other sports. The growing participation of women, who are key in household buying decisions, is making these events all the more alluring, sponsors said.
Events ranging from the Mini in the spring to the Indianapolis Monumental Marathon in the fall and everything in between have seen consistent double-digit growth.
In central Indiana, the number of road running events has grown from about 30 in 1990 to nearly 100 this year, according to local promoters and race organizers. During that same period, the number of participants has grown from 50,000 to more than 200,000.
That growth keeps drawing more players to the game. Inspired by the double- and triple-digit percentage growth of the Monumental Marathon in November in Indianapolis, organizers in Columbus will launch the Mill Race Marathon—which, like the Monumental, includes a half marathon and 5K—in September.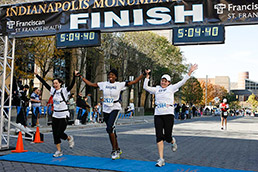 A big increase in women's participation has been a major driver to attracting sponsors to events such as the Monumental Marathon held each November in Indianapolis. (Photo courtesy of Monumental Marathon)
While the Mini in May reigns as king, the Monumental is at 11,000 entrants and growing and the Mill Race hopes to draw 5,000 in its first year.
Big sponsors, big investments
National sponsorship spending on road running events has increased each of the last five years, growing nearly $20 million to $102.1 million last year, according to IEG Sponsorship Report, a Chicago-based research firm.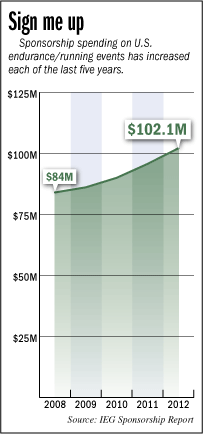 The 6.7-percent sponsorship growth in running in 2012 outpaced the 4.6-percent increase in the overall sports category and the 4.1-percent increase in overall sponsorship spending, according to IEG.
"This is becoming the sponsorship platform of choice to a variety of companies, especially health care and financial institutions," said William Chipps, IEG Sponsorship Report editor.
Locally, companies ranging from Indianapolis-based OneAmerica Financial Partners Inc. to Columbus-based Cummins Inc. are making multiyear, six-figure investments in distance-running events.
Reasons vary, Chipps said. But one thing is certain: "It's not just about charity and community involvement anymore. This exposure is delivering a return on investment."
Cummins and MainSource Bank have signed six-figure, multiyear deals to sponsor the Mill Race Marathon in September to promote health and fitness and also to bring tourism dollars to Columbus.
"This is not a small commitment for us," said MainSource Market President Charlie Farber. "It hits in the strike zone of what we're trying to accomplish."
MainSource wanted to be involved because the event promotes health and fitness and has a youth component.
"It's a real family event," Farber said.
Cummins is so excited about the prospect of using the races to draw people to its hometown that it is promoting the event through its business units nationally and contracting charter buses to ferry people from the Indianapolis International Airport to Columbus.
"These companies are involved for the benefit for the community, but these days they also expect a return on their investment," said Ken Long, founder of Ken Long & Associates and a race promoter dating back to the 1980s who operates the Columbus race. "These are increasingly strategic business decisions."
OneAmerica, which has been the title sponsor of the 500 Festival Mini Marathon since 2005, saw the event as the perfect way to market itself under the OneAmerica moniker, which was fully rolled out in 2002, said Jim Freeman, the company's vice president of community affairs.
"We wanted people to know we were a part of this community and we were here to stay," Freeman said.
OneAmerica pays six figures annually to sponsor the Mini, and Freeman calls that amount "well worth it."
Slower, smarter, richer runners
Critical to sponsors, participants in the current running boom are better educated and wealthier than the runners of the movement that swept the nation in the 1970s and 1980s.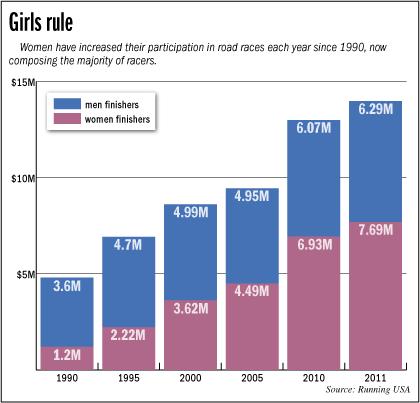 Participants this time around also are decidedly slower. The median time for male marathoners was 42 minutes slower in 2011 than in 1980, according to Running USA, a California-based industry research group. The median time for women was 39 minutes slower during the same period.
"Road racing has gone from a competitive endeavor to a social movement," said Don Carr, president of Tuxedo Brothers, an Indianapolis-based promotion company that coordinates about 45 endurance events annually, including the Mini and Monumental races.
While some hard-core runners bristle at the shift, promoters and sponsors salivate over the potential financial prizes involved in the growing and changing industry.
According to Running USA, more than 70 percent of road-race finishers last year had a college degree and household income of more than $75,000. A recent study done by the New York City Marathon concluded that two-thirds of its finishers came from households with income in excess of $100,000.
Some huge sponsors have been attracted to the sport, including title deals by ING for the New York City Marathon, John Hancock Life Insurance for the Boston Marathon, and Bank of America for the Chicago Marathon. Locally, companies ranging from Franciscan St. Francis Health to Chick-fil-A have sponsored races.
"The demographics of these events are extraordinarily attractive for a growing number of corporate sponsors," said Jill Geer, spokeswoman for USA Track & Field, the Indianapolis-based national governing body of U.S. track and road running events.
Locally, a survey conducted by the Indianapolis Monumental Marathon found that a whopping 80 percent of its participants had a four-year college degree and 34 percent had a graduate degree. Household income of the "vast majority" of 2012 registrants was over $70,000, said Blake Boldon, the event's executive director.
"These demographics are just as attractive as golf and tennis, and the audience is just as large," said Running USA spokesman Ryan Lamppa. "And it's one where participation and engagement are much higher than most sports. This industry has evolved into a multibillion-dollar industry."
Demanding more
The expectations of event sponsors has changed drastically from the first running boom.
"Marketers have simply become more savvy—and demanding," Long said. "A logo on a T-shirt is no longer good enough. Now, sponsors want to know how many registrants you'll have, how much traffic your website gets, how big your e-mail distribution list is, and they want their company name and logo on everything."
While some companies are seeking exposure to the event participants and spectators, others are interested in business-to-business networking.
"When you get a first-rate company like Cummins involved in an event, that makes it so much easier to sell other sponsors," Long said.
OneAmerica uses its involvement in the Mini for dual marketing purposes. In addition to the mass exposure, it also brings in agents and other business partners to participate in the event and take part in its corporate hospitality offering.
Some are beginning to wonder whether overexposure will sink the industry.
Carr, whose company operates twice as many races as it did a decade ago, admits "the market is totally saturated."
This year, the 500 Festival Mini Marathon, which for years has sold out by Feb. 1, still has a few hundred entries before reaching its 35,000 capacity.
Many weekends are clogged with multiple events.
"There are still a lot of runners, but with so many events cropping up, you begin to wonder how many of those events are healthy," Long said. "We have to hope the unhealthy, poorly [operated] events don't give the industry a bad name and drag the industry down."•
Please enable JavaScript to view this content.