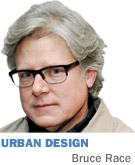 Indianapolis is updating its 1969 zoning ordinance. Yes, 1969, the year of Apollo 11, the first moonwalk and Woodstock. The Indy Rezone project is a 2-1/2-year effort to overhaul the ordinance and is funded by a $1.1 million federal Housing and Urban Development Community Challenge Planning Grant.
But the term "rezone" isn't quite accurate in this case. Indy Rezone will simply make adjustments to existing development standards to allow contemporary development to be more pedestrian-friendly, urbane and sustainable, and have densities supportive of transit. According to city staff, it will not modify existing land use designations or change the uses allowed in the existing zoning map.
City policy is to change zoning only when that change is initiated by the property owner. Unless that policy is altered, our outdated zoning ordinance will continue to be a problem.
It is fantastic we have received the federal grant to update our zoning, but our 1969 ordinance does not just need a shower and a haircut. It has to retire to a beach in Florida. Forever.
In my September 2012 column, "Professional project review is an investment in quality," I discussed the city's need for a design policy and investment in a culture of continuous improvement. That happens through investing in quality staff, but it also requires a sound zoning ordinance.
Good zoning springs from a popular vision of the future that has been captured in planning policies. Policies should be comprehensive and strategic, supporting a growing economy, updating land use designations, and identifying needed infrastructure. Zoning regulations implement those policies.
Two recent efforts were half steps toward the city's initiating changes to its zoning map.
The Envision Broad Ripple Plan strives to embody community aspirations and identify recommended zoning changes that can be initiated by the property owner. The city will pay for and allow the rezoning of property according to the plan. However, it is still up to the owner to initiate rezoning, and after the grace period, the property owners will have to pick up the tab.
In Speedway, that independent town's City Council initiated rezoning that changed its zoning map. But that's Speedway. Indianapolis didn't initiate that rezoning and its City-County Council didn't have to sign off on it.
In Indianapolis, unless a property is in a historic district (where strict design standards are enforced), project owners will continue to be free to build whatever our Woodstock-era zoning allows, even if the neighborhood has spent the last 40 years saying it wants something different.
There will likely be simplification and consolidation of the many zoning designations and higher allowable densities near anticipated transit stops. But longtime beefs by the community, such as allowing gas stations at important visible neighborhood intersections, will not be addressed because the map will not be changed. Only the ordinance text will be updated.
As part of the Indy Rezone process, the city is to work with three neighborhoods—including East 10th Street; University Heights near the University of Indianapolis; and the Smart Growth Redevelopment District, which straddles the Monon Trail just north of downtown.
These neighborhoods are referred to as "invigoration zones" and have advisory groups that work with the city to provide feedback and help with community outreach. However, the community process for the invigoration zones will be used only to demonstrate the potential of the new standards, not to change the underlying zoning map or planning policies.
Rather than just calling them invigoration zones because it sounds proactive, they could actually become catalysts for reaching community design and economic goals.
These plans could serve to bridge zoning code and neighborhood revitalization objectives, adding an urban design layer that identifies central places, edges, gateways and implementation priorities.
But a new ordinance is the only real foundation for achieving neighborhood objectives. We need to have the political will to activate our vision of the future. The City-County Council needs to listen to the community. After years of planning, let the ordinance reflect our values and aspirations. Change the zoning map. Lead us.•
__________
Bruce Race, FAIA, FAICP, is an award-winning architect and urban planner, owner of RaceStudio and recipient of the Indiana Sagamore Planning Award. He lives in a historic Indianapolis neighborhood and teaches urban design at Ball State University's Downtown Indianapolis Center. His column appears monthly. He can be reached at br@racestudio.com.
Please enable JavaScript to view this content.