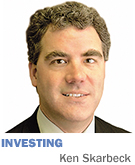 A lengthy New York Times opinion piece by David Stockman has set off a firestorm of response from a variety of sources who editorialize about stock markets and politics.
Stockman's rant begins by predicting that the stock market, "inflated by an egregious flood of phony money from the Federal Reserve, rather than real economic gains, will explode, too."
Stockman, a budget director under Ronald Reagan, spares neither political party with his criticism and takes issue with the policies of nearly every president beginning with Franklin Roosevelt.
In one retort, Paul Krugman, the liberal economist and Times opinion contributor, found himself in the unusual position of defending capitalism. Krugman attacks Stockman's statement that the United States has been on "a four-decade spending spree during which we lived high on the hog."
Krugman counters that America will deliver $16 trillion in gross domestic product this year and still earns more on its investment earnings versus the amount paid out to foreigners. So, Krugman asks facetiously, this is the result of four decades of living high on the hog? In the end, Krugman dismisses Stockman's rant as "cranky old man stuff."
Frankly, Stockman's assault on crony capitalism isn't news to most observers of our economic system. Elements of crony capitalism have existed since history has been written. You don't have to think too hard to come up with cases where the well-connected have gained benefits the masses don't enjoy.
Regardless of this loathsome consequence, that doesn't diminish the overwhelmingly positive results that our capitalist system has produced since the days of 1776.
Stockman's strongest argument against crony capitalism resides with his criticism of the 2008 taxpayer bailouts of the banking system. His vitriol stirs up wrath that seethes from most taxpayers, while he concludes that the culprits are back to their old games.
Stockman's argument loses steam when he insists that there never was a remote threat of a Great Depression. This will be debated ad infinitum, yet most thinkers conclude that, had the financial system been allowed to collapse, we would still be mired in a very dark economic chapter.
All this publicity should serve Stockman well as he has just published a book: "The Great Deformation."
Also, one could speculate that Stockman might hold a grudge against capitalism, left over from his failed efforts to resuscitate a large auto-parts manufacturer. Stockman was CEO of Collins & Aikman Corp. from 2003 to 2005. Not only did the company's May 2005 bankruptcy filing stain his reputation, but the SEC filed charges against Stockman for accounting fraud, which he settled in 2010 by paying a $7.2 million fine. Stockman maintains that the bankruptcy was due to industry conditions and not accounting fraud.
Perhaps the most surprising outcome of Stockman's diatribe against warped government's policies has been the outpouring of defense of the American system from diverse sources in the press. It is refreshing to see some positive views in the media as the economy continues to mend.•
__________
Skarbeck is managing partner of Indianapolis-based Aldebaran Capital LLC, a money management firm. His column appears every other week. Views expressed are his own. He can be reached at 818-7827 or ken@aldebarancapital.com.
Please enable JavaScript to view this content.