When the economy tanked in 2009, Tiffany Sauder thought her advertising/marketing agency would soon be toast.
Figuring she might as well go out swinging, Sauder waved goodbye to client prospects who weren't willing to commit to investing in digital marketing and advanced analytics she knew to be effective.
Her bet paid off. Last year, her revenue doubled to $2 million and is on track to hit $3.6 million this year.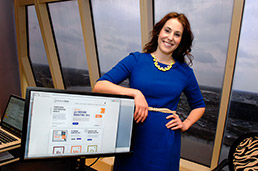 Tiffany Sauder and her Element Three marketing firm won HubSpot's agency of the year honor last year. (IBJ Photo/ Perry Reichanadter)
Element Three is among dozens of ad/marketing firms in the city that put digital marketing—in a dizzying array of formats and specialties—front-and-center. Often led by "millennial" types in their 20s and 30s to whom things like social media are second nature, they're giving ensconced agencies a run for their money.
Sauder, 32, a former Eli Lilly and Co. financial analyst, remembers the disbelief from peers when she declared she'd enter the ring with established agencies.
"It was like, 'There are 10 million of them [ad firms]. You're a lunatic'."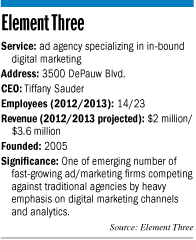 In Sauder's case, she became a disciple of so-called inbound marketing—such as blog posts, webinars, white papers and search engine optimization. The idea is that customers make purchases based on information they gather on their own—such as through Web searches—before a salesperson can reach out to them.
It's the opposite of outbound digital marketing such as email blasts, which are aimed at consumers who might not even be interested yet in buying a particular product or service.
Sauder's agency tries to prepare clients for prospective customers who seek them out, such as through a Google search.
In the old days, a consumer wanting a lawn service to treat a grub problem might have gone to the Yellow Pages.
Today, that person, while on Google, might spot a vendor offering a $99 lawn application special. Or, might differentiate among a long list of lawn services by the one that makes a compelling case for its expertise—one appearing to be a "thought leader," for example.
Often, that's likely to be the firm the consumer contacts to come out for a lawn inspection and treatment.
HubSpot key to success
Element Three built its marketing strategies around a software platform by Massachusetts-based HubSpot. It has all the Web marketing tools known to mankind, along with analytics to help fine-tune the marketing message and measure results. Element Three won HubSpot's agency of the year honors last year, and plans a marketing conference downtown on June 13.
Whatever the software de jour, "we feel that all marketing should be primarily digital," said Michael Reynolds, CEO of Indianapolis-based SpinWeb, which he launched in the 1990s primarily as a Web design firm.
Today, the 12-employee SpinWeb offers a number of inbound-marketing services for clients, saying a lot of companies are dropping traditional ad agencies altogether.
"This," he said of digital tools and inbound marketing, "is becoming the new full-service agency."
Such agencies aren't alone in embracing in-bound digital marketing. There are firms like Indianapolis-based DK New Media, which helps companies use online mediums such as search engine marketing and blogging.
CEO Doug Karr isn't from the millennial generation that seems to dominate this space, and he figures that's a good thing. With plenty of gray in his beard, Karr was writing about the potential for things like corporate blogging years before it became a household term.
He even worked for more traditional media such as The Indianapolis Star, where he was once database marketing manager.
Karr's six-employee firm offers but isn't beholden to a single platform such as HubSpot, saying some clients simply don't want to engage with such software.
"The real problem is, marketers are deluged with all these different [digital] options," Karr said.
They also might still want an agency that integrates and coordinates all of their marketing efforts, not just interactive marketing and social media but also non-digital channels.
That led David Cain, who was co-owner of digital shop Media Sauce, to launch Carmel-based agency Magnitude last year.
One of his clients showed him a stack of emails printed out from firms offering distinct services, such as one offering search engine optimization and another pitching email marketing services.
Advertisers also need help in deciding which tools are most appropriate. For example, if 90 percent of a company's business comes from referrals, what sense does it make to push a customer toward search engine optimization?
"It's cluttered out there," he said of the digital marketing offerings.
Some businesses, in fact, are getting so confused by all the pitches that they're just throwing up their hands and holding off on expanding their marketing. If a marketing firm is just offering a few tools, "you can't advise people holistically," he said.
New medium not for all
That's where many traditional agencies have held firm amid the influx of specialty digital marketing firms.
Agencies like Borshoff, which had 2011 billings of $42.4 million and a roster of big corporate clients, often subcontracts with firms offering digital marketing specialties rather than creating elaborate in-house capabilities.
Many of its big corporate clients still need expertise in traditional marketing channels. Those 75 million or so remaining baby boomer consumers have fat wallets and aren't dead yet.
Myra Borshoff Cook keeps the youngsters at bay with her staff's years of expertise in areas such as crisis management and in writing an effective pitch.
"You need to have the pillars of understanding about how communications works," said Borshoff, who briefly was a computer programmer—in the 1970s.
"[Even] if you're talking about digital marketing, you still have to have the message to deliver."
She's seen the preferred mediums come and go over the years.
"It's an evolving thing. I think five or 10 years from now, we might be having a different conversation," she said.
But the audacious, young Sauder is upbeat about the latest marketing tools and their ability to capture invaluable data to improve marketing effectiveness. She demonstrates a HubSpot dashboard that shows how many visitors are coming to a site and from where, and what's the highest-impact marketing channel.
"Marketing is a science, today," she said.•
Please enable JavaScript to view this content.