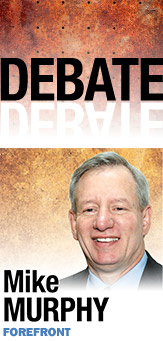 Question: Political scientists are debating the relevance of the discipline. Some criticize the field as having grown too esoteric and unfocused on real-world issues, while others suggest that it envies "hard" sciences for those disciplines' stronger ability to offer predictions. Was political science ever relevant, and if so, has it lost its way?
Answer: Political science has evolved greatly over the decades. Like most academic disciplines, political science gained wide acceptance more than 100 years ago, when like-minded academicians formed an association to "legitimize" their interests and their way of supporting themselves. Every profession needs an association, and political scientists had the American Political Science Association.
Associations do what associations do. They collect dues, primarily. They look out for the collective self-interests of their members. They promote their profession. They publish journals. They provide an outlet for members to make money consulting. And they engage in a lot of navel gazing.
I say navel gazing, because the current debate among political scientists about their relevance is just that.
The question is not whether political science was ever, or is now, relevant. Any questions worth asking, thus answering, are a legitimate, relevant pursuit.
The relevant question is why some political scientists are relevant while others are not.
As a student of politics and history myself, I have read endless papers. If they are well-written; cover a topic I find relevant; and are grounded in some personal, practical experience in politics, I generally inhale them and reflect upon them.
The problem is, too many political scientists are themselves irrelevant, because they are not writing about topics that affect current debate or they do not know how to communicate their ideas beyond the insular journals published by their associations. Essentially, they write for themselves and their colleagues.
There are striking exceptions. One is Larry Sabato of the University of Virginia. Sabato is no slouch. He is a Rhodes Scholar who has adapted his studies, and more important, the communication of his conclusions, to the modern world of communications.
In addition to writing many books on politics (his newest, "The Kennedy Half Century," will be released in October), Sabato has embraced the multimedia age. He publishes his weekly "Crystal Ball" newsletter, frequently blogs and tweets, is a pervasive presence on public affairs programs and the speaking circuit, and has an uncanny ability to predict trends and actual results in election years.
Sabato doesn't just study politics. He markets his conclusions, and himself.
Political scientists can learn a lot from Sabato, even if they never master the Twitter phenomenon. To be relevant, they must:
• Write about relevant topics.
• Write with clarity, designed to engage a broad public.
• Have some experience in the nitty-gritty of the political world.
Political science will always be relevant, because it is the study of the interplay of self-interest on human behavior within a defined process. There is nothing more fascinating.
When asked in 1946 why science can harness the atom but cannot devise the political means by which we can prevent it from destroying us, Albert Einstein replied, " … because politics is more difficult than physics."
That is quite a statement from one of the smartest persons in history.•
__________
Murphy, a former member of the Indiana House and former Marion County Republican Party chairman, is senior vice president of Hirons and Co. Send comments on this column to ibjedit@ibj.com.
Please enable JavaScript to view this content.