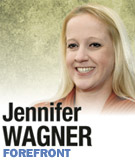 Reggie Walton and Mark Zuckerberg have one thing in common.
Walton, an assistant administrator in the Indianapolis Department of Metropolitan Development, allegedly used his public position to facilitate the third-party sale of abandoned properties to developers who flipped them at a huge profit. Walton allegedly took bribes and kickbacks for his assistance.
Zuckerberg founded the social network Facebook and is one of the wealthiest and most influential business leaders in the world.
The tie that binds? Why, they're both 29.
If you read feedback on the stories about the indictments or followed chatter on social media, you'd have seen folks questioning whether Walton should have been given so much responsibility in his late 20s.
C'mon, people. It's not about his age. It's about his moral compass.
Instead of doing their jobs as public servants, Walton and his 27-year-old aide, John Hawkins, decided to enhance their incomes by operating a real estate shell game.
It's true there are studies showing that our brains aren't fully developed until our mid-20s; that research is sometimes used in criminal proceedings to mitigate the punishment of a young defendant.
I'm willing to give brain development a certain amount of deference when we're talking about crimes of rage or passion, but there's no excuse for public corruption that's clearly motivated by greed.
Besides, if we start looking at everything through the lens of age, perhaps we should question whether emergency room doctors fresh out of medical school should tend to our gravest injuries. Can we trust young attorneys to prosecute high-stakes cases or young bankers not to steal money? Should we send 18-year-olds to fight our wars if we don't think they can make appropriate ethical decisions?
This issue is a personal one for me. Almost a decade ago, I oversaw communications for a state agency. That included handling a $5 million annual budget largely devoted to paid advertising campaigns.
A lot of account representatives at media outlets were competing for our business, which is why we engaged an advertising agency to purchase media on our behalf.
One day, a friend in state government asked me whether anyone in the agency had recently traveled to Mexico. Yes, I answered. And out came the rest of the story.
An employee in my department had gone on a paid trip to Mexico with an account representative from a local radio station. She'd also accepted hundreds of dollars worth of gifts and meals. And she'd just asked me to sign a sponsorship package with that station worth more than $500,000.
My heart sank, but what we did next was a no-brainer. The employee was terminated, we canceled the sponsorship package, and I turned over evidence of her wrongdoing to state ethics investigators and to the media.
It was painful to watch the agency dragged through the mud, but we made it clear that this individual made these bad choices, not the agency or anyone else working there.
A few days later, a newspaper editorial wondered whether the employee's poor judgment was related to her age.
At the time, she was 27. I'd just turned 25. The theory made me chuckle.
Running a city or state is a complex undertaking, and public servants often have more duties than their counterparts in private industry, sometimes much earlier in their careers.
With that greater responsibility comes greater accountability, and we must make certain that those who abuse the public trust are appropriately punished. Bad choices are bad choices at any age. Period.•
__________
Wagner is a lifelong Indianapolis resident and founding principal of Mass Ave Public Relations, a local public relations and publicity firm. Send comments on this column to ibjedit@ibj.com.
Please enable JavaScript to view this content.