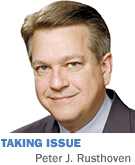 Two law stories made Indianapolis headlines last week. One is Tomisue Hilbert's lawsuit against John Menard, claiming he tried to extort, uh, "favors," and is now trying to wreak financial revenge for being rebuffed. Hmm. What say we talk about the other story?

That one is our Supreme Court's declining to interfere with fines the state House of Representatives levied on Democrats who refused to attend, preventing a quorum that could act on bills they opposed. In 2011, the Democratic caucus took a field trip to Illinois to stop "right to work" legislation. They walked out again in 2012, again bringing proceedings to a standstill.

Neither boycott succeeded, but both had consequences. For one, voters last fall reduced Democratic numbers to the point that House Republicans can form a quorum on their own.

Another consequence was the fines, reducing pay for House Democrats for days they refused to attend. Democrats sued, winning a trial court ruling that fines couldn't be collected by the state auditor's withholding amounts from member paychecks.

Our Supreme Court sent the right messages in setting that ruling aside.

First—though the court deliberately did not decide this issue—the result sends the right message on the underlying dispute. House Democrats said the fines violated their Indiana constitutional right to "compensation" for "their services." They also relied on a state statute that protects working men and women when employers fail to pay them.

Please. As the court noted, the fines were for "lack of services" by absconding members. The public is cynical enough about our political institutions. Politicians who sue to be paid for not working feed that cynicism. It doesn't help when they say (as House Democrats did) that refusing to work was really a "time-honored" way of doing their work (yeah, right), or claim wage laws that protect everyday folks mean legislators can collect per diems for days off the job in an Illinois motel.

This is bad politics and bad civics, regardless of party. It's good that effort failed.

The court also sent the right message on the law. The Indiana Constitution mandates separation of powers, meaning no government branch—executive, legislative or judicial—may interfere in matters committed exclusively to another. On this dispute, our Constitution says the House may "compel the attendance of absent members" and "punish members for disorderly behavior."

Plainly, punishing members who won't attend is up to the Legislature, not the courts. In declining to interfere with that legislative decision (or the withholding method by which it was implemented), our Supreme Court did something all courts talk about but many fail to do—namely, exercise judicial restraint.

Over the past half century, courts have been ever more willing to resolve disputes formerly decided by the political branches—which is to say, decided by the people through those they elect. This is one reason ours is an increasingly litigious society.

Further, when courts resolve deeply divisive issues on constitutional grounds, the political branches can no longer effect the balancing and compromise that are key to how we work things out in this country. Issues become more divisive, and courts become more politicized. That's why federal judicial confirmations, once routine, have become political warfare.

Courts send a much-needed counter-message when they decline to exercise judicial power, correctly saying, "This decision is for elected officials, and we won't interfere." Kudos to our Supreme Court for doing so.•

__________

Rusthoven, an Indianapolis attorney and graduate of Harvard College and Harvard Law School, was associate counsel to President Reagan. Send comments on this column to ibjedit@ibj.com.