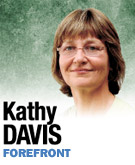 Three promising efforts are under way in Indianapolis to unite the community and propel us forward. I hope we pursue each initiative with a sense of urgency and change the trajectory on our health, skills and economic prosperity.

Indianapolis is the 13th-largest city and 45th (un)healthiest. In report after report, the numbers show far too many of our kids, and adults, are not healthy—heart disease, diabetes, smoking and obesity are taking a toll.

Our costs of health care are high; our workers may be less attractive to businesses looking to locate here. The estimate of treating obesity-related health care issues in Indiana is $1.6 billion a year.

The diminished potential of Hoosiers is not accepted, and work is under way. Hospitals are engaging those who need help with an eye to prevention. The Indianapolis YMCA has a nationally recognized diabetes prevention program and has built a coalition to get us in the top 10 by 2025. The Indiana Chamber of Commerce collaborates with the Wellness Council of Indiana to bring wellness initiatives to the workplace.

A fledgling Food Policy Council is looking at access issues. Companies like Cummins have employee wellness programs that involve an employee's family.

Many influences contribute to too many calories and not enough exercise—habits, availability of fresh food, feeling safe outside, having a place to exercise, and making time to do it. The elements that need to be in place are common, but what is needed where depends on what is missing.

We're not talking new programs; we're talking about mobilizing our talents around focus points and building a system of messages and services that change the trajectory.

In every discussion of achieving economic prosperity, the first priority is education—students learning what they need to have a career. I see a community that is ready to come alongside schools with data, information about what works, opportunities in early learning, the arts, math, science and athletics. Coaching and mentoring, helping students get engaged with school, interacting and learning.

And third, Indianapolis is pursuing an export plan. Brookings Institution is selecting sites around the country to develop Metropolitan Export Plans. Seventy percent of the world's purchasing power is outside the United States, yet 1 percent of U.S. companies export. In Indiana, fewer than 7,000 companies export. Exports offer a big opportunity to increase sales and profits, get connected with the global economy and learn.

Cities are leading our global connection. The Indianapolis chamber has combined with the World Trade Council and an international incubator to support companies with exports and making foreign investment. The Brookings process, led by the city and IUPUI's Office of International Affairs, has potential to help Indianapolis envision our export opportunity, define the state policies that support exporting, and develop a system of export services in marketing, logistics, regulatory compliance, financing and trade practices.

The rest of the world is a huge and growing market. What the world chooses to buy from Indiana tells us a lot about which of our products and services offer value in the global market. That provides insights about our opportunities to grow and the skills we need to learn.

It all ties together—our health, skill and strategies for economic growth. Fewer new programs, better integration of our existing assets in community-wide systems that direct action to what is needed where. Addressing the fundamentals all at once with robust strategies delivered to the right place with urgency. That moves the needle.•

__________

Davis is a former Indiana lieutenant governor who owns and operates the Indianapolis technology firm Davis Design Group LLC. Send comments on this column to ibjedit@ibj.com.