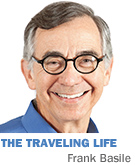 Before departing for Cuba in April, my wife, Katrina, and I read the book "Havana Nocturne"; watched the movie "Havana," with Robert Redford; screened the DVD "Buena Vista Social Club"; and, of course, read a couple of tour books and articles for background and to get us in the right frame of mind.
Still, there were surprises. The Cuba we found was quite different from the Cuba of 1958, frequently portrayed in books and movies. Gone were the days of nightclubs and casinos, neon lights, big Las Vegas-style shows and the Havana mob.
Instead, we found crumbling buildings and functioning 1940s and 1950s American cars. The first night in Havana we stayed at the legendary Hotel Nacional, where celebrities stayed and played, including Lucky Luciano, Meyer Lansky, Frank Sinatra, John Kennedy (before he became president) and Ernest Hemingway.
Speaking of Hemingway, if he drank in all the joints and bars that claim he drank there—in Havana, Key West and other parts of the world—it's amazing that he had the time or was sober enough to write his great novels. In addition to the Hotel Nacional, one of the places we visited—and where he drank—was the Floridita. A life-size sculpture of him sitting at the bar is a magnet for tourist photos. (Yes, I took one with Katrina and Papa.)
The Hotel Nacional has suffered from years of neglect. Badly in need of renovation, its primary remains of those glory days are the photographs now hanging on its walls. But you can still get a mojito and hang out in the bar overlooking both the ocean and the Malecon, the walking path along the Caribbean and old Havana.
Old Havana is now a UNESCO World Heritage Site. The funds provided through this designation have helped in some partial restoration, now under way. Still, many of the buildings are falling apart. Others, built in the late 19th and early 20th centuries, house beautifully restored hotels and restaurants.
But as American tourists, we couldn't help but notice something missing: revelry. Castro's forces evoked the 03C rule: zero movies, zero shopping and zero nightclubs. Caught in the proverbial time warp, this is one of the few civilized areas of the world where there are no Starbucks, McDonald's, KFCs or Holiday Inns. Maybe that's the positive side of the time warp. I don't think it will last long.
Once the U.S. embargo lifts, U.S. citizens start visiting Cuba in droves, and foreign companies start investing there, things will change and fast—and not all for the positive. I'm glad we saw it the way it is now before it becomes another tourist mecca like Cancun—and possibly loses its authenticity.
When will that happen? Theoretically, the embargo might be lifted when the Castro brothers are gone. In the opinion of many people, including me, the embargo has long outlived its usefulness and is hurting only the Cuban people, who would benefit from tourist dollars, and U.S. businesses, which would benefit from having such a large developing market at our doorstep.
Despite a relatively successful literacy and health care program, Cuba remains, basically, in the developing-country category under Fidel Castro's brother Raul. Meanwhile, Fidel is seldom heard from and, for security reasons, no one knows where he is living.
About 3 million tourists visit Cuba each year, despite the embargo. We encountered only three couples from the United States, each a part of a tour group required to follow a prescribed itinerary—person to person, academic research and so on—in accordance with its license.
That license, issued by the U.S. government, isn't easy to obtain for individuals. An alternative is to find a group with a special license, such as the Indianapolis Museum of Art, which organized a trip to Cuba last year.
Cuba is probably one of the few places on Earth where nearly everyone is not holding a cell phone while reading Facebook and texting. The Internet is available at only a few upscale hotels and is slow and expensive.
Being connected in Cuba is not worth the hassle. If you go, plan to stay unplugged and enjoy the dining, music and culture. The food consisted of rice, black beans, pork and chicken, and then more of the same, but the fresh fruit was delicious. Drinks, such as mojitos, margaritas and lemon daiquiris, were outstanding … and everywhere.
The musical highlight of our trip was an evening in an old Havana spot to hear the Buena Vista Social Club—the iconic group from the DVD documentary we watched before the trip. The lead musicians and singers were in their 70s and 80s and played great traditional Cuban music, which motivated many in the room, including Katrina and me, to dance in the aisles between the tables and then to join the conga line.
We also visited John Lennon Park, which features the only statue in Havana of a Western musician. I don't know about the crime rate elsewhere in Cuba, but it's high here because of the frequent disappearance of Lennon's eyeglasses. When we visited, a guard was there to place glasses on Lennon while tourists took photos.
When we were leaving, he removed them for safekeeping.•
__________
Basile is an author, professional speaker, philanthropist, community volunteer and retired executive of the Gene B. Glick Co. His column appears whenever there's a fifth Monday in the month. Basile can be reached at Frank_Basile@sbcglobal.net.
 
Please enable JavaScript to view this content.