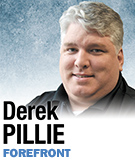 One of my first stops after moving to Indiana back in 2000 was to the license branch so I could transfer my driver's license. I was in for two surprises. I didn't know I had to take a written test (I passed first try), and I was asked what township I lived in.

Being the government nerd that I am, I already knew the township where my new apartment was located.

When neither the longtime Hoosiers sitting to my right nor the clerk helping them could figure out which township their address was in, it became clear to me that township government wasn't as relevant in Fort Wayne as it was where I grew up near Philadelphia.

Throughout Indiana's history, overlapping layers of responsibilities between municipal and township governments have gradually degraded the importance of townships to city-dwellers compared with those who live outside municipal areas. When people ask where I am from, my first instinct is to say Fort Wayne because someone is more likely to have a common frame of reference with that than the township where I live.

This overlap has motivated many efforts at reform through eliminating township government and having counties take over their responsibilities.

None of these local government reforms have gathered much traction despite years of effort and significant support from many quarters, including the Indiana Chamber of Commerce and former Gov. Mitch Daniels.

Five years after its report, not a single major proposal from the Kernan-Shepard Commission, the blue-ribbon panel assigned to the problem, has passed into law.

One provision—condensing the three county commissioners into one and moving their legislative power to the county council—is being considered in a summer study committee. But it has about as much chance of passing the General Assembly as a resolution commending the Miami Heat for its NBA championship, because there is no legislative momentum behind the measure.

Overlap is still a challenge, though. Many municipalities have grown to encompass all or parts of many townships—Indianapolis' consolidated government covers nine whole townships, while Fort Wayne covers all or part of seven.

Kernan-Shepard's solution of eliminating townships would saddle county governments with a "municipal" responsibility for any parts of the county not in a municipality. That makes as much sense as the Fort Wayne City Council setting income tax rates for all of Allen County (which under current law it does).

Requiring one bureaucracy to assume new duties based purely on economies of scale doesn't solve a problem; it just transfers the problem and eliminates any community voice in the administration of those duties.

Instead, townships should be empowered to serve local residents by leaving local government in the hands of those closest to the people.

There is a perception that this could dilute the local voice in some municipalities, but the reality is that many urban townships already have more representation through municipal councils than through township government.

Townships outside municipal lines should be treated as individual municipal entities rather than subdivisions of county government. Smaller townships should be permitted to reach agreements with neighboring townships to consolidate where it makes sense, and those served by the townships involved would have a voice in the matter.

Both steps would reduce the number of government units, deliver better economies of scale for providing these services, and gain the necessary support to enact meaningful reform.•

__________

Pillie is managing editor of conservative blog Hoosier Access and a former congressional aide in Washington, D.C., and Indiana. Send comments on this column to ibjedit@ibj.com.