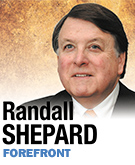 We hope society's leaders will do well for us in times of turmoil. In the days following the verdict in the Florida trial of George Zimmerman, this state's public figures responded to a difficult moment in ways that showed humanity and skill.

There was plenty of coverage for the big names in other places who seemed determined to stir up a maximum level of public passion. Denunciations of the Zimmerman jury, assaults on the legal system, calls for boycotting Florida and the like were pretty easy to find on television and other media.

These voices of inflammation surely encouraged, or at least emboldened, the characters who resorted to violence. To what end, one might ask them.

By sharp contrast, congressman Andre Carson managed to express his own distress at the trial's outcome—and simultaneously urge that people use the moment for moving forward with conversations and plans that might turn out to be effective in taking the nation to a better place.

To be sure, Carson did not hide his feelings: "I'm frustrated that a vigilante decided a young boy looked suspicious, even though he was not breaking the law." No holding back there.

But Carson also moved promptly toward language on which a constructive message could rest: "I'm frustrated that laws exist which embolden people like George Zimmerman to negligently take the law into their own hands."

Most of all, he said, he was disappointed that Trayvon Martin had died under such circumstances.

One can readily imagine that, in the days after the verdict, figures like Carson would be under considerable pressure from at least a few constituents to say intemperate things. He didn't hold back, but he also didn't throw fuel on the fire.

It's a happy fact that the congressman from Indianapolis was recruited for key roles in the public debate immediately following the verdict. Carson was a headliner in a national conference call about the trial, an event that attracted thousands of participants to a useful conversation. There, he called for reviewing existing laws about self-defense and for renewed efforts to engage young people, especially on core issues like violence and education.

Carson later called for creating more youth councils in the country, places where communities could undertake the challenging work of identifying solutions to the continuing problems of minority youth. These were calls to our better selves.

Carson was not alone in leading by good example. Tanya Bell of Indiana Black Expo expressed her grave disappointment in the jury result, but added, "We pray for peaceful acceptance of the verdict across the nation," and observed that the "judicial system works more often than not." She urged that society work to find more common ground and join forces in the task of forging new solutions.

And, City-County Council President Maggie Lewis said the "decision hurts my soul," but also urged peace and renewed determination to protect young people.

I must say that all of this reminded me of the night 45 years ago when Robert Kennedy spoke to an Indianapolis crowd just a few hours after the assassination of Dr. Martin Luther King Jr. In the midst of that cataclysm, we learned something about good public leaders.

Carson has added that same sort of value. "Ultimately," he said, "we need to be building the next generation of leaders—people who will be Trayvon Martin's voice."

We owe such thoughtful leadership our respect.•

__________

Shepard, Indiana chief justice from 1987 to 2012, is executive in residence at Indiana University's Public Policy Institute, a research arm within IU's School of Public and Environmental Affairs. Send comments on this column to ibjedit@ibj.com.