Bill Klare looks at the ledger sheet on his busy desk and can barely believe the numbers.

In just a year's time, Cargill Corp.'s 75-employee Indianapolis plant will save $12,000 on gloves, safety glasses and dust masks over the previous year.

"Can you believe that?" asks Klare, maintenance coordinator at the grain processor. "$12,000 isn't anything to sneeze at, and that's just on three items."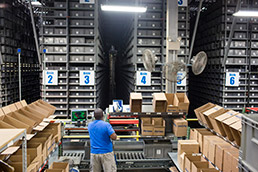 An Indianapolis warehouse featuring $60 million of robotic equipment ships to 13 other Fastenal warehouses. Those warehouses in turn feed thousands of vending machines dispensing gloves, tools and other industrial goods. (IBJ Photo/ Aaron P. Bernstein)
What's Cargill's secret? The facility on West Michigan Street recently installed Fastenal Co. vending machines.

The machines aren't your ordinary dispensers of candy bars, chips and soft drinks. They distribute just about anything a manufacturing or fabrication shop could want.

At Cargill, five Fastenal machines dispense everything from flashlights, batteries and pliers to drill bits and machine parts.

In the two years since Cargill installed Fastenal's vending system, Klare said, the local operation has saved about 30 percent on the items it vends. Cargill is saving another 20 percent to 25 percent on human resources required to manage the inventory, Klare said.

"For large operations over the course of just a few years, the cost savings I would think could easily reach into the six figures and probably a lot more," he said.
To read about Fastenal's sponsorship deal in NASCAR, click here.

Fastenal, headquartered in Winona, Minn., was founded in 1967 making industrial fasteners, and those screws, nuts and bolts now account for 40 percent of revenue. Having grown into a full-line industrial supplier, Fastenal customers are split roughly evenly among manufacturers, maintenance and janitorial operations, and industry.

Manufacturing of specialty threaded products and job shop items accounts for about 6 percent of revenue. Fastenal also owns a socket manufacturer, Holo-Krome Co.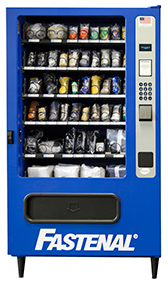 The vending machines track goods used by workers and automatically signal the warehouse system to send new supplies. (Photo courtesy Roush Fenway Racing)
But the vending machines loom large in its plans.

Terry Hanley, regional operations manager of Fastenal's 885,000-square-foot facility on Guion Road, said customers "may start with nuts and bolts, then they see the savings and ask, 'Can you get us batteries or flashlights and maybe gloves and safety glasses?'"

Fastenal has installed more than 29,000 of the machines, and 1,500 more are being placed each month.

Vending machine customers are buying 30 percent more goods from Fastenal with the money they save using the vending machines.

Iowa-based Apex Industrial Technologies LLC supplies the machines to Fastenal, which programs, installs and monitors them at clients' facilities at no charge.

Since publicly traded Fastenal started a major push to install the machines in 2010, annual revenue has grown from $2.3 billion to $3.1 billion. Profit has increased from $265.4 million to $420.5 million—mostly from vending and from internal automation.

Like a Coke machine

One of the five founders had long been fascinated with the idea of distributing products through a vending system, and the machine they ended up with works a lot like a Coke machine.

Users retrieve inventory with an access card or employee account number, allowing employers to track their consumption.

The machines are connected to a central system that allows both Fastenal officials and customers to monitor inventory in real time. Without any contact from customers, Fastenal knows exactly what and when each of its machines nationwide needs. And each machine is programmed to limit or block certain departments or employees from taking certain items.

Central to Fastenal's distribution system is the ultra-modern warehouse at 5851 Guion Road, which replenishes the other 13 Fastenal warehouses nationwide.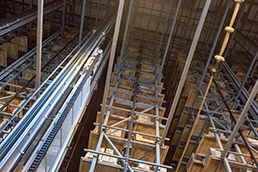 Supplies destined for the vending machines are stocked by robots two stories tall. Humans touch the goods only twice, compared to a dozen times under a prior system. (IBJ Photo/ Aaron P. Bernstein)
Products are almost exclusivelyshelved and fetched via a $60 million system of robots two-plus stories tall.

A laser-guided vehicle painted like Carl Edwards' No. 99 NASCAR car—and named Bolt by facility employees—delivers products by the pallet load to shelving areas.

Human computer terminal operators line a network of fast-moving conveyors running around the clock 5-1/2 days a week.

The warehouse ships 32,000 packages a day. At any one time, the site has about $225 million in inventory.

The automated system—which is five years into its six-year installation process—has cut the number of times a human touches a product at the Indianapolis plant from 12 to two, Fastenal officials say.

"Our building here in Indianapolis is like one giant vending machine," Hanley said. "I think we're the most automated distribution facility in the Midwest.

"With this system, our deliveries are 99.9-percent accurate. The Indianapolis plant is one of our assets that assures us we're going to keep growing."

Donna Stiers, production scheduler with Indianapolis-based O'Neal Steel Inc., thinks the vending system has helped Fastenal "stand out in a crowded field."

"There are a lot of choices on where you can get the types of products they sell, but the vending system they have is pretty unique. It helps a company like ours better track our inventory and saves us thousands of dollars every year," Stiers said.

O'Neal Steel vends things like earplugs, utility knives, aprons and gloves through its machines.•