The city's top-rated news station wants to crank up its signal, saying it's had more than 40 complaints about reception from over-the-air viewers since the conversion to all-digital broadcasting.
WTHR-TV Channel 13 filed the request with the Federal Communications Commission in June to boost its output 83 percent, to 77,000 watts.
The station told the commission the increase would exceed a maximum power limit currently in place but that the intention is not to expand the NBC affiliate's coverage area.
Rather, "since WTHR has transitioned to [digital], viewers have repeatedly complained that they experience reception problems when trying to view WTHR's broadcasts."
The station owned by Columbus, Ohio-based Dispatch Broadcast Group said it has "invested substantial and sustained time, expense and resources over the past several years to confirm that a power increase will help restore consistent service to viewers" who were able to receive that station's previous analog signal.
WTHR went as far as sending engineers to viewers' homes to measure signal strength. It also has incrementally dialed up power on two previous occasions in an attempt to remedy reception problems since the 2009 digital transition.
Interestingly, complaints aren't limited to fringe areas such as Bainbridge and Crawfordsville—but also in parts of Indianapolis and Fishers.
WTHR officials did not respond to requests for comment.
The request to boost the power of its broadcast signal, from a 1,039-foot tower at Ditch Road and West 96th Street, might seem odd. After all, about 90 percent of viewers watch via pay TV such as cable and satellite.
It's not as odd as you'd think, said Phil Bremen, a former television reporter and anchor and associate professor of news at Ball State University.
"In a business where margins keep shrinking, nobody wants to give up any viewers by default," Bremen said.
Also, Bremen noted that a small-but-growing segment of viewers, particularly younger ones, are ditching cable television amid price increases that often exceed the rate of inflation. The number of Americans relying on over-the-air signals grew last year to 54 million from 46 million a year earlier, according to a study by Gfk Media.
Some of those viewers now rely on antennas for local stations—and stream network television shows and movies from Internet-based services such as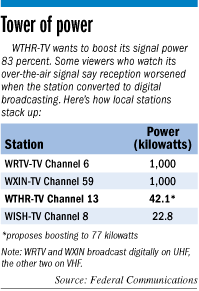 Netflix and Hulu.
"The fact that this tendency is not abating as the economy recovers is causing some concern in the cable industry. The broadcast stations are noticing, too, of course," Bremen said.
He even wonders if WTHR's rationale of boosting power to reach a relatively small number of homes may be just the stated reason for the request. Bremen noted that many stations now view mobile TV as a big part of their future—with the ability to beam a video signal straight to one's laptop or mobile device. "To do that, signal strength will matter a lot."
About 150 stations in the United States are already broadcasting mobile signals, said Dennis Wharton, an executive VP at the National Association of
Broadcasters.
The advantage for consumers, unlike those using a wireless carrier's signal to watch video, is that "it won't eat into your data plan."
Still, Wharton acknowledges there have been "a minority" of stations that have indeed suffered a loss in audience reach after switching to digital broadcasts. Some of it had to do with stations that were in the VHF band—such as WTHR—and that stayed with their old channel frequency. Those that moved to UHF, such as WRTV-TV Channel 6, have more headroom to add power.
Indeed, WRTV is cranking out 1 million watts of power on UHF, but embeds the signal with a code that allows viewers to receive the station at the familiar channel 6 on their televisions. In analog, channel 6 was in the VHF bandwidth.
WRTV began using the UHF channel during the transition period when broadcasters simulcast in analog and digital.
Fortuitously, "we decided to stick with [the UHF channel]," said Tim Boling, director of engineering at WRTV. "We really are pleased with our coverage."
The only downside "is you spend more money on power bills," he said.
Boling said some sister Scripps Howard stations have used their powerful signals to broadcast mobile video, although WRTV, at least for now, has had good success delivering broadcasts via wireless carriers' phones.•
Please enable JavaScript to view this content.