If you think all the games at Gen Con are geared toward would-be dungeon masters and deck-building card collectors, you're wrong. And to prove that, once again, I set myself upon the quest of finding 10 fun games that I might actually be able to talk friends into playing.
The best quick-learn game I found: the pulse-quickening, deceptively simple Tapple (from USAopoly), which features a device topped by a buzzer and surrounded by lettered paddles. When a category is revealed—say, Boys' Names—players take turns pushing down the initial letter for a word in that category. Once a letter is used, it can't be used again that round.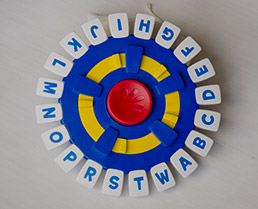 Tapple (IBJ Photo/Susan Bertocci)
The timer gives you 10 seconds, which might seem like plenty of time … at first. But if you survive, another category is revealed and now you have to name two items in the category in the same amount of time, narrowing the field of available initial letters as you go.
Smartly designed (the category cards fit into a compartment underneath) and easily adaptable to house rules, Tapple quickly took over IBJ's production department when it was introduced for a photo shoot. I expect my copy to see a lot of play.
If you'd rather not have the pressure of a ticking timer but still like word games, try Word Winder (Word Roundup). Sixteen cards—each looking like a four-by-four rack of Boggle letter cubes—are laid out in a grid. Your task is to form words to create a path from one side of the board to the other. In the process, you not only have to pay attention to your own words, but also try to block the moves of other players as they get close to winning.
Commodity trading games—the biggest is Settlers of Catan—make up a significant percentage of the game play at Gen Con every year. My favorite newbie of this type is Cinque Terre (Rio Grande). With a board made up of five Italian coastal towns and a looping road connecting them to produce fields, the game requires each player's truck to pick from the fields and deliver the goods.
Sound like child's play? With each city paying different amounts for each kind of produce, special orders to be fulfilled (including one kept secret) and limited space on your flatbed, Cinque Terre requires strategic business thinking.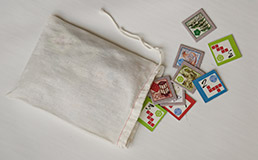 Zen Garden (IBJ Photo/Susan Bertocci)
City planning is the theme of Urbania (Mayfair). Here, you gain points by rehabbing rundown sections of a city. As your desired buildings are fixed up, they become moneymakers, allowing you to hire specialists to further your empire and plan larger projects. If you can get past the overly busy board, game play is swift and fun, with different strategies available in your effort to score the most points.
Too real for you? Then how about Spin Monkeys (Rio Grande Games), in which monkeys riding bumper cars attempt to collect as much fruit as they can from the playing area, tossing banana peels behind them to cause others to spin out? Playing your cards right can make a difference in the end and your kids might learn something about angles. (But please don't tell them it's educational. That's never a good idea.)
This being GenCon, I suppose there needs to be at least one game with a strong fantasy element on my list. I'll skip the hardcore battles, though, and pick the whimsical The Little Prince: Make Me a Planet (Asmodee). You pick tiles equal to the number of players in the game, with each tile representing a section of the famed alien boy's planet. You keep one and pass the others, trying to build the most point-scoring world. Perhaps the most attractively designed game at the convention (it uses images from the original book), the game plays nicely with two to four players.
Also deceptively peaceful is Zen Garden (Mayfair), a tile-arranging game in which you and your opponents are each trying to manipulate the building of a zen garden so that your secret pattern appears twice.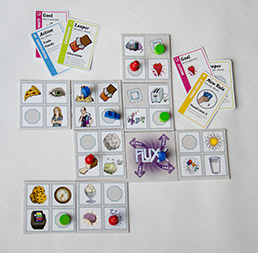 Fluxx (IBJ Photo/Susan Bertocci)
Too gentle for you? Then consider Ultimate Werewolf: Inquisition (Bezier Games), a variation on the popular group game Are You a Werewolf? That one focuses on discovering who among your group is the designated man-beast. In this one, playable with three people, finding out who is the werewolf is just the beginning.
Lighter fun can be had from Fluxx: The Board Game (Looney Labs), in which the rules can change at the play of a card as you try to get your multiple tokens onto the right pairs of spaces. Those who like the Fluxx card games will find that this one actually requires some thought.
Of course, there are many reasons to play games. If one of yours is to get hammered, then DrunkQuest (Loot Corps) may quench your thirst. Monsters appear every turn, but to defeat them, you need to take a prescribed number of drinks—a number that can be subtracted from or added to by your helpful/evil friends. Just make sure before you start playing that you have a couch to crash on.•
__________
This column appears weekly. Send information on upcoming arts and entertainment events to [email protected]
 
Please enable JavaScript to view this content.