Finance and accounting major Jim Dowell had enough book learning to know he could spot a value stock to hold long term.

That confidence was undermined when he entered a room with 15 other students charged with managing a $1.2 million portion of Butler University's $150 million endowment, as part of Butler's student-managed investment fund.

It soon became apparent there were lots of other factors to consider, such as how interest rates affect different industries at different times. Things like, "Is it time to get into the market? Should we wait three months to buy a stock?" recalled Dowell, whose team is in charge of the consumer staples and durable goods portfolio.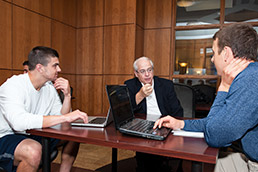 Former stockbroker Stephen Zimmerman, center, is flanked by students he's advising in Butler University's student-managed fund. (IBJ photo/Eric Learned)
Butler's 5-year-old, student-managed investment fund is believed to be the single largest such fund among colleges in Indiana, although student investment funds are now common.

That big pot of money at Butler, however, brings with it even more responsibility and pressure on student fund managers.

"The fact that they're investing real money injects an element of risk," said Stephen Zimmerman, an adviser to the fund and a retired Smith Barney broker.

Students also learn they have to adhere to investment policies of Butler's endowment, what with return and risk expectations. Not only are students under pressure to pick the best basket of stocks, they're to do no worse than to lag the S&P 500 by one percentage point.

"The university gives us a lot of responsibility," Dowell said.

It's one thing to be able to vet a particular stock for its worthiness—a tedious analytical process of its own. It's another thing to see how all the pieces of a portfolio interact with one another, said Steve Dolvin, an associate professor of finance at Butler who oversees the student-managed fund.

"The biggest thing that they learn is a good company is not always a good investment," Dolvin added.

Fancy picking

The Butler program reached its lofty scale five years ago, when Dolvin convinced university officials to let students manage a $1 million sliver of the private university's endowment.

A conference room has been outfitted with a wall of video screens, projecting various streams of data on industry sectors and on individual stocks being considered.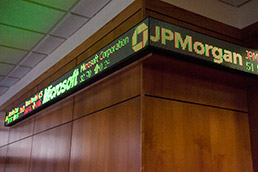 A stock ticker runs outside the classroom. (IBJ photo/Eric Learned)
Students, who usually meet a couple of times a week, can saddle up behind nearby computers to conduct research. Just outside the door, in the hallway, a large ticker board streams stock prices of companies in the fund, for all business students to see.

Since January, students have had little about which to be embarrassed.

The fund has had a return of 36 percent, which is slightly below the S&P 500.

"But our fund is less volatile, so on a risk/return basis we are in line," Dolvin said.

Among the winners the students have picked is Home Depot, purchased in 2010 at $33. Lately, it's trading at around $76.

Students bought shares of investment management firm BlackRock Inc. in 2011, when it was at $160 a share. Today, it trades around $270.

Among companies bought last spring were Costco Wholesale, which students picked for its strong domestic growth, high operating cash flow and strong international presence. They got in at $100.82; lately, it's traded around $115.

As is common for many of these funds, students break into teams, each team responsible for a handful of industry sectors.

After their analysis, each team makes a pitch to fellow students, who then respond with questions. Then they vote.

It requires a two-thirds class majority for a stock to be bought, said Ryan Fuhrmann, CEO of Carmel-based Fuhrmann Capital and an adviser to the student-managed fund.

Fuhrmann and other advisers, including former Conseco executive Rollie Dick, provide some real-world feedback during the program. Students also get a chance to hone their analytical—and b.s.-detecting—skills during presentations made by actual company executives.

Everyone from the CEO of Bristol-Myers Squibb to the chief financial officer at Cummins Inc. to various Eli Lilly and Co. executives have done the company song-and-dance in front of the class.

"The Q&A [afterward] is pretty revealing," Fuhrmann said. "There are a lot of analysts who would like to have that kind of access to people of this sort."

Fuhrmann participated in such a student-managed fund while doing graduate studies at the University of Texas.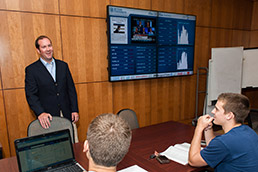 Ryan Fuhrmann, left, participated in a student-run fund while attending the University of Texas. He's now among the advisers for Butler students. (IBJ photo/Eric Learned)
Funds abound

Other universities around the state have a variety of student-managed funds, including the $526,000 Reese Fund (launched in the mid-1980s) for graduate students at Indiana University.

At the graduate level, students get a particular grilling from students and advisers during presentations. Such was the pressure that decades-ago IU grad student Rebecca Cook still recalls what she wore that day.

"It was such a stressful thing," but rewarding, said Cook, who went on to a career in equity research as a financial analyst. These days, she's director of coaching and development at IU's Kelley graduate school.

In 2005, IU set up a value fund for students to manage, courtesy of a $100,000 alumni gift. If students achieve a certain level of performance, the alumnus writes another check for the fund. In January, the fund got a check for another $18,000.

In 2010, IU was able to give undergraduates in IU's investment management workshop a chance to act as analysts for the Knall-Cohen Investment Fund, set up courtesy of a $100,000 donation by IU alumni David Knall and Jeff Cohen, co-managers of the Indianapolis office of investment firm Stifel Nicolaus.

The format is different from that of Butler. Students meet infrequently, but conduct a much more detail-oriented analysis compared with many student-managed funds, said Robert Jennings, a professor of finance and instructor of the IU investment management workshop.

Ball State University, meanwhile, recently won national attention with its student-management fund—a $589,391 sliver of Ball State's $162 million endowment.

Last spring, at the University of Dayton's annual student investment fund competition—the big kahuna of investment club competitions—Ball State's student fund won second place in the core investment style category. It consists of stocks in that middle range between value and growth.

The fund posted an annual return of 17.5 percent, or a cumulative monthly return for the year of 14.5 percent.

"We came very close to winning the top spot," said Rathin Rathinasamy, a Ball State finance professor who oversees the student fund.

One constraint inherent to these student-managed funds is that the experience is limited to just a semester or two. So students don't get a perspective on how their picks fare over the long haul.

That's OK by Dowell, who considers his real return is learning to build a portfolio from the ground up and to work with like-minded students.

"I feel like in this class is an elite group of students …. They're driven."

For those headed someday to the meat grinder that is Wall Street, it's a priceless lesson in perseverance.•