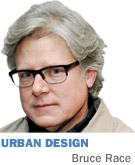 I just smile when I am standing on East Vermont Street in Lockerbie Square. What a great little shady and compact street. It is easy to admire the grandness of North Meridian Street by the governor's mansion, but Meridian was never an "everyman's" residential address.
There are four other residential streets I like. Brookside Drive is part of George Kessler's historic park and boulevard plan now on the National Register of Historic Places. This neighborhood has been hit hard by the housing financial crisis, but Brookside Drive still captures the romance of the Picturesque Period of city landscapes. Garfield Drive on the south side also benefits from overlooking Kessler's Garfield Park. Lawton Loop at Fort Benjamin Harrison, where the restored historic housing rings the parade grounds, is a national treasure. And, if you have not walked around Woodruff Place, then go.
Sometimes it is the really small streets that are a treat to walk on. The historic Oliver Johnson Woods neighborhood, between College and Central avenues and 44th and 46th streets, has great residential blocks with large Arts and Crafts and Romantic Revival homes. However, I like the alleys. They are wonderful wooded pathways. It is hard to imagine you are still in the city.
Another small street that is nice to walk along is the Cultural Trail behind Mass Ave. The little industrial and commercial brick alley gives us a glimpse of the tight urban spaces that were commonplace downtown.
Some of the best commercial streets are in the towns around Indy, such as Zionsville's Main Street or Washington Street in Columbus. Indy's Historic Wholesale District on South Meridian is interesting, too. These streets are active and walkable, and have preserved their historic look and feel.
I also like Mass Ave at Alabama and Vermont streets where the Cultural Trail intersects with a shady park, outdoor cafes, and a nice mix of shops, stores and restaurants. I would say a sleeper commercial street is the evolving East 10th Street. It is providing a social focus and commercial services reflecting the near-east side's diversity.
As you can probably tell, I feel Indy's intact historic streets are still our best. We should be able to create fantastic new addresses, but we are not. The trendy "complete streets," that include needed sidewalks and bike facilities, are only a down payment.
Great streets coordinate private and public investment. Other cities are working hard at this. St. Louis, Minneapolis and Austin have adopted great street policies and programs that are implementing their community and transportation plans.
St. Louis Great Streets Initiative identifies types of streets and offers design tutorials for both roadway design and private sector investment for cities in the region. The regional approach underscores the collective impact on the vitality of the regional economy.
In Minneapolis, the Great Streets program focuses on implementing transit and sustainability plans. It has a commercial revitalization emphasis. This includes loans and technical assistance for eligible business districts.
Austin's Great Streets program provides economic assistance to developers that exceed baseline street design standards along transit routes. This includes enhanced pedestrian facilities, streetscape improvements and outdoor cafes.
In order to create our own great streets, we need to balance environmental, economic, community and transportation objectives.
• Environmental objectives can include improvement of a street's image and reduction of ecological impacts. Streets should be the centerpiece of high-quality commercial districts and residential neighborhoods. Reinvestment in public streets and private property should include best-practice solutions for storm water management and canopy trees that reduce "heat island effects" caused by wide roads and parking lots.
• Economic objectives have to include creating active, socially successful streets. New investment in roadway, open space and private development should result in places with a strong social focus with a sense of community. Great streets can increase property values.
• Streets have to meet unique community objectives. This could include calming traffic, creating a sense of place, or meeting local transportation needs. Street design should reduce speed and impacts of regional commuter traffic on residential neighborhoods. Design of roadways and sidewalks should improve walking and driving connections to shops and services from adjacent neighborhoods while improving neighborhood identity and sense of place.
• Transportation objectives should reflect increasing a street's overall capacity, not just for autos. The design of roadways, concentration of land uses, and building design should encourage walking, biking and the use of transit. Roadway designs should alleviate congestion without adding additional through lanes by consolidating ingress and egress (curb-cuts) and improved signalization.
Meeting these objectives can revive our lost tradition for creating places that have a lasting value. It is our generation's turn to build legacy addresses that are social, beautiful and sustainable.•
__________
Bruce Race, FAIA, FAICP, is an award-winning architect and urban planner, owner of RaceStudio, and recipient of the Indiana Sagamore Planning Award. He lives in a historic Indianapolis neighborhood and teaches urban design at Ball State University's Downtown Indianapolis Center. His column appears monthly. He can be reached at br@racestudio.com.
Please enable JavaScript to view this content.