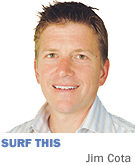 Pre-Sept. 11, I worked at the National Security Agency. But when I heard the news about surveillance tactics being used by my former bosses, I wasn't the least bit concerned.
Experience has shown me that the NSA has its hands full chasing people who need chasing, rather than worrying about the rest of us.
Besides, if you think your privacy is being challenged by the government, you might not be paying close enough attention to the world of marketing.
Here's an example to help bring my point home. At Target, the store collects information about all your purchases and puts it into a bucket that is identified with your unique Guest ID. It couples this purchase history with any demographic information it can gather, either directly from you or from other sources.
With this data, it's able to run specific tests. for instance, to determine the purchasing habits of women just before they put themselves on the baby registry. This allows it to create a "pregnancy prediction" score, estimate a due date within a small window, and allowing it to send specific coupons timed to stages of the pregnancy.
Helpful? Not to a Minneapolis father who went to a local Target complaining about a flier mailed to his high-school-age daughter containomg coupons for baby clothes and other maternity-related items. Turns out Target knew his daughter was pregnant before he did.
But I digress.
If you're truly concerned about complete strangers learning your secrets, the place to start is Acxiom, one of several companies built around supplying this type of information to businesses to help them better target the offers you receive.
From an altruistic point of view, this helps you find better information and offers for products you are likely to purchase anyway. From a Big Brother point of view, it might know way more about you than you'd like.
Anticipating the potential backlash that might arise from making this a secret, Acxiom has made its entire database of information available online. Start at About the Data (aboutthedata.com). You can log in to the site, provide some basic information to show your identity, and see everything they "know" about you.
The data set is culled from a variety of sources, including credit reports, public records, purchase history and probably any survey you completed showing your various interests. In my case, most of the information was correct or pretty close. (They had the right number of kids but the wrong ages, for instance.)
The depth and breadth of information collected can be a bit overwhelming. The site does a nice job of breaking it into bite-size pieces, but they're still pretty big bites. Under Household Purchase Data, for example, there were more than 50 subcategories of information displayed. This is just one of six major categories. The others are Characteristic Data, Home Data, Household Vehicle Data, Household Economic Data and Household Interests Data.
The cool part about all of this (once you're over the creep factor) is that you can correct or delete information and designate whether you want certain types to be used for marketing purposes.
You can also opt out completely if you choose. But understand: The opt-out is a bit of a Trojan Horse. The site describes the process like this: "This will not reduce the number of ads and offers you receive; it just means that some of them may be less relevant to you."
You see what I mean about marketers? Much scarier than the government.•
__________
Cota is president and co-founder of Rare Bird Inc., a marketing communications firm specializing in Internet application development. His column appears monthly. He can be reached at jim@rarebirdinc.com.
Please enable JavaScript to view this content.