Most gallery shows, like most concerts and theatrical events, have a structure to them. There's a beginning, middle and end crafted by curators and exhibition designers from the materials at hand. Rarely do we need to ask, "Where should I look first?"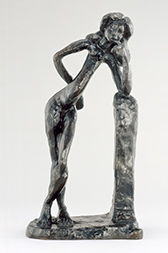 "Matisse: Life in Color: Masterworks from the Baltimore Museum of Art" (at the Indianapolis Museum of Art through Feb. 14), is no different. It begins with a giant photograph of the artist, builds thematically rather than chronologically, climaxes with his Jazz series of cutout constructions, then offers a pair of epilogues—a side gallery featuring student work inspired by Henri Matisse and the mandatory exit gift shop. (I hear the scarf has proven particularly popular.)
Within the works themselves, though, visitors are on their own.
Unlike many artists, Matisse systematically avoids telling the viewer where to look. At the IMA, you can see that clearly in such paintings as "Festival of Flowers," where the two figures fight for attention with the carnival parade they are watching. Or in "Odalisque with Green Sash," where the wallpaper pattern and latticework draw attention from the central nude figure. Or in "Marie-Jose in Yellow Dress," where the woman, the dress, the table and the flowers seem to all share the same DNA.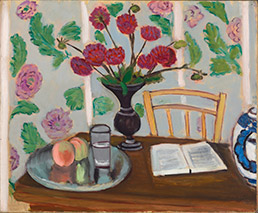 Henri Matisse's "The Serpentine," top, and "Still Life, Bouquet of Dahlias and White Book," above, demonstrate the range of his artistic interests. (Photos/Mitro Hood. © 2013 Succession H. Matisse / Artists Rights Society (ARS), New York)
When an artist says things like, "I do not paint things; I paint only the difference between things," it might seem cryptic and deliberately obscure. Same for these classic lines: "When I put a green, it is not grass. When I put a blue, it is not the sky."
But surround yourself with Matisse's work at the IMA and his quotes make perfect sense. The objects he painted often seem to exist in order to carry the color, to give reason to the lines that surround them. It appears effortless, yes (and that isn't helped by a silent film of Matisse crafting three versions of the same face), but as anyone who has ever picked up a paintbrush knows, fluidity isn't easy.
The show's organization allows viewers a peek into Matisse's restless and creative mind, active over more than six decades. The exhibition features more than 100 works, including sculptures that blur figure with base, creating both from the same material and giving both the same texture. Just when you think you've got a handle on the line that surrounds his talent, more surprises appear in a show worth not just a visit, but multiple revisits.
Indianapolis Opera's "The Threepenny Opera"
In a production void of edges and urgency, Indianapolis Opera turned Kurt Weill and Bertolt Brecht's "Threepenny Opera" (Oct. 11-20) into an exhausting evening featuring, on opening night, the most lackluster ovation I've ever heard at a professional production in Indianapolis.
I don't usually comment on audience reaction to a show one way or the other, but in this case the flaccid ovation and the "should-we-or-shouldn't-we" polite applause that capped many of the numbers only added to the awkwardness.
While the title might be familiar, the rarity of productions in these parts—and the lack of success of cinematic versions—may warrant a plot synopsis. Macheath, who leads an English gang, marries Polly. Her father, who leads the city's beggars, isn't happy with the relationship (minor detail: Macheath already has another bride, as well as a prostitute for a common-law wife) and so schemes to have him captured and hung.
But plot isn't central to the Weill/Brecht vision. We're not expected to identify emotionally with these underworld folks. Quite the opposite. We're supposed to be thinking rather than feeling, constantly aware of the artifice of theater.
That doesn't mean, though, that "Threepenny Opera" should have at its core a Macheath who lacks any sign of menace and who looks more like Charlie Brown in a bad wig than the king of the London underworld (the part has been played in the past, FYI, by the likes of Jerry Orbach, Alan Cumming, Sting and Raul Julia).
One of the potential benefits of Indianapolis Opera's use of the intimate Basile Opera Center rather than the cavernous Clowes Hall for select operas is that the former offers an intimacy impossible in the latter.
Intimacy, though, comes with its own set of challenges. And those challenges are accentuated when the material includes spoken scenes. Brecht's dialogue scenes go on at great length—longer than in many conventional musicals. It demands different kinds of actors than is required by most operas … actors that Indianapolis Opera hasn't supplied.
Through those music-free stretches, the completely visible small orchestra seemed bored. I sympathized.•
__________
This column appears weekly. Send iformation on upcoming arts and entertainment events to lharry@ibj.com.
Please enable JavaScript to view this content.