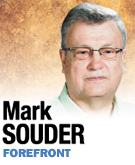 While I have been a bookaholic since elementary school, few books made as much of an impression on me as E.D. Hirsch's "Cultural Literacy: What Every American Needs to Know." It was released in book form in 1987, rising to second on the New York Times Best Sellers List behind Allan Bloom's less-readable but also influential and important "Closing of the American Mind."
It is instructive to note that the current top two are Bill O'Reilly's book in which he tries to write the story of Jesus better than God did and a book about the kidnapping of Elizabeth Smart.
At the time, Cultural Literacy was viewed as a conservative book because, in an era of cultural relativism and hand-wringing about what constituted even "facts," it argued that the nation needed a core common knowledge or we would eventually disintegrate into factions that could not communicate.
More celebrated at the time was a study in Los Angeles asking high school students to analyze a paragraph related to the Civil War. The problem was that most did not understand core facts—Grant and Lee, War Between the States, Appomattox—so the newspaper article was absolutely meaningless.
When a member of the U.S. House Education Committee, I insisted Hirsch be included in an early hearing as we began to formulate education policy. By the mid-1990s, he had begun to move into his Core Knowledge Series, which has been foundational in the theory behind national testing and core knowledge curriculum.
I fully understand the need for a common core of knowledge in an increasingly diverse America, but when it is not even clear our supposed leaders have read many books or even the Constitution, the idea of elected politicians' determining a national straitjacket of what constitutes core knowledge is downright scary.
I fought Bill Clinton's effort for a national test with every bone in my body. We succeeded. When President George W. Bush took over, I was among those called to the White House to discuss education. Basically, he looked straight at me and said, roughly: We are going to have a national test, I am president, and you are not. I lost.
The need for a national core of knowledge motivated John Dewey, the humanist liberal who drove America into standardization during the immigrant waves of the early 1900s. The immortal words of Vice President Spiro Agnew in 1969 proclaimed that "a spirit of national masochism prevails, encouraged by an effete corps of impudent snobs who characterize themselves as intellectuals."
This is still true of much of our political and educational leadership.
When we debated national testing, I was told that my fears, especially that Christianity would be undermined, were wrong. Staff walked me over to a computer to look at the American history test, challenging me to prove my case on the spot. The "correct" answer to one of the first questions was that Christianity's main goal in early America was to help expand support for democracy rather than to save souls.
Businesses need better-educated graduates to compete worldwide. We need hard measurements of knowledge, not "and all the kids are above average."
We could use a common core. But conservatives of all stripes do not trust the political or educational establishment to put aside its liberal bias to deliver what we actually need.
No longer will conservatives accept "liberal core" for "common core."•
__________
Souder, a former business owner and Republican representative of the 4th Congressional District, is a political commentator living in Fort Wayne. Send comments to ibjedit@ibj.com.
Please enable JavaScript to view this content.