A peninsula-like piece of land fronted by a lake along Interstate 465 on the northeast side has been purchased by a local developer that plans to build a six-story office building on the site.
Edgeworth Laskey Properties LLC, which has developed three buildings within the Allison Pointe Park near Allisonville Road, bought the 10.5-acre parcel from suburban Chicago-based Klefstad Companies Inc.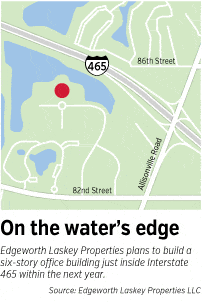 Edgeworth Laskey declined to divulge the purchase price for the property. But local brokers say it was in the range of $200,000 per acre, or roughly $2 million, which they called reasonable given the property's high visibility from the beltway.
On top of that, only a few empty parcels of land remain on which to build along the northeastern corridor extending to Meridian Street.
"Having a large tract of vacant space with the potential for a tenant to have signage on 465 is a rarity in this market, and it's in high demand," said Adam Broderick, a broker at the Indianapolis office of Chicago-based Jones Lang LaSalle.
Broderick leases Edgeworth Laskey's nearby Lake Pointe Center 5, the only one of the three buildings Edgeworth Laskey developed in Allison Pointe that it owns. It's 88-percent occupied, which bodes well for the developer's plan to add a building to its portfolio, Broderick said.
And office occupancy in the Keystone submarket is on the rise. In the third quarter, its vacancy rate fell to 14.8 percent from 16.3 percent at the same time last year, according to Cassidy Turley statistics.  
The new building will be 200,000 square feet. Edgeworth Laskey said it had not determined the cost of the project, but a broker not involved estimated it would be in the $33 million range.
Construction won't start for at least a year, said Tom Laskey, a co-owner of Edgeworth Laskey. The company first needs to complete Two Concourse at Crosspoint. It's a five-story, 133,000-square-foot speculative building under construction west of Interstate 69 in Fishers that is set to be finished by next summer.
Two Concourse at Crosspoint will be just the second speculative office building to hit the market since since the recession. The first was Sourwine Real Estate Services' 80,700-square-foot building at Keystone Crossing, which opened this year.
Unlike Two Concourse at Crosspoint, the new Allison Pointe building won't be constructed entirely on a speculative basis, Laskey said.
The firm will consider building to suit for large corporations or large pre-lease agreements.
"Over time, we think it's going to be a nice headquarters site for a company," Laskey said. "It's one of those sites that, if you're in office development, you really ought to own because it can't be replicated."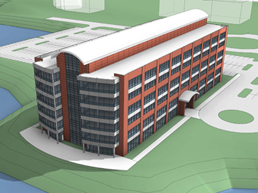 Edgeworth Laskey Properties will pitch the planned Allison Pointe building as a corporate headquarters. (Image courtesy Heitman Architects Inc.)
It's high visibility, waterfront features and close access to the improved Allisonville Road interchange should be attractive attributes, Laskey said.
Klefstad, the former owner of the property, had bought it several years ago. The firm now is shedding assets and winding down operations. Klefstad thought Edgeworth Laskey, with its existing presence in the area, might be interested in buying it, and the two sides came to an agreement, Laskey said. The deal closed in September.
John Vandenbark of CBRE represented the seller.
Also at Allison Pointe, broker/developer Newmark Knight Frank Halakar has been appointed receiver and leasing agent for three buildings hit with a foreclosure suit in August.
Those buildings—known as Woodland 1 and 2 and Lake Pointe 2—were owned by about three dozen entities and individuals that owe $16.6 million, or the entire balance of the loan they received to buy the properties, according to court documents.
Todd Maurer, a principal at Newmark, said the lender, Minnesota-based U.S. Bank, is providing funds to renovate the buildings, including replacing air conditioning units and redoing hallways and bathrooms, to improve occupancy before putting them on the market.
 
Please enable JavaScript to view this content.