Experts are virtually united in predicting that jobs based on science, technology, engineering and math are crucial to the state's economic growth. However, getting young people interested in the so-called STEM fields is another matter entirely.
One approach that relies on the time-honored trick of making learning fun is seeing early success.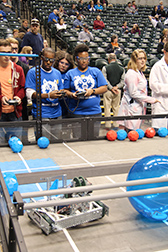 The VEX Robotics Competition hosted teams of high-school and middle-school students from around the state. (Photo courtesy Ashley Vaughn)
The second annual Indianapolis Vex Robotics Competition Nov. 16-17 attracted 88 high school and middle school teams from around the state to compete with hand-built robots in a series of challenges.
The competition at Bankers Life Fieldhouse also attracted appearances by Mayor Greg Ballard and state Education Secretary Glenda Ritz, who are among leaders hoping to help prepare and motivate students to fill the more than 115,000 STEM jobs expected to exist in the state by 2018.
But with inconsistent representation of STEM in classrooms and standardized test results falling behind most other states, some officials say Indiana has a long way to go.
For every unemployed person in Indiana, 2.4 STEM-field jobs are available, according to Change the Equation (CTEq), a not-for-profit launched by President Obama in 2010.
"There is really a mismatch of the skills in the new graduate work force and the jobs that are available," said Paul J. Ainslie, managing director of the I-STEM Resource Network, a West Lafayette-based organization of educational institutions, business and government aimed at promoting the fields.
Fewer than 12 percent of college degrees and certifications granted in Indiana are in STEM fields, CTEq says. In high school Advanced Placement math and science courses, which are meant to provide students with college credit, only 38 percent passed the AP exam.
But the need for STEM workers continues to grow, especially as manufacturing and technical companies increasingly need workers proficient in computer skills.
Indiana will offer 115,570 STEM jobs by 2018, a 9-percent increase from 2008, according to the Georgetown University Center on Education and the Workforce.
Ninety percent of those jobs will require some postsecondary education and 43 percent will require at least a bachelor's degree.
The Indiana Department of Education has set STEM education as a priority during the current school year. But there is still no organized state leadership for implementing STEM into the classroom. Ainslie cited Ohio, Tennessee and Iowa as leaders in the model now used by many states, in which governments team up with corporate sponsors.
These teams created programs for consistent application of STEM initiatives in the classrooms of every district in a state.
In Indiana, STEM programs exist only on a district-by-district basis and are often funded by universities and corporate sponsors without additional state or federal support.
"It's what you would call … random acts of STEM," Ainslie said.
Contrary to the spotty pattern of STEM education in Indiana, the two-day Vex Robotics competition was a statewide event.
Teams of two to 20 students from public, charter and private schools spent weeks or even months building robots that can run automatically or be driven by remote control.
The object of each high-school-level match was to score the most points by using the robots to move balls of various sizes into the goal zones. The robots are able to move under and over barriers, throw balls and lift themselves to hang on beams above the playing area.
This year's middle school competition was the largest of its kind in the country, with more than 40 teams. These teams make a variety of smaller robots that challenge one another in an event similar to the high school level.
"Robotics is the direct application of STEM education," said Deputy Mayor for Education Jason Kloth. "It's taking what you're learning in school and applying it in a tangible way to a problem you have to think critically to solve."
When the Mayor's Office provided schools with the kits to build robots, they encouraged team coaches to be as hands-off as possible.
"That way, they're getting the life skills, too," said Stephanie Boren, director of education initiatives for the office. "They have to project-manage the whole thing, from figuring out how to work as a team to deciding how often they need to practice and scrimmage."
Like the classroom-based STEM programs, the Robotics Competition was funded mostly through corporations, including Roche Diagnostics, the Indiana Pacers, Lumina Foundation and Eli Lilly and Co.
"These employers are the ones who need skilled workers in the STEM field," Kloth said. "These students will be their future work forces."
Ainslie of the I-STEM Resource Network said that, as strong and organized as the Vex Robotics competition is, it provides hands-on STEM education only for those who participate.
Because team practices are outside of school, it's likely that students involved in other extracurriculars or sports teams are missing out.
"I would like to see the same kind of emphasis for in-school STEM, so 100 percent of the kids can be involved," Ainslie said.•
Please enable JavaScript to view this content.