Apple has applied for a new patent that sounds pretty familiar to the folks at Carmel-based ChaCha Search Inc.

Enough so that ChaCha founder Scott Jones suggested in an interview with IBJ that his business is well-suited for an acquisition by one of the largest companies in the world, the Cupertino, Calif.-based tech giant.

Jones
"There are a few more things that I would like to get done" before ChaCha is sold, Jones said. "When the timing's right, yeah, I would like to have that discussion."

In its Nov. 14 patent filing, Apple envisions its iPhone voice assistant Siri giving responses to queries based on answers from actual human beings. That's similar to the approach ChaCha has pioneered.

Apple's Siri usually has no problem guiding people to coffee shops and offering weather updates, but the program struggles when it comes to questions requiring critical thinking.

Siri's intelligence ranked second to last out of 11 of the most popular Q&A programs, according to a January study by Butler University, which ChaCha commissioned.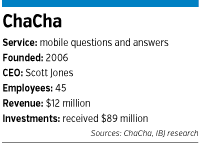 Apple's patent application has prompted speculation from some tech bloggers over whether the company would better serve itself by looking at acquiring an existing service. If Apple doesn't strike a deal with ChaCha, it could woo one of the company's many competitors.

ChaCha already seems to do a lot of what Apple wants, said Greg Sterling, a senior analyst at Opus Research in San Francisco.

The Carmel company taps a database of millions of answers to respond to questions it receives through text messages, mobile apps or websites. When the database fails, the questions go to one of thousands of people the firm keeps on hand for answers.

"There are millions of answers on the Web today," said David Hornik, a partner at August Capital in Menlo Park, Calif. "The key is what question they are answering. That is a tricky challenge. Humans are better at matching questions and responses than are machines."

Jones, who was an industry leader in voice mail's early days when he ran Boston Technology Inc., has struggled with profitability since he began ChaCha in 2006.

Investors have poured $89 million into the company and revenue has grown each year. But the firm has trimmed staff to about 45 from 60 as it has "consolidated," Jones said.

The list of ChaCha's competitors is long: Quora, Ask.com, Answers.com, Answerbag, Askville, Mahalo, WikiAnswers, Yahoo! Answers, to name a few. And plenty of information-seekers turn to the lead search engines, Google and Bing, which have toyed with more Q&A-formatted responses.

Google's changes to its search algorithms in 2012 also steered away a lot of the online traffic Q&A websites were receiving.

"This whole human-powered search or Q&A has really taken a lot of twists and turns," Sterling said. "I could now see an [Apple] acquisition where ChaCha would be a reasonable fit for a back-end support service."

Apple's press office did not respond to messages seeking comment for this story.

Siri's stumbles

Siri, which Apple bought in 2010, dredges websites and databases for information. Sources range from Google to The New York Times to OpenTable.

Butler University researchers, on behalf of ChaCha, created an intelligence index. Siri received 16.3, ahead of only Quora, a major competitor to ChaCha, which topped the list with a 72.8 score.

A lot of times, Siri flat out did not answer questions, said Ginger Lippert, one of the researchers. It responded with legitimate answers less than a quarter of the time.

Siri's irreverent responses and routine sass-back have spawned a subculture of sorts.

Websites, such as the Tumblr "S--- That Siri Says" have popped up in recent years. Featured responses have included gems such as a person confessing, "I have a gambling addiction," to which Siri replied, "I found 15 casinos; they're pretty far from you."

But the humorous flair when the program comes up short—while good for marketing—doesn't improve the usefulness of software that began as a practical tool, said Sterling, of Opus Research.

Meanwhile, Google has put pressure on Apple to step up Siri with the advent of Google Now, which is available on both the Android and iOS operating systems.

A lot of Siri's accuracy problems stem from the software's inability to recognize questions.

Almost 85 percent of a survey's respondents said they had not used Siri since the Sept. 18 release of Apple's most recent operating system, iOS 7, according to an Oct. 17 report by London-based Intelligence Voice.

"Voice recognition is an emerging technology that's been emerging for 30 years," Nigel Cannings, Intelligence Voice's chief technology officer, said in a prepared statement. "We need to be careful that we sell what is possible, and it seems we're not doing that. 'Star Trek' communication with computers is still a long way off."

Patent pending

Apple acknowledges in its patent application that it needs software that can better translate spoken questions for Siri to respond correctly.

But when software fails, the company wants to use living people as a safety net.

"A well-designed response procedure in such a situation can improve a user's experience in interacting with the system and prevent the user's loss of confidence in the system's service," Apple wrote in the Nov. 14 filing.

Jones said "it is hard to say" whether he needs to look out for potential infringements on ChaCha's 16 active U.S. patents, with another dozen in Europe.

"This is pretty normal in areas that are at the bleeding edge," he said. "What's clear is, they think this is valuable."

Wording in Apple's patent claims will dictate whether infringement is an issue, said Mike Pellegrino, who founded Indianapolis technology appraiser Pellegrino and Associates and patent database company ipAnalytx.

"If one claim is for a piece of furniture with three legs, a four-legged chair isn't going to infringe on a three-legged stand," said Pellegrino, who often testifies in court cases regarding intellectual property.

One key for Apple: Its patent application says the technology will use "at least a speech input." That's something ChaCha's patents don't cover.

'Months' away

A lot has to happen before ChaCha is ready to talk to Apple about any sort of deal to support Siri, Jones said.

"I'd like to have it packaged up to a place where it's kind of a no-brainer decision," he said. "Are we there yet? No."

Jones would not discuss the specific developments his firm needs to finish before then.

He did note the company needs to improve its Android app, which it neglected in favor of its iOS one. But with Android claiming 81 percent of all phone shipments last quarter, ChaCha had to rethink some strategies.

"The Android app sucks," Jones said.

Short term, ChaCha seeks to boost annual revenue from $12 million in 2012, which was up from $7 million in 2011. Jones would not say how much he expects in sales this year, just that they should be higher.

Any sort of deal with Apple could shape up like the one Jones and his partners struck with a previous venture, the music database Gracenote. Apple's iTunes used Gracenote to automatically upload information about songs and artists. Sony bought the company for $260 million in 2008.

Those types of deals take time, Jones said.

"We're not days away. We're not years away. It's measured in months," he said. "Whether that's three months or 18 months, I really can't say."•