Two Indiana University School of Optometry professors are tackling diagnosis of one of the most difficult medical problems facing sports teams at every level: head injuries.

Their ground-breaking invention could safeguard players, make the jobs of trainers and doctors more clear-cut, and make a lot of money for its inventors and IU.

Nicholas Port and Steven A. Hitzeman last month were awarded a $429,000 grant from the National Institutes of Health, which they plan to use to perfect an invention that objectively measures an athlete's eye movements to detect even the slightest brain injury.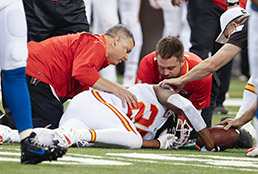 In the Indianapolis Colts' Jan. 4 playoff victory over Kansas City, the Chiefs lost three key players, including running back Jamaal Charles, to head injuries.(AP photo)
Athletic trainers—who for decades have subjectively interpreted eye movements and other behavior to diagnose concussions—said the device would be a quantum leap forward.

Port and Hitzeman said their invention can be used on the sidelines in all weather and can accurately detect concussions in a fraction of the time trainers and doctors now need.

Their method, the two said, will be as objective as measuring blood-alcohol content or blood pressure. The test also will be completed in about two minutes, compared with the half-hour it now takes to diagnose subtle cases of concussions.

"We are trying to build an automated, objective tool for concussions that is analogous to the blood-pressure cuff or Breathalyzer," said Port, the principal investigator on the grant.

Current techniques are susceptible to tweaking by a motivated patient, Port said.

"Simply put, these athletes want to get back into the competition and they may try to manipulate results or hide concussion symptoms," Port said.

Port
Denver Broncos quarterback Peyton Manning recently said—seemingly jokingly—that he tries to tank baseline concussion testing, so that when he gets dinged, his test results won't look like he's had a concussion. But it's no joking matter, as several players have admitted to doing the same, for real.

The system Port and Hitzeman are developing uses minute eye movements, so there's no way to hide brain injury, the IU professors said.

"Motivation plays no role in eye [mechanics], and they cannot be faked," Port said. "Dysfunction is a sign of neurological injury."

With Port's and Hitzeman's system, eye movements are tracked during preseason to obtain "involuntary baseline biomarkers," Port said. Those can be compared to an athlete's test results after a suspected head trauma.

What's at stake?

The importance—legally, financially and competitively—of concussions has been front and center over the last year.

After a long legal battle, the NFL in August reached a $765 million settlement over concussion-related brain injuries among its 18,000 retired players, agreeing to compensate victims, pay for medical exams, and underwrite research.

Research continues to pour forth showing that concussions—not only major ones, but multiple minor ones—can have serious long-term effects. That has raised awareness to unprecedented heights.

Still, with games hanging in the balance, athletes at times seem bent on playing just moments after suffering a head injury—despite serious risks. The scenario played out again during this year's Wild Card playoffs.

New Orleans Saints medical personnel had to take away cornerback Keenan Lewis' helmet to keep him from rejoining the game after he suffered a head injury during a Jan. 4 game at Philadelphia. Lewis, visibly upset, argued with team officials that he could play.

"We realized just how much pressure these athletic trainers and medical personnel are under when evaluating these athletes during competition," Hitzeman said. "They are that one independent voice out there, and it can be a lonely position to be in, especially when you're relying on subjective testing."

Staying in the game

It's easy to see why players want to stay in the game—especially big ones. Kansas City lost running back Jamaal Charles, wide receiver Donnie Avery and cornerback Brandon Flowers to concussions during the Wild Card game at Indianapolis. The absences no doubt cost the Chiefs in a 45-44 loss to the Colts.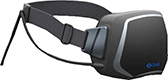 IU inventors hope their portable diagnostic unit will be able to, on the sidelines using virtual-reality goggles, detect concussion injuries through rapid-eye movement in about two minutes.
Players being paid six- and seven-figure salaries understand that injury-related absences can cost them playoff bonuses and hurt future contracts. The sheer desire to win a game is also no doubt a factor in athletes' efforts to convince trainers and doctors they are good to go.

In an instant, the flow of the New Orleans-Philadelphia game shifted. For three quarters, Lewis had shut down explosive Philadelphia receiver DeSean Jackson. As soon as Lewis left the game, Philadelphia began targeting his replacement with great success. New Orleans held on, however, for the victory.

IU's Hitzeman knows firsthand that this issue extends far beyond the professional level.

He joined IU's faculty in 1976 and has been working with the school's athletic department much of that time, examining the eyes of all athletes and providing them with corrective eyewear and contact lenses.

In 2005, the year Port joined IU's schools of optometry and psychology, Hitzeman began to study eye movement as it relates to athletic performance. Port began to collaborate with Hitzeman in 2007.

Study changes course

Hitzeman
One day as the two were watching football practice and discussing their concerns about brain injuries in athletics, they looked at each other and said, "Why don't we study eye movements as it relates to concussions?" Hitzeman said.

They began working even closer with the school's athletic trainers and realized the need for an objective concussion test.

In the four years they've been studying eye movements and concussions, they've gathered baseline data for 30 IU athletes, and they've developed what they consider a reliable diagnostic test.

With the grant funding, they hope to expand their pool to several hundred athletes, including high school and professional jocks. They also hope to "miniaturize" their device.

Currently, their system requires "a couple of suitcases of equipment, a folding table, a chin rest and a stool," Port said. "It fills the back of a car and takes 20 minutes to set up."

The two think they can develop a system that uses a laptop and a pair of virtual-reality goggles. The new system—unlike many current diagnostic devices—can be used both indoors and outdoors, including in bright sunlight, Hitzeman said.

"And it will be relatively easy to use," he added. "That's key. We want this to be accessible. It won't require a lot of special training to use."

The system's portability, coupled with its objective results and ease of use, will make it a breakthrough in the sports field, said Wendy Poppy, an athletic trainer for 28 years who has worked with IU's football, lacrosse, basketball, soccer, tennis, and track and field athletes.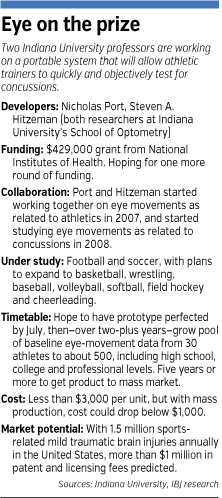 "We're all still looking for ways to determine [brain injury] episodes that are not clear-cut," Poppy said. "Right now, there are no definitive ways to do that during the game."

The best current test, Hitzeman said, must be done in a laboratory and takes 45 minutes.

While Poppy said football offers the most high-profile concussion cases, it's far from the only sport where this is a concern.

"We see a number of [mild traumatic brain injuries] in soccer, lacrosse, wrestling, baseball, even tennis," she said. "This certainly isn't isolated to a single sport."

Widespread problem

The NIH estimates there are 3.2 million annual cases of mild traumatic brain injury in the United States, 1.5 million of them sports-related.

In an effort to make their invention widely available, the inventors have worked hard to keep costs down. They think a first-generation model can be built for less than $3,000, and a mass-produced version for less than $1,000.

"Our interest is in making life better and safer for athletes and trainers," Port said. "So of course we want to make this technology affordable."

"Legal liability with concussions being what it is, a lot of [sports] organizations might find this money well spent," said Bob McGee, editor of Sporting Goods Intelligence, a Pennsylvania-based trade publication.

Money-making opportunity

Ultimately, Port and Hitzeman think their system will be used outside sports—by the military, on construction and manufacturing sites and in emergency rooms.

In October, IU patented the technology and school officials are confident it has significant commercial potential.

"We already have interest in licensing the intellectual property rights and patent rights," said Bill Brizzard, director of technology commercialization for Indiana University Research and Technology Corp., an independent not-for-profit that manages intellectual property for IU.

"It could be an existing company that comes in and takes this over or it could be a startup."

IU faculty and staff come up with about 200 inventions annually, Brizzard said, about half of which require some type of patent. Few have serious commercial potential.

"We think the market for this is considerable," he said. Although it's early to make estimates, he predicted that a seven-figure sum for the school isn't out of the question.

The company that licensed the technology would earn even more. IURTC, which is independent from IU, would get a 35-percent cut of licensing revenue.

"As awareness of concussion issues rise," Brizzard said, "we think the market for this [invention] could rise, too.•