A legislative study committee voted 12-1 in November to support a proposal that would allow Delaware, Hamilton, Johnson, Madison and Marion counties to tax local residents and C corporations to fund expanded mass transit. Also, bus riders would be required to pay at least 25 percent of the operating costs. Should a bill based on the plan be approved by the Legislature and sent to a voter referendum?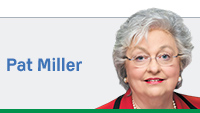 Central Indiana's mass transit system is inadequate, especially for residents and visitors who depend on and want public transportation.
After reviewing the facts surrounding a proposed expansion of mass-transit services in central Indiana, gathering input from local officials, meeting with the public, and listening to concerns about establishing an expanded transit system, legislators are working to develop a plan that is both efficient and cost-effective.
Although there is consensus by many people that Indiana's capital city and surrounding areas need an improved and comprehensive transit system, the funding ideas vary.
For me, the most important aspect of a mass transit proposal is supporting the rights of Hoosiers and to make sure they make the decisions by voting on the matter through a referendum.
The proposal the Central Indiana Transit Study Committee recently recommended includes a voter referendum. This plan is also substantially reduced and less costly than the proposed $1.3 billion mass transit expansion plan that would have included more buses, more routes and a light rail line between downtown Indianapolis and Hamilton County.
The current plan also gives more responsibility to those who would benefit most from an expansion of mass transit. This includes central Indiana business officials who testified that their employees need better ways to get to work, local officials who view an expanded transit system as a means of bolstering economic development, and users of the system who will benefit from better service.
Funding options are still being considered, but the proposal supported by the transit study committee provides local officials the authority to determine which funding options work best for their counties. They can also decide what kind of mass transit system to develop in their communities.
At this point, the funding option approved by the mass transit committee requires fares to make up at least 25 percent of the system's operating costs. Other revenue would come from a business tax on corporate income or number of employees.
This business tax would affect only those firms organized as C corporations, not on partnerships or sole proprietorships. Corporate taxes would make up 10 percent of the total operating costs of the system. Funding would also come from county economic development income taxes.
If local officials vote to move forward with their plans, local voters will have the ultimate say as to whether they support the funding mechanism for expanding mass transit in their county. These voters will be asking themselves if mass transit is a worthwhile investment.
For a mass transit plan to work in Indiana, it is going to require support from those who would be most affected.
There is still a long way to go, and the proposal will likely experience many changes as it moves through the legislative process.
As the General Assembly debates this issue, I encourage central Indiana residents to assess whether an expanded mass transit system would benefit them, their neighbors and communities. This is their transportation system and it should be their decision.•
__________
Miller, a Republican, represents Senate District 32 and voted for the proposal. Send comments to ibjedit@ibj.com.
Please enable JavaScript to view this content.