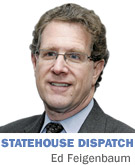 Hoosiers too often assume the merits of a public policy issue determine its success or failure in the Legislature, but that's not always the case.
Last week, you were able to observe that theoretical equation in practice on the definition of the marriage Constitutional amendment. How that drama played out among the players might impact policymaking through the remainder of the 2014 session—and beyond.
House Speaker Brian Bosma, R-Indianapolis, had done his utmost to downplay the importance of the proposed amendment within the context of the House Republican agenda this year.
But then the amendment—which major local business interests have tried to transform in the eyes of Hoosiers from a social issue to an economic development concern—was quickly assigned to the House Judiciary Committee just a few business days before an unusually attenuated hearing for such a highly charged topic.
While the testimony on House Joint Resolution 3 was respectful and surprisingly informative (if not definitive), no vote was taken, as it appeared proponents were not confident of passage. Three Republican members were not saying where they would land on the final vote, and all three votes would be necessary to send the resolution to the full House floor.
That triggered a frenetic behind-the-scenes attempt by Bosma to corral sufficient support to shepherd the faltering measure to the floor, where it was expected to face a better fate than in committee—although passage was not guaranteed.
Bosma's tenure, after his tentative first stint in 2005-2006, has been marked by an unusually collaborative leadership style. He's even reached out to include Democrats, with the 2012 right-to-work meltdown certainly not laid at his feet. And his leadership prevented the prior session from blowing up when he persuaded the GOP caucus to wait a year.
He risked this good will, both internally within his caucus and the whole House, and externally with the Hoosier public, by strong-arming passage of HJR 3.
Many in his caucus were adamant that one or two votes in committee should not kill the bill, while others felt institutional integrity was more important, the process should play out, and the speaker shouldn't intervene and remove members from the committee or reassign the measure to a different panel—time-honored tactics at conference committee time, but lacking much precedent in a regular-session setting, particularly to resolve a policy issue.
That this debate affected the long-term individual rights of Hoosiers in the white-hot light directed upon it by both proponents and opponents made it an even more compelling conundrum for the speaker.
He was effectively confronted with a decision between placating the party base by subverting time-honored rules and practice or letting the process run its course without overt interference, taking his chances on the substantive outcome and emerging as a weakened leader within his caucus—but one who stood up for the institution.
Breaking from tradition threatened to poison the well through the mid-March session-end, splitting his own caucus and serving as a rallying point for most Democrats. That could result in a chaotic situation condemning other issues to death by gridlock or retaliation. His caucus could face a political backlash from key business interests (he had earlier alluded to a prominent business community figure allegedly offering to indemnify the House Majority Caucus in terms of financial support in 2014 campaigns if Bosma made the marriage amendment disappear).
In the end, Bosma succumbed to what he said was "overwhelming" caucus sentiment to allow HJR 3 to be debated on the floor, and reassigned the package to the Elections Committee for a new hearing. That raised new questions about the companion bill's fate and the appropriateness of considering it in Elections rather than Judiciary.
Many continue to believe HB 1153 complicates matters and ensures this will be decided by unelected judges—rather than simplifies things and allows it to be enacted by voters.
But as important as HJR 3 is to both sides, there are also critical questions about what this new precedent means for the people, politics and process deciding policy going forward.•
__________
Feigenbaum publishes Indiana Legislative Insight. His column appears weekly while the Indiana General Assembly is in session. He can be reached at edf@ingrouponline.com.
Please enable JavaScript to view this content.