In a few years, toothbrushes could tell dentists about their patients' oral-hygiene habits.
Malfunctioning sump pumps could send a phone alert before it's too late and your basement floods.

Taylor
Your car will not only send you an alert when it's time for an oil change or tire rotation, it'll deliver a coupon for a nearby service provider.
ExactTarget Inc. wants to be the one routing the messages. The Indianapolis software developer is building marketing technology for objects outside the typical computers, phones or tablets that marketers most often use to reach out to consumers.
To name a few: cars, televisions, kitchen appliances, clothing and electronic cigarettes.
"We can message into any of those devices as long as they have an Internet connection," said R.J. Taylor, ExactTarget's vice president of mobile products.
The company has joined the technology industry's charge into the "Internet of things"—the much-hyped concept that suggests almost all household and personal objects will someday connect to the Internet.
Once the dreams of science-fiction writers, entire homes can now be controlled from a single Internet-connected device.
The theme dominated the Consumer Electronics Show in January in Las Vegas. Reports from the massive convention mentioned everything from the latest car "infotainment" systems to the "smart toothbrush" that tracks usage via an app.
Each Internet-connected device creates another road for marketers to reach consumers. ExactTarget just needs devices to work with.
A handful of non-computer appliances connect to the Internet today. General Electric Co., for instance, has a water heater that sends maintenance alerts to phones through an app.
Industry executives believe even more basic belongings, in a few years, will have computer chips that connect them to the Web. Marc Benioff, CEO of ExactTarget parent Salesforce.com, in November spoke of Internet-connected toothbrushes.
Some of Silicon Valley's biggest companies have rallied around the Internet of things, pumping billions of dollars into development and acquisitions. Google Inc. exemplified the eagerness in January when it handed over $3.2 billion for "smart home" firm Nest Labs, which develops thermostats and smoke alarms that connect to the Internet.
An estimated 26 billion devices—excluding computers, tablets and phones—will connect to the Internet by 2020, compared to 900 million devices in 2009, Gartner Research Inc. reported in December. Revenue should total $300 billion by then, with a broader economic impact of $1.9 trillion, Gartner said.
That kind of growth in digital devices opens a huge area for marketers, said Dave Arland, owner of Indianapolis marketing firm Arland Communications. It is a "double-edged sword," he said, because companies will have much more intimate insights into their customers.
"The Google-fication of the world has meant someone is watching what you're doing, like it or not," Arland said. "There are already statistics being drawn out with every click that you make with a mouse."
More devices with wireless connections give marketers more ways to interact with consumers, as well as collect data on them. Companies can better tailor their marketing to individuals, compared with the "cannonball" approach of mass advertising on TV or in print, Arland said.
"How that exactly will be monetized," he said, "that's for the ExactTargets of the world to figure out."
Phones today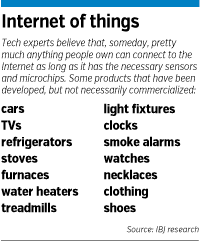 The idea of ­­using bathroom products or clothing for marketing is not as far-fetched as it would seem.
Scales can already report to people on changes in their weight. Google and Adidas teamed up to create a shoe that keeps track of movement and shouts motivation to make people move more. And pants threaded with sensors could record how far you jog and report back via an app.
On ExactTarget's end, the technology is mostly there.
In early 2013, the company unveiled MobilePush. The marketing-software platform lets marketers interact with customers through apps, email and social media.
The marketing technology is currently used more for things like guided tours.
Visit Indy in January started beta testing the so-called "push" technology as a way to highlight attractions around the city. Phones with the app, which is slated for public release in February, beam signals to satellites when they reach certain areas.
 
The demo Ford Sync has a dashboard that operates like a touch-screen computer. ExactTarget's software sends maintenance alerts to the car's screen, and allows for the possibility of transmitted coupons.(Photo courtesy of ExactTarget)
"We can greet them and say, 'Welcome to Indianapolis. Here are some resources while you're here,'" said Jeff Robinson, the group's marketing director.
The app can prompt users with audio information about specific landmarks when people walk past them or offer discounts to museums and other attractions when visitors are nearby.
Travel is one of five key business areas ExactTarget is pursuing with its new technology, Taylor said.
The others are retail, financial services, automotive and health care. Those industries all tend to quickly adopt technology, he said.
Fridges tomorrow
One key point of an October Forrester Research report: "Reach will progressively increase in tandem with usage of mobile apps, but the app ecosystem is also evolving to other devices."
One "other device" that ExactTarget took on tour was a Ford Mustang for Salesforce's annual conference in November.
The sports car's setup, which was a demo that is not commercially available, had the Ford Sync. The automaker's system, in effect, makes the dash operate like a touch-screen computer. ExactTarget's role was to send maintenance alerts to the car's screen. If so desired, companies could use that kind of software to also email coupons to the car's owner for discounted oil changes or tire rotations.
The core technology is virtually no different than connecting with refrigerators, washing machines or any other household appliances.
"We've architected it in such a way that it's open," Taylor said, "Anything that has an Internet connection, whether it's a toothbrush or a TV or your phone … or even your clothes. I've seen tattoos that connect to the Internet, believe it or not."
Intimately informative
Consumers' use of computers and phones is one thing for marketers to monitor. Clothing or bathroom products are another.
Taylor frequently inserted the word "permission" into his explanation of marketing in the "Internet of things." In other words: Make sure consumers know what kind of information they are volunteering.
"You wouldn't want to send a private message or potentially something that had private information to a car if there's a passenger, maybe for example, who isn't familiar with the inner workings of your life," Taylor said.
Asking permission to track someone needs to be blatant, not something hidden within hundreds of words' worth of consent agreements, Taylor said.
"Right now, it's literally, 'This app would like to use your location. Yes or no?'" he said.
Having billions more devices online will prod debate over marketing and trade regulations, said Ryan Calo, an assistant professor of law at the University of Washington who specializes in cyber law and privacy.
Regulators need to think about security and who has access to what information, he said.
"There's all these things that the Internet of things will do initially that will be efficient for customers," he said, using the example of car owners who receive coupons when they need oil changes.
Later he added, "the same ability to tell you when … you're overdue for an oil change could lead AAA to charge you a higher price or could lead your insurance to profile you differently."•
Please enable JavaScript to view this content.