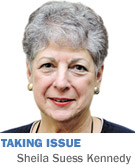 Anyone who has ever written a book, mounted a PR campaign or started a new business has confronted a threshold question: Who's your audience? Who will read your book, be persuaded by your campaign, or buy your widget?
So here's a thought experiment. Pretend you are an alien, landing in the United States from another planet. Looking at the institutions in this society, what kind of people would you conclude are the audience for those institutions? Who's responding to these messages? Who's buying? And what does that tell you about these particular earthlings?
Begin with media. With a few notable exceptions, newspapers and electronic news outlets are focused on the trivial and sensational.
If you ask those who produce them, they will tell you that they are giving people what they want—and in the era of the Internet, they can count the clicks. Sports are good; celebrities and their sex lives are big draws. Corruption in city hall, civil war in Syria, stalemate in Washington—unless there's a side of sin and sex, they're all boring.
Government? All politicians talk to their perceived supporters, so in a (semi) democratic system, we aliens can assume that the officeholders represent the opinions of a majority. We conclude that the majority of Americans view their governing institutions as just another kind of sport. They choose a team, and support the members of that team, who tell them what they want to hear—that the other team is cheating, that inconvenient facts (climate change, evolution) aren't true and that simple slogans hold the answers to complex problems.
Surely the audience for religion will be different. Religion, after all, was the way humans first tried to grapple with the serious questions: Why are we here? What do we owe the others with whom we share this planet? What does it mean to be a good person? What, for that matter, is good, and what is evil?
Although we aliens do find many thoughtful religious figures grappling with those existential themes, we find many others whose message is exclusionary and small-minded and who insist that their Truth is so superior that those who disagree must be forced to live by it.
I could stretch this exercise. We could talk, for example, about the behavior of the banks that caused the Great Recession, and what that behavior suggests about their regard for the average American. Or we could look at Hollywood and the entertainment industry, and consider what it is they think their audiences want.
But here's my point: The performance of these and other major institutions of contemporary American society ultimately depends on us.
We are the ones preferring stories about missing blonds in Aruba and the most recent celebrity scandal to articles reporting on our government and society. We are the ones electing lawmakers who scorn science and elevate partisanship over patriotism. We are the ones using religion as an excuse to demean and disadvantage our fellow citizens. We are the ones who accord elevated status to the "smart" businesspeople who make a lot of money fleecing the gullible.
My make-believe alien visitors would be entirely justified in concluding that we are poorly served by our media, government, and significant segments of our religious and business communities. But they would also be right to conclude that we are getting the institutions we deserve.
America's institutions won't change until We the People become an audience that rewards different behaviors.•
__________
Kennedy is a professor of law and public policy at the School of Public and Environmental Affairs at IUPUI. She blogs regularly at www.sheilakennedy.net. She can be reached at skennedy@ibj.com. Send comments on this column to ibjedit@ibj.com.
 
Please enable JavaScript to view this content.