One of the truths of theater is that audiences are rarely seeing the definitive production.
A play is tempered by the sensibilities and skills of its cast, director and design team as well as the resources available. This is true even for a seemingly straightforward family-in-crisis play such as "Other Desert Cities" by Jon Robin Baitz (at the Indiana Repertory Theatre through April 5) or a classic such as Tennessee Williams' "A Streetcar Named Desire" (at the Indy Fringe Building through March 23 courtesy of Acting Up Productions).
Both plays feature family members arriving to upset the status quo. Both feature some strong performances. Both are very much worth seeing.
The less-familiar, "Other Desert Cities," concerns a deeply troubled woman visiting her parents for Christmas with a manuscript in tow. The manuscript is an accepted-for-publication literary tell-all about her parents (friends of the Reagans), the loss of their radicalized son, and the impact of the trauma on the family.
 
Lawrence Pressman and Paige Lindsey White share a loving father/daughter moment amid the family conflict in "Other Desert Cities" by Jon Robin Baitz. (Photo courtesy of Zach Rosing)
Anyone seeing only the IRT take—co-produced with Arizona Theatre Company—might have a different view on the piece than someone who saw only the Broadway version. Having seen both, I appreciate the subtle ways in which director James Still and his team balanced this family equation differently at the IRT.
In New York, with Stockard Channing and Stacy Keach as the parents, sympathy rested stronger with daughter Brooke (Elizabeth Marvel). With her bemused laugh and head-shaking smile, you wondered just how much she was going to be able to take. Here, the daughter (Paige Lindsey White) seems further removed from reality from the get-go. Her distanced demeanor seems to indicate that her relationship with her parents is already a lost cause.
It's a legitimate choice, but its impact on the play is to call into question very early her perception of the incidents she wrote about. (Note to the two guys grumbling outside the theater: Just because a character criticizes the politics of her parents doesn't mean the play endorses her view. Did you shut off completely before the second act?)
In part by making Brooke more extreme while softening parents Polly (Anne Allgood) and Lyman (Lawrence Pressman), son Trip—a character I barely remember from the New York production—becomes central to the action. Sympathetic, conflicted and seeming to see himself as a family afterthought, his attempts at peacemaking become core to the play. Trip is played by Will Mobley, in his IRT debut, an actor I hope we see more from.
What I'd really like to do is discuss the ending. Not just the final scene, but the very last moment of the play. In New York, that moment—or my perception of it—felt exactly right for the show. However, nobody I've talked to since who has seen the play, here or elsewhere, felt quite the same thing. As someone cautious about spoilers, though, I'll keep quiet here. (Shoot me a note at lharry@ibj.com if you've seen the play and want to discuss the ending.)
Another shift in the theatrical equation seems to happen in Acting Up's "A Streetcar Named Desire." In this case, that's thanks to an outstanding, nuanced performance by Lisa Ermel and a clear production that avoids making a bold, specific statement about the play itself.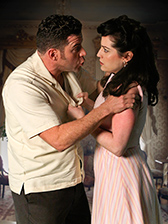 Stanley (Chris Saunders) faces off with wife Stella (Lisa Ermel) in Acting Up's "A Streecar Named Desire." (Photo courtesy of Acting Up Productions)
Stella, you may recall if you saw the film or a previous production, is caught in the middle of the battle between her troubled sister, Blanche, and her brutish husband, Stanley. Not a long-suffering plain Jane, Ermel's Stella is as passionate about her husband as he is about her. She loves her sister but she also knows her sister. She's amused and afraid, comfortable and questioning—a complex, intense, sometimes not-so-bright, three-dimensional, flesh-and-blood woman.
No slight intended to the rest of the company, but in Ermel's hands, the tragedy this time doesn't seem to be about the destruction of fragile Blanche but, rather, the ripping apart of her sister. Her final cry of anguish won't soon be forgotten.•
__________
This column appears weekly. Send information on upcoming arts and entertainment events to lharry@ibj.com.
Please enable JavaScript to view this content.