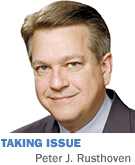 The Indianapolis Star is developing a pattern in covering Gov. Mike Pence and his dealings with the Legislature.

Three months into the governor's first year, the Star's lead political columnist labeled Pence the failed head of a "lackluster" administration, living in Mitch Daniels' shadow and doing nothing besides pushing what the columnist deemed an "arbitrary tax cut" no one wanted.

Yet when the 2013 session gaveled to a close, Pence had achieved a phased-in 5-percent cut in Indiana's income tax rate, together with major cuts in financial institutions' taxes and total repeal of Indiana's inheritance tax.

Other successful 2013 Pence initiatives included regulatory reform, vocational education, and making school choice available to even more of the low-income Hoosier families whose kids need it most.

Evidently deeming such results a fluke, last month the Star ran a piece on Pence's "battered agenda." In the article's view, Pence's proposals—including phasing out Indiana's business property tax—"created tension between those charged with watching out for the state's fiscal health" (evidently the responsible people in this tale) "and those who want to be able to point to a list of accomplishments" (presumably Pence, wanting to pad his resume).

Chief among the good folk in the Star's "fiscal health" camp was GOP Senate Appropriations Committee Chairman Luke Kenley, quoted as saying about Pence's proposals, "I warned him."

Hmm. What's the reality a month later? The business property tax was not repealed. Instead, Pence achieved a 25-percent cut in corporate income tax rates—another drag on investment and job growth—and further reductions in taxes on Indiana banks, which supply a lot of business expansion lending.

As for business property tax, counties were given flexibility to eliminate it for small businesses and purchases of new equipment, and to grant "super abatements" exempting companies entirely. Think they won't use those options? Wait till they're competing with neighboring locales for new businesses and investment.

On the non-tax front, 2014 Pence accomplishments include the highway funding he wanted, further progress on vocational education, and a first-time-ever pilot program funding pre-K education for low-income children.

Yes, Pence did not achieve every stated objective. No governor ever does. But those who keep selling Pence short are overlooking an impressive list of achievements over his first two legislative sessions.

They're also overlooking something more important: Pence is the one setting the agenda.

Yes, he won't achieve everything, certainly not on the first try. But it is his goals, his ideas, that are defining the topics and the terms of the debate. And all legislative movement to date has pushed things in the direction he wants Indiana to go.

There are always legislators who deem themselves brighter than whoever happens to be governor. More than a few are convinced the state would be better served if the chief executive were instead the person staring back at them in the mirror.

It's no different now. One GOP legislator is known to talk openly about how he's smarter than Pence and Pence's staff. Others have condescendingly advised, in front of Statehouse reporters, that they'll "give Pence a victory or two" while schooling him on how things "really" operate.

Pence just lets this slide. On every accomplishment, he also goes out of his way to lavish praise on legislators. It's another reason he's the smart one, and the one who should be governor.•

__________

Rusthoven, an Indianapolis attorney and graduate of Harvard College and Harvard Law School, was associate counsel to President Reagan. Send comments on this column to ibjedit@ibj.com.