Central Indiana officials always said that what they wanted from the Legislature, when it came to mass transit, was simply the authority to build it.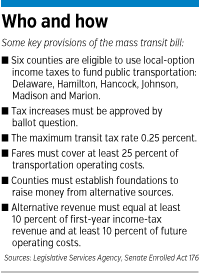 Local governments finally have that authority, but they also have work to do and questions to answer before they can ask voters to pay for new rapid-transit lines and expanded bus service.

Officials in each county have to form not-for-profit fundraising organizations, which must provide a major source of revenue. Transportation planners have to recalculate revenue scenarios and figure out how much service they can afford. Mayors have to agree on where future transit lines should run. And someone has to take the lead on ballot initiatives.

All this is up in the air because the final version of Senate Bill 176 departed in several ways from the language transit advocates sought in 2013 and that formed the basis for the Indy Connect plan. (Indy Connect is a partnership of the Metropolitan Planning Organization, Central Indiana Regional Transportation Authority and IndyGo.)

Nevertheless, advocates are optimistic they can make regional rapid transit a reality with legislation that, during the legislative floor debate, Democratic Sen. Jean Breaux called "half a loaf."

Fisher
"We have been given a significant tool," Indy Chamber lobbyist Mark Fisher said. "Now the debate shifts to how best and to what extent to use that."

The bill authorizes six counties to use their existing local income-tax capacity—with voter approval—for mass transit. The rates can range from 0.1 percent to 0.25 percent, which is less than the maximum 0.3 percent anticipated in 2013.

The fact that the bill did not create a separate tax for transit means counties will have to decide whether they want to use up what is essentially a reserve capacity. If voters approve the money for transit, it can't be diverted to other needs.

Indianapolis residents would have been the first to get new service under the Indy Connect plan, which called for doubling the IndyGo bus service. A ballot question in the November general election now seems unlikely, and Mayor Greg Ballard and City-County Council President Maggie Lewis aren't saying how soon the city should move forward.

Ballard spokesman Marc Lotter said the Mayor's Office is still reviewing the SB 176 language. Lewis said the council hasn't discussed next steps, and so hasn't taken a position on the timing of a referendum.

Altman
Hamilton County voters would see a ballot issue no sooner than 2016, said Christine Altman, a Hamilton County commissioner and president of the CIRTA board.

Hamilton County cities are likely to change route paths that Indy Connect put on the drawing board, and they might decide to get aggressive about rolling out the northeast green line from Noblesville to downtown Indianapolis, Altman said. Under the 10-year Indy Connect plan, the green line would have been the last one built.

"Quite honestly, I was not terribly thrilled to be trying to defer that service," Altman said of the green line. "Now that we have a bill in place, we'll have a lot more interest on the local level in rolling up our sleeves."

One of the first areas under scrutiny is the north-south red line, currently drawn as stopping at the Palladium concert hall in Carmel. Westfield Mayor Andy Cook thinks it should go all the way to his city to serve Grand Park, the massive youth-sports complex that recently opened on 191st Street.

"With the birth of Grand Park, it's a two-way street here," Cook said.

Visitors are going to want to use public transportation to reach downtown Indianapolis, he said, and the local hospitality industry is going to need workers from Marion County.

With the park's opening, the Taco Bell on State Road 32 is advertising that it needs 17 additional hires, he said.

Noblesville and Fishers, both of which would be served by the green line, will have to decide whether they want to pursue light rail, despite language in the bill that bans using local tax money for it.

The green line, which follows the Nickel Plate Rail bed, is projected to cost $483 million, but the figure could be lower if it uses rapid-transit buses instead of rail cars.

Light rail still could be possible because the bill allows counties to finance transit through public-private partnerships, Altman said.

"So I foresee a lot of creative thinking on, 'How do we get this thing done?' and 'How do we pay for it?'" she said.

Transit advocates also could lobby the 2015 General Assembly to have the light-rail ban lifted and for other changes, Fisher said. Those tasks wouldn't take the large-scale effort that Indy Connect Now, a coalition of businesses and not-for-profits, led for the past three years.

"We can go back and make tweaks to individual issues as opposed to debating the merits of transit," Fisher said. The Indy Chamber will play a leading role in advocacy on the state and local level going forward, he said.

State lawmakers threw transit planning for a loop by requiring 10 percent of any system's operating costs to be covered by alternative sources, not taxes or fares. Marion County's bus authority, IndyGo, and the suburban counties now have to set up foundations to handle the fundraising.

The big question is how transit bonds will be received by investors if private fundraising is part of the mix, Altman said.

"It's uncertainty," she said. "We'll be dealing with bond markets on implementing this process, and they hate uncertainty."

The Indy Connect plan won't be thrown out, transportation planners said.

This summer, the Metropolitan Planning Organization and IndyGo will start revising the bus plan that was first drafted in 2009, said Anna Gremling, executive director of the MPO, which does transportation planning for the whole region.

In May, Indy Connect will hold public hearings about the purple line, which would follow 38th Street, to determine station locations and the route path. And there's a study under way of the green line that's weighing the merits of bus-rapid transit vs. light-rail technology.

The MPO also has to recalculate revenue scenarios, based on which counties or townships will be part of the system, and how much of a tax increase local officials want to request from voters.

Even with pending revisions, central Indiana has a more detailed mass-transit plan than any metro area in the country, Gremling said.

"So many cities and regions across the country … worked their way through referendums on concepts," she said.•