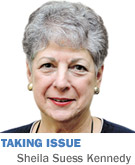 All eyes are on the Hobby Lobby lawsuit before the U.S. Supreme Court. Most of the commentary revolves around whether a for-profit corporation should be able to disregard a law of general application if that law offends its shareholder/owners' "sincerely held" religious beliefs.
Public discussion of the case has primarily focused on two questions: First, if Hobby Lobby prevails, what would the consequences be for corporations whose majority shareholders are devout Christian Scientists or Scientologists? Could the "sincere beliefs" of those owners justify a refusal to cover transfusions or mental health treatments?
And second, does a requirement that employees receive (entirely voluntary) access to birth control at no cost to the corporate employer really constitute a "significant burden" on the free exercise rights of that employer?
Those are important and interesting questions, but they aren't what this case is really about.
The basic issue before the court is whether a corporation can have free exercise rights—whether a legally constructed, artificial entity can be said to have religious sensibilities, sincere or otherwise. And hidden in plain sight in that question is an enormous threat to American business, because if Hobby Lobby prevails, it is likely to be at the expense of the limited liability that is the whole purpose of the corporate form.
If Hobby Lobby wins, piercing the corporate veil and holding shareholders personally liable becomes much, much easier.
There's a reason the business community has stayed out of this litigation. As one amicus brief noted, the essence of a corporation is its "separateness" from its shareholders. It is a distinct legal entity, with its own rights and obligations, different from the rights and obligations of its shareholders. This court has repeatedly recognized this separateness.
Shareholders rely on the corporation's separate existence to shield them from personal liability. When they voluntarily choose to incorporate a business, shareholders cannot then decide to ignore, either directly or indirectly, the distinct legal existence of the corporation when it serves their personal interests.
The brief points out that it is this very "separateness" between shareholders and the corporation that they own in whole or part that promotes investment, innovation and the orderly conduct of business.
Think about it. How likely would you be to buy stock in a company if you thereby ran the risk of being found personally liable for improper or negligent corporate behavior?
Hobby Lobby wants to have its cake and eat it, too. Its owners want to benefit from the protection against personal liability afforded by the corporate form, but they don't want to recognize the separate and distinct existence of the corporation when it must comply with a law they don't like.
The company argues the religious values of its controlling shareholders should exempt it from federal law, but allow it to maintain the benefits of corporate separateness. It can't have it both ways.
Predictions that this or that case will open "the floodgates of litigation" accompany most high-profile cases. Sometimes those warnings are prescient, often not.
But a first-year lawyer can see the writing on this wall. A ruling in favor of Hobby Lobby—a decision allowing a for-profit corporation to ignore a law of general application on the basis of its majority owners' religious beliefs—would invite a legal feeding frenzy.
Trial lawyers are already predicting that a Hobby Lobby win will be the beginning of the end of limited liability.
File this one under "be careful what you wish for."•
__________
Kennedy is a professor of law and public policy at the School of Public and Environmental Affairs at IUPUI. She blogs regularly at www.sheilakennedy.net. She can be reached at skennedy@ibj.com. Send comments on this column to ibjedit@ibj.com.
Please enable JavaScript to view this content.