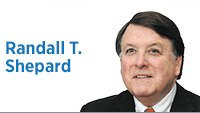 A recent settlement between the city of Indianapolis and the Indiana ACLU over enforcement of the present ordinance about panhandling has put the question of writing a new ordinance back on the table.
What passes for dialogue on this topic follows a well-worn pattern: homelessness, the First Amendment, mental illness, the safety of street solicitors, the health of the city's convention and visitors business.
The debate all too often omits mention of the thousands of low-income, working-class people whose jobs depend on a downtown that's attractive to shoppers, diners and tourists—one full of art and music and urban excitement, and short on vigorous requests.
The discussion about such ordinances frequently focuses on the panhandlers, and we actually know a fair amount about them. The typical profile derived from actual data is unsurprising: 30- or 40-year-old unmarried males who possess relatively few employment skills, often with substance abuse problems.
While this profile is a common one, an examination by the U.S. Department of Justice concluded that, although some panhandlers suffer from mental illness, most do not.
Justice has also found that only a small percentage of the homeless are actually panhandlers—and that only a minority of panhandlers are actually homeless. Occasionally, the validity of this data becomes readily visible, as when WRTV-TV Channel 6 recently interviewed a young panhandler with a pronounced limp who said he usually slept in a tent near the railroad tracks, only to film him riding his bike home each night at 5 p.m. to a home on the northeast side.
Indianapolis has been here before, of course, as in 2000, when the federal courts invalidated a rather broad ordinance that prohibited soliciting in public places.
Indy has hardly been alone. Challengers have litigated from Orlando to Boise to Las Vegas. Indeed, restrictions on panhandling and begging are part of the public debate from Canada and Britain (where restrictions tend to be upheld) to Finland and South Africa (where they aren't).
In America, such restrictions are sometimes struck down by courts, and sometimes not. Just as Indy's ordinance was invalidated in 2000, a federal court of appeals last summer struck down Michigan's statute that criminalized begging. On the other hand, laws that barred begging on Fort Lauderdale beaches and New York City subways have been upheld. Restraints on soliciting at airports have likewise stood.
The recent settlement should permit renewed examination of the issue by the City-County Council, outside the glare of pending litigation. Councilors Jeff Miller and Vop Osili and others have been engaged in periodic discussions for some 18 months, and Miller has said the settlement "helps more than hinders" those discussions.
It should be possible to forge agreement and fashion text for a defensible ordinance that focuses tightly on the most abusive behaviors and leaves unregulated the activities that make urban life attractive, like street musicians.
That focus can help ordinary people benefit from the billions of dollars public and private actors have invested in making downtown a magnet for jobs and tourism and conventions. It would also recognize the role downtown tax revenue plays in financing public safety and schools well beyond the Mile Square.
And finally, the discussion must account for the working-class people whose very livelihood depends on the success of the city center.•
__________
Shepard, formerly Indiana chief justice, is executive in residence at IU's Public Policy Institute, a research arm in the School of Public and International Affairs. Send comments to ibjedit@ibj.com.
Please enable JavaScript to view this content.