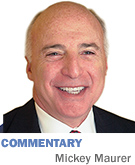 Eli Lilly and Co. recently lost three of its top drugs to patent expirations, resulting in billions of dollars of lost revenue in 2013. Don't worry, though. Lilly has a stable of potent and valuable drugs and a robust pipeline that includes Ramucirumab, its recently approved blockbuster gastric-cancer medication. The company just needs to do a better job of promoting those drugs.
Take Cialis, for example. In last week's Indianapolis Star, Lilly offered a free 30-tablet trial of Cialis, its erectile dysfunction solution. (No ad in IBJ—I guess they figure CEOs don't get ED; they give it.)
The full-page promotion is hardly that. The ad actually tries to talk men out of giving this wonder drug a try. Under the heading "Uncommon but Serious Side Effects," it warns of the dangers of an erection that lasts more than four hours. So tell me, this is bad?
Potential users also are cautioned that a decrease or loss of vision or hearing is possible. Sounds like a fair tradeoff to me.
Let me suggest some ideas for Lilly to "pump up" Cialis. Its current slogan, "Will you be ready?" is not bad, but there are better slogans available. Everybody plagiarizes—even Vice President Joe Biden. So get with the program, Lilly. You can use what is already in the marketplace while not wasting a penny on those expensive agency folks. For example:
• Cialis: We bring good things to life. (General Electric)
• Cialis: Mama mia, that's a spicy meatball! (Alka Seltzer)
• Cialis: Reach out and touch someone. (AT&T)
• Cialis: The quicker picker upper. (Bounty)
• Cialis: Live in your world. Play in ours. (Sony)
• Cialis: When you've got it, flaunt it. (Braniff Airlines)
• Cialis: Outwit. Outplay. Outlast. (Survivor)
• Cialis: Wassup?! (Budweiser)
• Cialis: A silly millimeter longer. (Chesterfield cigarettes)
• Cialis: It keeps going, and going, and going… (Energizer batteries)
• Cialis: Put a tiger in your tank. (Esso)
• Cialis: When it absolutely, positively has to be there overnight. (Fed Ex)
• Cialis: Play, laugh, grow. (Fisher-Price)
• Cialis: When you care enough to send the very best. (Hallmark)
• Cialis: Enjoy the ride. (Nissan)
• Cialis: Connecting people. (Nokia)
• Cialis: The fun develops instantly. (Polaroid)
• Cialis: Think big. (Imax)
• Cialis: Strong enough for a man, but made for a woman. (Secret deodorant)
• Cialis: Your world. Delivered (AT&T)
• Cialis: Think what we can do for you. (Bank of America)
• Cialis: Don't leave home without it. (American Express)
• Cialis: Oh, what a feeling! (Toyota)
• Cialis: Taking care of business. (Office Depot)
• Cialis: You can do it. We can help. (Home Depot)
• Cialis: Be all that you can be. (U.S. Army)
• Cialis: Home of the whopper! (Burger King)
Although I've had some fun with the promotion of Cialis, it is important to note that Lilly has shepherded this drug from about $190 million in sales to $280 million in the last three years. The sales rank of Cialis among all U.S. pharmaceuticals has improved from 81st in the first quarter of 2011 to 51st in the fourth quarter of last year.
My old boss, Mitch Daniels, spent a number of years at Lilly before leaving to take a position in the George W. Bush administration. He viewed working for Lilly as an extraordinary opportunity—a very intense and formative experience.
When Daniels became governor of the state of Indiana, he populated his administration with Lilly employees. He told me, "You don't progress at Lilly unless you are honest and have a good work ethic and you are decent to people. I wanted my administration to have this ethos."
It goes without saying that Lilly is important in some manner or another to every citizen in central Indiana, but it can't be said enough.•
__________
Maurer is a shareholder in IBJ Corp., which owns Indianapolis Business Journal. His column appears every other week. To comment on this column, send e-mail to mmaurer@ibj.com.
 
Please enable JavaScript to view this content.