Indiana's private lottery operator says it can generate unprecedented growth by focusing on the basics.
Rather than trying to add new types of games, such as Keno, or turning to Internet gambling, Gtech Indiana plans a slightly different mix of games and a whole lot more opportunities for Hoosiers to buy them.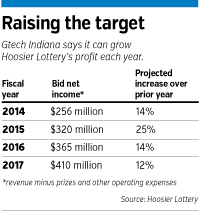 The company aims to parlay that strategy into a 25-percent jump in revenue in fiscal 2015, which begins July 1.
The plan is much like Gtech's playbook for the current fiscal year, in which revenue so far is under budget, but it calls for the introduction of technology that could help enhance and expand the Hoosier Lottery's retail network.
Colin Hadden, recently named CEO of Gtech Indiana, called next year's target "aggressive" and "ambitious," but he said the company doesn't need a revolutionary strategy to achieve it.
"Doing some things that we've been doing in '14, and doing more of them and doing them better really do support our growth," he said.
Gtech, a subsidiary of the global company Lottomatica, in 2012 won a 15-year contract to operate the Hoosier Lottery based on its promise to bring in $1.76 billion in the first five years. The single largest step on that path is projected to come in fiscal 2015, when Gtech is to deliver $320 million in "bid net income," which is income after paying out prizes and other game-related expenses.
If Gtech falls short by up to 5 percent, it will make a payment to the state. If the company underperforms by more than 5 percent, a scenario that would cut deeply into Gtech's own business plan, Indiana would accept less income.
The amount remaining after subtracting the lottery's general and administrative expenses from bid net income will flow to state coffers. That's projected to be $248 million this year. Indiana uses lottery money to reduce county vehicle excise taxes and to boost teacher and police and firefighter pension funds.
The commitment of $320 million in 2015 represents a 25-percent increase over Gtech's target of $256 million for the current fiscal year.
"I don't know of situations where growth has been that high," said Paul Jason, co-owner of the Washington-based industry news source Public Gaming Research Institute.
Indiana is only the second state, following Illinois, to outsource most of its lottery operations. Gtech is part of a consortium that's running the Illinois Lottery, which came up short of its financial goals three years in a row.
Jason, whose magazine is supported by advertising from Gtech, said the Illinois Lottery has been held back by political posturing from lottery-privatization opponents.
"You're not burdened with that in Indiana," he said. "It will be very interesting for all of us to see the results Gtech can produce in a climate—a political climate—that is more conducive to maximum productivity and effectiveness."

Taylor
Gtech faces a different kind of political challenge in Indiana. Gov. Mike Pence is so averse to Internet gambling, and even the appearance of it, that lottery Executive Director Sarah Taylor recently flagged a Gtech game with a mobile-phone app.
The company has proposed the game, Bingo To Go, as part of its 2015 business plan.
"It comes awfully close to looking and feeling like something we don't want for 2015," Taylor told the five-member Hoosier Lottery Commission in May, when the company presented its business plan.
The commission was expected to approve a final version of Gtech's plan on May 30, after IBJ's deadline.
Selling lottery tickets can generate foot traffic and lead to sales of other products with higher profit margins, but it can also be a hassle that takes up too much counter space.
Gtech hopes to overcome retailers' objections with two new technologies that could represent firsts for a U.S. lottery. The Hoosier Lottery is piloting what it calls "lottery inside" with an undisclosed retail chain, Taylor said. The technology, which is common in other countries, allows stores to generate draw-game tickets from their cash registers rather than a separate lottery terminal.
That cuts down on accounting and other operational hassles, Hadden said, and it creates more places for customers to buy tickets. Grocery stores, for example, sell Powerball tickets only at their customer-service desks, but if they used Gtech's technology, shoppers could buy tickets in the checkout lane.
Scratch-off tickets account for most of the lottery's sales, but their big acrylic storage bins are a turn-off for businesses like bars and coffee shops, which are the kind of non-traditional retailers Gtech wants to recruit. So Gtech is rolling out a "compact lottery terminal," which stores a limited number of scratch-off tickets and comes with a swiveling video screen, which is used by the retailer and customers for self-service.
Gtech hopes to place 400 compact terminals this year.
Growing the retail network was always part of Gtech's plans, and it's had mixed results so far. The company added about 400 locations in the past 18 months, so the lottery is now available in 4,300 places statewide. Gtech also began to broaden the base, so it's not as reliant on gas station convenience stores.
But one big fish, the CVS pharmacy chain, isn't biting. After running a pilot program with self-service machines in 18 locations, CVS says it has no plans to expand.
In an interview with IBJ, Taylor and Hadden said Gtech laid the groundwork this year for a big jump in revenue in 2015, even though the company is struggling to hit its current financial target, nearly $1.06 billion in revenue and $256 million in bid net income.
Revenue through April 30 was $852 million, 3 percent below budget, and sales would need to exceed forecast by 14 percent through June 30 for Gtech to meet its goals.
The harsh winter hurt, Taylor said. Still, she noted, revenue is 12 percent higher than in the first three quarters of fiscal year 2013. The Hoosier Lottery had higher revenue growth for that period than any of the 10 other states to which it compares itself.
Taylor said there's no reason to think Gtech won't deliver the $320 million.
Massachusetts-based lottery analyst Patricia McQueen said other lotteries have seen significant growth without adding a new mega-jackpot game or new forms of gambling.
Florida's lottery grew sales of scratch-off tickets 18 percent in the 2013 fiscal year, McQueen said, in part by adding better games and upgrading its logistics, so retailers wouldn't run out of the popular games.
"Sometimes just going back to these basics have helped lotteries tremendously," McQueen said.•
Please enable JavaScript to view this content.