The Indianapolis Zoo last month dumped its old model of set ticket prices and installed a variable model—a first for the industry and one with mostly higher prices—to correspond with the opening of its orangutan exhibit.

Consumers who book hotels or purchase airfare will be familiar with the ticketing approach, called dynamic pricing, whereby prices fluctuate with demand, timing and other conditions.

Just as an Indiana Pacers fan can expect to pay a higher price to watch a matchup with the Miami Heat, a zoo visitor can now expect to pay more to go on the most popular days, like Saturday.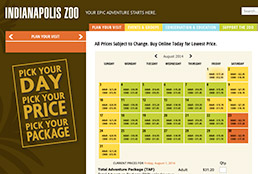 The Indianapolis Zoo is encouraging visitors to save money by ordering tickets online. Typically, weekdays are cheapest because of lower attendance.
The zoo expects the move to generate more revenue as well as keep peak-day crowds to a more manageable level, improving the visitor experience. Officials are projecting 2014 attendance of 1.28 million, a 24-percent jump over 2013 and the highest count in years.

"The significant advantage this model offers to visitors is to save money by purchasing further in advance and [visiting] during the week," said Karen Burns, the zoo's senior vice president of external relations. "Prices are dynamic, which means that people need to lock in their lowest price by buying online as the prices are subject to increase."

Two weeks ago, the zoo opened the $26 million Simon Skjodt International Orangutan Center with eight orangutans, an exhibit eight years in the making and funded by donor dollars.

The exhibit is "the whole reason we got into this pricing," Burns said, explaining that once daily attendance tops 9,000, the zoo is too crowded for an optimum guest experience. The new pricing model is designed to flatten attendance numbers.

The zoo's website displays a color-coded calendar with attendance projections. Days highlighted in green render the cheapest prices; the red sections, typically Saturdays, are most costly.

At press time, tickets for Wednesday, July 30, carried a roughly $12 price tag for a child and $16 for an adult, but tickets for Saturday, June 14, cost about $18 for a child and $24 for an adult.

Under the old pricing model, youth tickets were $11.95 and adult tickets were $16.95 from Memorial Day through Labor Day. Off-season youth tickets were $8 and adult tickets were $10.

Ticket prices will never fall below $8, Burns said, but the zoo hasn't set a ceiling price, instead letting demand rule. Buying a ticket at the zoo will never cost less than paying online.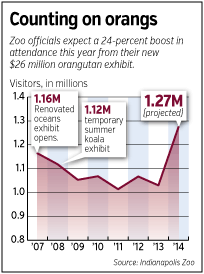 The Indianapolis Zoo is the only member of the Association of Zoos and Aquariums using dynamic pricing, said Rob Vernon, an AZA spokesman.

"Museums, zoos and other cultural attractions have been talking about this for a while," said Michael Montgomery, principal of Michigan-based Montgomery Consulting, which advises not-for-profits. "Zoos and museums are first and foremost educational enterprises. I'd hate to see people with fewer resources feeling excluded from any educational resource just because dynamic pricing leads that institution to be charging a premium when they try to go."

For families who might only be able to take their kids to the zoo on weekends when prices are highest, Burns said consumers can still save by planning their visit in advance.

"The zoo went through an extensive strategic planning process," she said. "All of these decisions, including the International Orangutan Center, were based on the execution of our mission to empower people and communities, both locally and globally, to advance animal conservation. In order to achieve our mission, the zoo must be economically sustainable."

The dynamic-pricing model is nothing new; it's just new to zoos, Burns said. "This is something we've been looking at for several years, evaluating how we could implement it here."

Since the Indianapolis Zoo is the largest in the country to receive no tax revenue, the new pricing system should not be a surprise, she said. "We're very focused on meeting the needs of our customers."

"The biggest argument for it is evening out the peaks and valleys in attendance," Montgomery said. "I think it can be a very good thing, but before people become familiar with it, they could be put off."

Dynamic pricing has its critics. Steve Faktor, a former executive at American Express and a Forbes contributor, wrote in February that he was fascinated with dynamic pricing and its potential for increasing profits. But he said he viewed it as a disservice to consumers because of the price uncertainty.

"Airlines are the oracles of dynamic pricing," he wrote. "Saddam Hussein had better approval ratings than most airlines."

Ultimately, the zoo needed to rein in the crowds on busy days without turning visitors away, said Indianapolis Zoo CEO Michael Crowther, in an email reply to IBJ's questions.

"That meant we needed to find a way to limit the number of people visiting the zoo before they even leave their homes," Crowther said. "We looked at a lot of options, and dynamic pricing was clearly the best solution."•