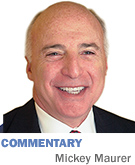 There is a lot going on in Indiana and the rest of the world, but you won't read about any of it in this week's column.

I'm not going to write about the United States sticking its nose into the Syrian and Iraqi tents. (Am I dreaming? Is Bush back in the White House?)

I'm not going to chastise Gov. Pence, Attorney General Zoeller and other fellow Hoosiers over the government sponsored and encouraged inhumanity that Indiana continues to display toward its homosexual citizens—although that is an affront to all persons who practice decency toward their fellow men.

No stock tips today—keep your Endocyte until further notice.

Don't look here this week for business advice. (You can always contact Susan Roederer at 317-844-8372 to purchase a copy of my book—please.)

The world can wait.

The subject today is personal. Janie and I lost a friend last week, a lovely lady who was too young to die. The funeral gave rise to some introspection. Call it "reflections"—the times you think about when it's too late, the thoughts that plague you on the death of friends, the missed non-repeatable opportunities and the revelations that lead you to tweak your life course.

A word of caution: If you are younger than 40, you may not relate to a word I'm about to say. I am over 70—don't ask me how I got there, because I don't believe it myself. I was 35 years old just the other day. No matter your age, this is what I recommend.

1. Look up someone you haven't seen in a long time (old romances don't count). I lost track of a fraternity brother who had to leave the University of Colorado due to financial constraints. Back home in New York he completed his education, including a law degree. He specialized in criminal defense and found success representing mob henchmen and goons. An improbable string of innocent verdicts led to larger cases and a cozy relationship with the dons. He made a lot of money, but he began to dislike what he was doing and what he had become. He felt caught in a trap from which he could not escape except by uprooting himself and disappearing into a small community in upstate New York. That's where I found him. Until last week, our last conversation took place in 1962. We are going to have dinner next month.

2. Repair a broken or frayed relationship. In the course of a long business career there have been soured relationships and lost friendships—inevitable and regrettable. I don't wish to redeem them all, particularly with folks whose ethics I cannot abide. I care not to mend those fractures. But there are one or two others, including a partnership gone awry over business and other strains with someone who was one of my closest friends. I miss the guy. When the relationship fell apart I was sure I was right. Now, I take a more nuanced point of view. What happened and how it happened is no longer relevant. I saw him at the funeral last week and he mentioned that he had been going to far too many funerals—so have I. I want to renew that friendship before one of those funerals is his or mine.

3. Seize a non-repeatable opportunity to be with friends or family. Mountain climbing and rigorous hiking are for the young, and I hope for the young at heart. This is why I "carpe diem-ed" the opportunity to climb the Inca Trail to Machu Picchu with my daughter, Jill, this September. We will enjoy this five-day, rigorous hike together through mountain passes and deep valleys ending with the descent from Inti Punku (sun gate) to the grand ruins of Machu Picchu—a non-repeatable opportunity to share time with my daughter, who has a family of her own.

Next column, business as usual—I promise.•

__________

Maurer is a shareholder in IBJ Corp., which owns Indianapolis Business Journal. His column appears every other week. To comment on this column, send e-mail to mmaurer@ibj.com.