Bicyclist Matt Martin adds at least 10 minutes to his commute from south Broad Ripple to Eli Lilly and Co. downtown, just so he can take the Monon Trail to avoid cars.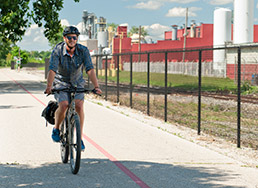 Matt Martin is part of a local bike-commuting community that has doubled since 2000. (IBJ photo/Eric Learned)
After fellow cyclist Neil Kelty was killed in April, Martin added two more habits to his safe-commuting checklist. He uses his front flashing light during the day. And when proceeding through an intersection where oncoming traffic has a left turn—a situation similar to Kelty's—Martin leaves the bike lane and rides in the main traffic lane, so he'll be more visible.
"I learned from that one," Martin said of Kelty's fatal crash with a left-turning school bus. The driver wasn't cited, and police never stated who was at fault. The incident rattled cyclists across the city, however, because Kelty appeared to be doing all the right things—wearing a helmet, riding in a bike lane, and obeying traffic signals.
The rate of bike commuting in Indianapolis has more than doubled since 2000, but many cyclists still don't know—or follow—some basic guidelines that can keep them safe, said Kevin Whited, executive director of the advocacy group IndyCog. The organization is planning a set of public service announcements for TV and radio that will address common cyclist mistakes.

Whited
Advice from bike advocates might seem counterintuitive. One IndyCog refrain is to "take the lane," which means to ride out into the middle of the lane.
With bike lanes proliferating around the city, motorists and cyclists alike might have the impression that's where bikes belong. But advocates say bike lanes aren't always safe. Passing too close is a common driver mistake, something Whited said he experiences even when he goes out of his way to stay as far to the right as possible. (Indianapolis code requires drivers to pass bicycles with a margin of at least 3 feet.)
IndyCog's PSAs will address four common mistakes: riding on sidewalks, riding against traffic, disregarding traffic signals, and not using a light at night.
Cyclists tend to think they'll be safe on a sidewalk, Whited said, but a lot of collisions take place where sidewalks meet the street. That's because drivers tend to look for pedestrians, but bicyclists approach at a faster pace, he said. The driver is caught off-guard, and the cyclist is hit.
People who are used to facing traffic when they walk or jog might think it makes sense to do the same on a bike. Under Indiana law, bikes must follow the same rules as other vehicles, and Whited said riding against traffic also leads to head-on collisions, which are more likely to be fatal.
Whited hears a lot of complaints that cyclists don't obey the law, especially because they run red lights and stop signs. It's true, he said, and he believes it stems from a lack of enforcement.
"I'm convinced that's why so many cyclists run red lights," Whited said. Police wouldn't have to start heavy ticketing, he said. "Just turn on a siren and tell them, 'You're breaking the law.'"
Using lights at night seems like a no-brainer, but not everyone can afford one. Many Indianapolis residents who bike have no other means of transportation, Whited said. In addition to debuting the PSAs in mid-August, IndyCog is giving away bells and lights.
IndyCog is using a $40,000 grant from the Indiana Criminal Justice Institute to create the campaign. A $10,000 grant of federal transportation funds, pending from the city of Indianapolis, could allow the very small organization, which is staffed by Whited alone, to print more safety information and have a presence at health fairs, he said.
Low marks
A national advocacy group gives Indianapolis low marks for safety. The League of American Bicyclists says Indianapolis' crash rate is worse than in most large cities, and the collision rate is one reason Indy hasn't moved up in the "Bicycle Friendly Community" rankings. (Indianapolis was named a BFC in 2009 at the bronze level.)
According to statistics supplied to the league, the city saw 492 collisions per 10,000 bike commuters from 2007 to 2012.
Indianapolis fared similarly on the fatality rate, 4.88 per 10,000 bike commuters, according to the league.
Connie Szabo Schmucker, advocacy director at Bicycle Garage Indy, said Indianapolis is safer than those rates would lead one to believe. She said the league's methodology is flawed, since not everyone who rides a bike or is hit by a car is a daily commuter.
Indianapolis' commuting rate has grown faster than the national average, but it's still pretty low: 0.46 percent. If the faster growth continues, Indianapolis will look better in the national rankings, and it might actually become safer for cyclists. A recent University of Colorado study found that crash rates decline as the number of cyclists increases, possibly because drivers learn to share the road.
The Indianapolis Metropolitan Police Department reported 241 bike-vehicle collisions last year. Of those, 198 resulted in injury, and one was fatal.
Whited said he would like to see fewer collisions and zero fatalities, but he thinks the safety record is not bad, considering the size of the road network and number of cyclists.
Butler University professor Bill Watts has been commuting and riding long distances on his bike for decades. He's been hit by cars twice in the past six years, once by a Butler student as Watts was crossing Meridian Street on the Central Canal towpath and more recently during a group ride in Florida.
Despite the incident in Indianapolis that put him in the hospital with a broken leg, Watts said the climate here is much more amicable than it used to be.
"I absolutely think it's improved a lot," Watts said. "I used to get yelled at a lot."•
 
Please enable JavaScript to view this content.