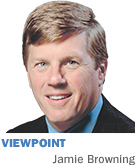 It is a tragedy that the senseless shootings in Broad Ripple earlier this month might define one of the most important destination districts in Indianapolis.

For generations, Broad Ripple has been a singular place in Indianapolis to shop, raise families, socialize, work, go to school, eat a great meal, ride your bike, and, perhaps, meet your future spouse. Broad Ripple has unintentionally been a model for what has become known as a live/work/play/learn community. This is exactly the kind of dense, walkable and multi-faceted community that cities around the country are trying to replicate.

As many before me have correctly pointed out, the live/work/play/learn community that Broad Ripple has been for years has recently felt different and off balance.

I have witnessed and felt these changes firsthand. Since 2005, I have worked with my business partners in developing a variety of restaurants and bars in and around Broad Ripple. Most recently, my employer, Browning Investments, along with its partner, Sheehan Construction, has been working hard to develop a $30 million mixed-use project that includes luxury apartments, retail and parking facilities.

When I started doing business in Broad Ripple, the village had a much more balanced live/work/play/learn equation, with far fewer bars and restaurants than today and a more robust and diverse daytime retail trade.

As the balance has shifted over the years to emphasize the play component of the village, problems—including crime—have arisen and grown, and these problems now threaten to redefine Broad Ripple as a dangerous nightlife district.

While crime control and increased police presence are necessary in the short term to help change the nighttime dynamic in Broad Ripple, what is really needed is a deeper, more long-term and systematic way of recovering the fundamental building blocks that made Broad Ripple such a special destination in the first place.

The current equation desperately needs to be rebalanced to better emphasize the live/work/learn variables.

How can we accomplish this?

With variety.

Existing daytime businesses and retailers must be supported and nurtured and, just as important, new daytime businesses and retailers should be welcomed with open arms and encouraged to invest in the neighborhood.

New and creative housing options should be encouraged—especially housing options that attract and retain families and professionals.

Investment breeds investment. Strategically encouraging and supporting daytime businesses and foot traffic will help attract new quality housing options, and new quality housing options will help support existing daytime businesses and help attract new ones.

This is the secret sauce of great live/work/play/learn communities—all the constituent components of the communities complement and support one another, giving rise to a healthy, vibrant and balanced neighborhood.

Generously support the Broad Ripple Village Association and Midtown Indy. These organizations deeply understand the value of Broad Ripple's historic culture, and they have the personnel, plans, smarts and energy to rebalance the equation in the neighborhood.

I will continue doing business in Broad Ripple. I love the village, I love its history, and I see incredible potential in its future. But to realize this incredible potential, we have to get the balance right.•

__________

Browning is vice president of real estate development at Browning Investments Inc. Send comments on this column to ibjedit@ibj.com.