Two friends and drone enthusiasts in 2012 hatched the idea, as a side gig, to build flying devices small enough to fit in a briefcase.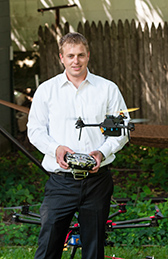 AirDroids co-founder T.J. Johnson revised the Pocket Drone 46 times before mass production. (IBJ photo/Eric Learned)
But the idea shifted to a full-scale manufacturing operation that will launch in mid-August and is projected to produce up to $10 million in revenue next year.

"It was like, 'I like doing this, get to have a little fun, make a little money,'" said T.J. Johnson, co-founder of AirDroids. "Then I unintentionally sold $1 million worth of drones."

Johnson, an engineer turned intellectual-property attorney for Ice Miller LLP in Indianapolis, started AirDroids in 2012 alongside fellow drone enthusiast Timothy Reuter, who works for the Council on Foreign Relations in Washington, D.C.

They hatched the idea for the Pocket Drone, an unmanned aircraft small enough to fit in a briefcase. Three rotors hoist a GoPro or similar camera into the air and can carry it up to 1-1/2 miles away from the pilot at a top speed of 40 mph.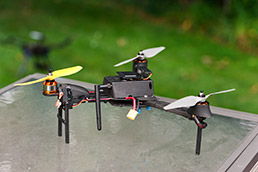 Three rotors lift a GoPro sports video camera that attaches to the bottom of the Pocket Drone. (IBJ photo/Eric Learned)
Instead of a manual controller, pilots can draw a flight path in Google Maps. Or they can program the drone to follow them for up to six miles before the battery wears out.

"Basically, we're an action-sports camera accessory," Johnson said. "GoPro sold a billion dollars in cameras last year, and they're one manufacturer. So if we capture even a percentage of that market, that's not a bad day."

Pocket Drone gained a massive fandom earlier this year after Johnson and Reuter turned to fundraising website Kickstarter to cover the costs of development.

They launched the campaign in January, planning to raise $30,000 over 60 days. They hit their goal within 24 hours. And Pocket Drone, which was little more than a prototype at the time, raised almost $930,000 by the end of the fundraiser.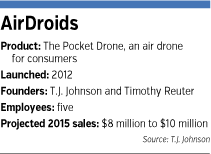 Pocket Drone ranks among the 100 most successful campaigns ever, in terms of total dollar amount raised on Kickstarter, a website that boasts that it has helped fund more than 65,000 projects.

Most Kickstarters reward contributors with perks and gifts depending on how much they donate. AirDroids repaid donations of $415 or more with a Pocket Drone, with more accessories as the donation levels increased.

By the end, AirDroids had close to 2,000 orders to fill, and hundreds more have flooded in since, Johnson said.

AirDroids, with its five employees scattered nationwide, will start production next month at contract manufacturer PRN Associates in Indianapolis.

The drones have large-scale commercial potential, but federal regulations make it a difficult space to enter, so the firm has its sights on individual consumers.

The company is sprinting into a market led by two competitors, 3D Robotics in San Diego and DJI in China. But other firms are starting to pop up as more people take up drone flying as a hobby, said Michael Leasure, an assistant professor of aviation technology at Purdue University.

"There are a lot of younger people," Leasure said about growing interest in the technology. "Model aviation was kind of an old man's sport for many years."

Hobby-born

Indianapolis will operate as the nerve center for AirDroids as it ramps up, Johnson said.

As chief technology officer, he steers research and development from the basement of his Broad Ripple home. Reuter handles general business as CEO from D.C. with other employees in Philadelphia and Milwaukee and a contractor in California. Johnson wants to hire three more engineers and software developers.

The version going into production next month will be the 47th, with multiple, smaller updates to each that AirDroids has worked through in the past 18 months.

The drones going to market, which will sell for $500 to $550 apiece, emerged from a hobby of tinkering with electronics and flying aircraft that Johnson has had since his childhood in Reno, Nev.

He moved to D.C. to work on his law degree at American University. While there, he met Reuter at a "maker space," a type of event in which the public can use tools and materials to build whatever they want for fun.

Soon after, Johnson became involved with an organization Reuter started, the DC Area Drone Users Group.

The two men quickly realized they agreed on one flaw with the machines—none of them were the size they wanted. Drones either were small, cheap and better-suited as toys or they were heavy-duty but cost thousands of dollars.

'Tool, not a toy'

AirDroids ended up with a drone about half the size of its competitors that is able to film below it all the same.

However, its small size in no way makes it a toy, even though the company designed it to be easier to use than others, Johnson warned.

"We push very strongly away from 'toy,'" he said. "We don't like to think of it as a toy for not only legal reasons, but it's really something that you can hurt someone with. It's not something you give a kid. The quote I say a lot is, 'It's a tool, not a toy.'"

AirDroids targets people wanting to do professional-level film work. Athletes such as surfers or skiers are a major focus because they make promotional films of themselves in action. And there are photographers and videographers wanting aerial shots with no other means to get them.

Before drones, the only option cinematographer Kevin Good had for air shots was to rent a helicopter. He beta-tested Pocket Drone.

"I'm not a big Hollywood director guy," he said. "I'm a dude who free-lances around."

Drones are "something cheap and compact and safe and convenient."

Waiting on feds

But commercial use of drones is an unsettled legal question.

The Federal Aviation Administration says drones can't be used for commercial purposes without proper certifications and licensing, but "commercial purpose" is not clearly defined, Johnson said.

Drone pilots can film themselves for business purposes such as marketing videos, as long as they don't sell what they shoot, said Purdue's Leasure. Not-for-profit uses such as police surveillance or geographic surveys are allowed, he said.

"Nobody can legally sell something by a drone or an aerial platform," he said. "If I take a photo of my house from above and hang it on my wall, nobody cares."

But the FAA might not have a say in the matter after all. A National Transportation Safety Board administrative law judge in March ruled that small drones are the same as model aircraft, over which the FAA has no jurisdiction. The FAA had fined an aerial photographer in 2011 $10,000 for using a drone commercially, and the photographer appealed the fine to the NTSB, which dismissed it. The FAA has appealed the ruling.

AirDroids plans to keep focusing on consumer use until federal guidelines are sorted out, Johnson said.

Those orders have the company fully occupied as is.

"I'm so slammed with the Pocket Drones right now, it's ridiculous," he said, noting he essentially has two full-time jobs with no plans to abandon his legal occupation. "It's still fun at least. I'll take that."•