As he prepared to board a plane for a two-week family vacation to Hawaii last month, Visit Indy Vice President Chris Gahl did something he had never done before.
The 36-year-old took out his iPhone 5 and deleted his work email account so he couldn't see the icon with that annoying number of emails waiting to be read. He cut off his work texts and put a message on his voice mail directing callers to two co-workers. He powered down his iPad. He even deleted local news sites from his list of favorite Web addresses.

Gahl
Then panic set in. Gahl wondered what would happen if there were a work emergency or if someone wanted to contact him. He thought about what he might miss.
Then a really scary thought crept into his mind.
"I began to struggle with the idea that, if [I] don't stay plugged in, will I be seen as replaceable?" Gahl said. "People back at the office will think, 'Wow, do we really need him?' That's the gut feeling most people have."
But Gahl steadied himself. He knew down deep as he settled into his seat beside his wife and two children, ages 7 and 5, that this was what he needed. It's what his whole family needed.
"I just told myself to take a deep breath and relax," he said.
But it wasn't easy at first for Gahl to undergo what he called "a digital detox."
"It took 48 hours," he said, "to fully engage in that mind-set."
Though the drive to succeed at work is strong, Gahl said he had a bigger motivator in his desire to digitally disengage while on vacation.
"I know my kids are going to grow up in the blink of an eye and I don't want to have any regrets about having one eye on the kids and one eye on the phone," he said. "It occurred to me that, all this time I was worried about missing something at work. And I should have been worried about missing something else."
Zachary Elsts, area operations manager of EP Transportation's Indianapolis facility, also had big motivation to unplug last month: getting his marriage off on the right foot.
During a 10-day honeymoon to Jamaica in mid-July, Elsts said, his new bride "threatened to throw my cell phone in the ocean."
So the 30-year-old put his phone on the hotel-room radio docking station and didn't remove it.
"It really was like throwing my phone in the ocean," he said.
Elsts admitted he had some angst about unplugging.
"I quickly discovered that it was a huge burden off my shoulders," he said. "It was extremely relaxing."
The addiction to being connected through a cell phone or other electronic device is strongest among people under 40, said Sarah Smith-Robbins, senior director of emerging technologies at Indiana University.
"It's not the technology that's the addiction," she said. "It's what people get psychologically from feeling important. People equate being available with being important or more necessary. A lot of people pride themselves on giving up their personal time for work. That's especially prevalent with the younger generations."
Over time, Elsts became uncomfortable with the control his phone had over him—especially during his off time.
"My phone has become like an electronic leash," he said. "You tug on it and you'll get me. Sometimes it's important to slip out of that noose."
Smartphone revolution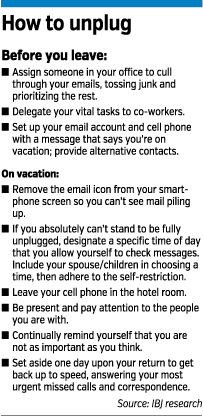 The advent of the so-called smartphone in the late 1990s has changed the way people work. And when they work. That change was accelerated with the BlackBerry in 1999 and juiced even more with the launch of the iPhone in 2007.
The reliance of many in the business world on the BlackBerry in the early 2000s was so chronic that the term CrackBerry was coined for the device.
Now, many people never really leave work—taking calls and sending and receiving emails, texts and tweets at all hours, weekends and even on vacation.
A growing number of people are now seeking a kind of digital detox at least once a year, but many still resist the idea. According to Wired magazine, less than 10 percent of all Americans unplug—even for one week a year—as completely as Gahl and Elsts did this summer.
One of those who can't unplug, Zak Brown—like many hard-core digital communications addicts—started with a BlackBerry and graduated to an iPhone.
The 42-year-old CEO of Zionsville-based motorsports marketing firm Just Marketing International upgrades his phone and tablet the day the new model comes out.
"I have to have whatever is fastest and lightest and is the most technologically advanced," said Brown, who now lives in London but travels back to central Indiana often to visit company headquarters and attend racing events. "In a competitive business, I think you have to have every advantage."
He has four email accounts on his cell phone, gets 350 emails and dozens of text messages every day, and said he responds to every one before the day ends.
Brown said that, since he founded JMI and remains the company's top executive, he feels "ultimately responsible" for it and its myriad clients, which include Crown Royal, Eli Lilly and Co. and Subway restaurants.
Still, Brown said he's "matured a little bit" in his cell phone use during off time. During an Alaskan cruise last month, he said, he laid down ground rules for his phone use with his wife and 10- and 12-year-old sons.
"Not a vacation goes by when I don't get grief from my wife and kids and justifiably so," Brown admitted. "I respect the people who disconnect. I respect their discipline. I've tried to get better. I really have."
This time around, at least, Brown promised his wife and children he'd return calls, texts and emails only from 5 a.m. to 7 a.m.—before they usually get up—and another couple of hours after they went to sleep, and that he would check emails and texts only two or three times a day between activities.
"Staying connected is the culture of our office," Brown said. "Our clients are on 24/7, and so are we."
Boss sets tone
Brown, no doubt, sets the tone. He recounted getting off an airplane at 10:17 p.m. one recent night and emailing a co-worker a question. The response came at 10:19 p.m. The Just Marketing client Brown was with replied, "Impressive."
But is it? Even Brown wonders.
"I like to lead by example," he said. "I realize my work ethic isn't always the greatest example. I understand because of the way I work, I haven't always been as engaged with my family the way I should be. And I feel the mental fatigue of constantly being connected."
IU's Smith-Robbins said cell phone and tablet technology is "so new, we simply don't have a mature model yet for how to work with it and not let it intrude too much on our personal life."
"Lots of people want to draw the line on this type of uber connectivity," she said. "They simply don't know where to draw it."
People working in the public-safety sector may have an even more difficult time unplugging than corporate executives.
"Our boundaries with our cell phones are pretty hazy," said Valerie Washington, deputy director of the city's Department of Public Safety.

Brown
Washington said she and Director Troy Riggs are on their phones answering calls, texts and emails at least three hours after normal work hours every day. And she is connected for several hours each day on the weekend.
During a week-long vacation in July, Washington said, she checked her phone "every single hour."
Washington said of her 7-year-old daughter: "She has learned to be incredibly patient with my job and the time I have to spend dealing with the phone."
The 41-year-old isn't sure how long she'll be able to keep going at her current pace.
"I haven't become burned out yet," said Washington, whose department oversees the police and fire departments as well as animal care and control. "I have a lot of passion for what I do. But could I foresee getting burned out at some point? I think so."
Brown said he encourages his employees to do what he cannot.
"I want my people to disconnect on occasion," he said. "I do think it's healthy."
Some—perhaps many—employers don't feel the same way. One executive at an Indianapolis-based technology firm said that, while he does occasionally disconnect from business during vacation, he wanted to remain anonymous because he didn't want to set an example for his employees to do likewise and possibly become less efficient.
Gahl, who manages a 10-member marketing staff at Visit Indy, realized after his vacation that his constant connectivity was forcing his employees to do likewise.
"They told me, 'Whenever you emailed or texted during weekends, we felt like we had to stay connected to our jobs and respond,'" Gahl said. "That's not right. There has to be a work/life balance and that's what we want to encourage."
He now tries to digitally detox on most weekends—at least when there's not a big convention in town.
Planning is key
Gahl said the key to unplugging during vacation is planning.
He spent two weeks planning for detox before this summer's Hawaiian vacation. In addition to designating the essential parts of his job to others while he was gone, he also assigned two staffers to handle his calls and check his voice mails. Another staffer checked his email account two to three times a day, tossing junk and prioritizing the rest.
Before he left, he and his staff met for an hour to discuss ongoing projects and staff responsibilities while he was gone. When he came back, he had a 90-minute staff meeting to catch up.
"One of the reasons I wanted to unplug was not only to relax more, but also to show my staff that I wholeheartedly trust them to keep projects moving," Gahl said. "I think it was liberating for all of us."
Gahl gave himself two solid days when he returned to go through emails and respond to those that required it.
Elsts started preparing for his 10-day digital detox—contacting bosses, co-workers and clients—a month ahead. He said it took him four days to catch up when he got back.
The result of the detox?
"The payoff was priceless," he said. "I've never felt so refreshed coming back from a vacation in my life. And in the long run, I think that will make me a better worker."•
Please enable JavaScript to view this content.